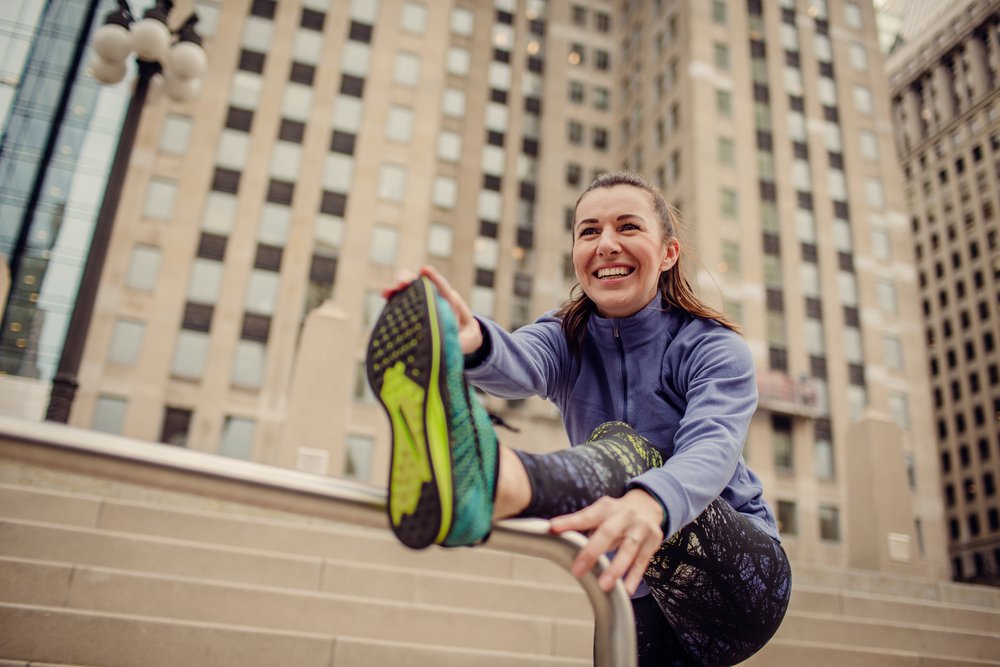 Just as spring eases us into the warmer temperatures of summer, our bodies need some time and proper techniques to ease us into running season. In Chicago especially, you'll find fun runs and activities to help get you in great condition to begin running.
Chicagoans love running by the lakefront early in the morning and after work. And these days, both runners and walkers are excited about heading to The 606, a scenic new 2.7-mile trail along the old Bloomingdale railroad line than runs through Logan Square.
Many of my private weight loss clients have avoided running for years because they found it boring or uncomfortable. However, once I set them up with the proper outfit, shoes, and warm up — plus a good playlist — they're ready to run at the lakefront after work or on the weekends. Here's what you need to get ready:
1. The Right Shoes
Make sure you're fitted for new running shoes every six to nine months. It's also important to know what kind of shoe works best for you. Sashil Kapur, a One Medical Chicago MD who specializes in sports medicine, does basic running shoe evaluations. "Some people will need shock-absorbing inserts, some people need really hard inserts," Kapur says. "Shoes are very runner dependent."
He recommends that serious runners or people with foot problems get evaluated at a specialty running store. Fleet Feet and Road Runner can test your stride and measure your feet to help determine the best shoes for you. Or if you prefer to test your gait online, Brooks Running has a quiz to assess the best shoe.
2. Running Gear
You can go running in anything — you see people at the Lake Shore Park Track in everything from old college sweatshirts and shorts to trendy and perfectly matched running ensembles. I think it's important to focus on function vs. fashion when you're running. Look for clothing that fits well, but not too tight. I love clothing made from from moisture-wicking fabric that pulls sweat away from your body. I also like details found on tops by Zella, such as mesh panels and cutouts that are great for getting an added breeze while running.
3. Warm-Up Routine
But before you set out to the lake path, make sure you warm up! There are lots of ways to get your muscles ready.
"Start running slow or fast, power walking, doing jumping jacks or calisthenics or even some sit-ups," says Kapur. "Anything to warm up the body and get the blood flowing."
Before running, I like to do some dynamic stretches and then keep moving to help my muscles warm up. After you run, you can hold the stretches longer and really relax into them.
Check out this TV segment with some stretches and more tips:
There are multiple races in Chicago each weekend throughout the summer, and many have themes. Here are a few fun running events in Chicago to get you feeling inspired and back into the swing of things:
The Color Run Chicago – Runners in this 5K start out wearing all-white outfits — which are then doused with different colors each kilometer. (June 5)
The Chardonnay Run Chicago – If wine is up your alley, you might want to lace up for this race, which features a post-race wine tasting once you cross the finish line. (June 18)
Bastille Day Run Walk – This run starts after 7 p.m., so you can still get in a full day of work. Get on your red, white and blue gear and then meet in Lincoln Park and enjoy a French fête afterwards. (July 14)
Run 10, Feed 10 – The idea is simple but powerful: run a 10K and feed 10 hungry people in Chicago. Runners receive FEED bags and can raise additional money to support local hunger relief programs. (Sept. 8)
The One Medical blog is published by One Medical, a national, modern primary care practice pairing 24/7 virtual care services with inviting and convenient in-person care at over 100 locations across the U.S. One Medical is on a mission to transform health care for all through a human-centered, technology-powered approach to caring for people at every stage of life.
Any general advice posted on our blog, website, or app is for informational purposes only and is not intended to replace or substitute for any medical or other advice. 1Life Healthcare, Inc. and the One Medical entities make no representations or warranties and expressly disclaim any and all liability concerning any treatment, action by, or effect on any person following the general information offered or provided within or through the blog, website, or app. If you have specific concerns or a situation arises in which you require medical advice, you should consult with an appropriately trained and qualified medical services provider.