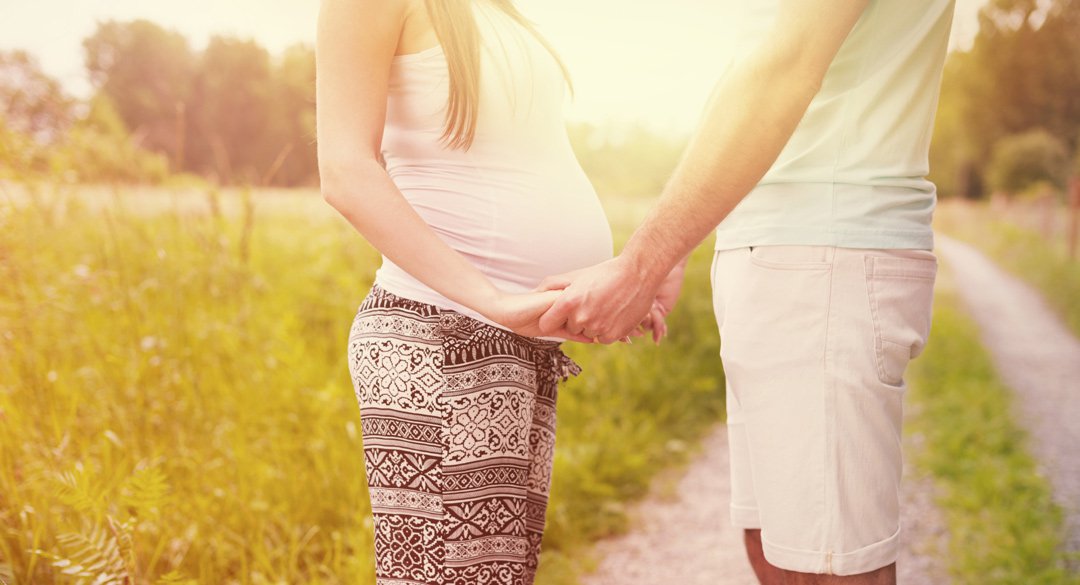 In the US, one in four women is estimated to have genital herpes. If you're pregnant and are one of them, let your provider know. Passing the virus onto your baby during childbirth can have potentially devastating consequences. Luckily, treatment reduces this risk, as do several other factors.
What is genital herpes?
Genital herpes is a sexually transmitted infection (STI). It's typically characterized by fluid- filled lesions in the genitals, rectum, butt, or thighs, which burst and cause tender sores. Many people never experience symptoms or experience very mild symptoms, so individuals often don't know that they have the virus and unwittingly pass it on to their partners.
Genital herpes can be caused by either herpes simplex virus type 1 (HSV-1) or herpes simplex virus type 2 (HSV-2). Either virus can cause cold sores on the mouth and lips. People infected with the virus in their mouth can transfer the virus to their partner's genitals during oral sex.
Once you're infected, the virus remains in your body. Although treatment can be effective at reducing the frequency and duration of outbreaks, there is no cure. Thankfully, the frequency of outbreaks decreases over time. If you're pregnant, it's important to let your provider know if you or your partner have ever been diagnosed with herpes.
How does it spread?
Genital herpes is spread through skin-to-skin contact. It is usually transmitted via vaginal, anal, or oral intercourse, but may also be passed on through kissing and touching the genitals. Latex condoms limit the spread of HSV-1 and HSV-2, but don't completely eliminate the possibility of transmission because infected areas may occur in areas that cannot be covered. Although you're most likely to pass the virus to your partner during an outbreak, you don't need to have an outbreak to transmit the virus.
How does genital herpes affect pregnancy?
The primary concern is transmitting the virus to your baby during delivery. Infants who contract genital herpes during childbirth can develop lesions on their skin, eyes, and mouth. The virus can affect their central nervous system or multiple organs, such as the liver and lungs. Infection in newborns can be fatal.
In a very small number of cases (about two percent), a woman who acquires genital herpes during pregnancy can pass the virus along to the baby in utero. This is very rare and can lead to pregnancy complications or fetal demise.
You are at the greatest risk of transmitting the virus of if you experience an outbreak at the time of delivery or are infected for the first time in your third trimester.
How do I reduce the risk of transmission to my newborn?
If you were infected before you became pregnant, the risk of transmitting the virus is low. Your body has already developed antibodies to the virus and these antibodies are passed onto your baby via the placenta. However, it's very important to ensure that you don't have an outbreak at the time of birth.
Beginning at 36 weeks of pregnancy, providers typically recommend taking a daily antiviral medication. Acyclovir is the most popular medication; studies indicate that it's safe throughout pregnancy. Even so, many providers do not treat outbreaks before 35 weeks to reduce fetal exposure to antiviral medication. If you were infected before you became pregnant or were infected early in pregnancy, the chance of transmission during delivery is less than one percent.
If you contract genital herpes toward the end of your pregnancy, you will need immediate treatment to reduce the viral load in your body and the duration of lesions. Let your provider know at the first signs of new rash or lesions and don't wait until  your next routine visit.
What measures will be taken during delivery?
The greatest risk to your newborn is contact with lesions during childbirth. The Centers for Disease Control and Prevention (CDC) and the American College of Obstetricians and Gynecologists (ACOG) recommend cesarean section as soon as labor starts in women who are experiencing an active genital herpes outbreak. C-section does not prevent all newborn infections, but it dramatically reduces the rate of transmission.
For women who are not experiencing an outbreak, vaginal birth is the safest delivery method. Similarly, if the lesions are not in the genital region, such as on the butt or thighs, C-section is not recommended. The lesions can be covered with a special dressing and a vaginal birth can proceed.
What if my partner has herpes?
Since contracting genital herpes in late pregnancy puts you at heightened risk of transmitting the virus to your baby, it's important to take precautions.
If you are uninfected and your partner has genital herpes, here are some steps to take:
Tell your provider that your partner has genital herpes.
Abstain from sexual contact during an active outbreak and use latex condoms and dental dams at all other times. Condoms do not eliminate the risk of contracting the virus, but they reduce it.
Ask your partner to talk to his or her provider about taking daily antiviral medication throughout your pregnancy. This may reduce the likelihood that your partner passes the virus onto you.
During the third trimester, consider abstaining from all skin-to-skin genital contact. If your partner has ever had cold sores, consider avoiding oral sex.
The One Medical blog is published by One Medical, a national, modern primary care practice pairing 24/7 virtual care services with inviting and convenient in-person care at over 100 locations across the U.S. One Medical is on a mission to transform health care for all through a human-centered, technology-powered approach to caring for people at every stage of life.
Any general advice posted on our blog, website, or app is for informational purposes only and is not intended to replace or substitute for any medical or other advice. 1Life Healthcare, Inc. and the One Medical entities make no representations or warranties and expressly disclaim any and all liability concerning any treatment, action by, or effect on any person following the general information offered or provided within or through the blog, website, or app. If you have specific concerns or a situation arises in which you require medical advice, you should consult with an appropriately trained and qualified medical services provider.