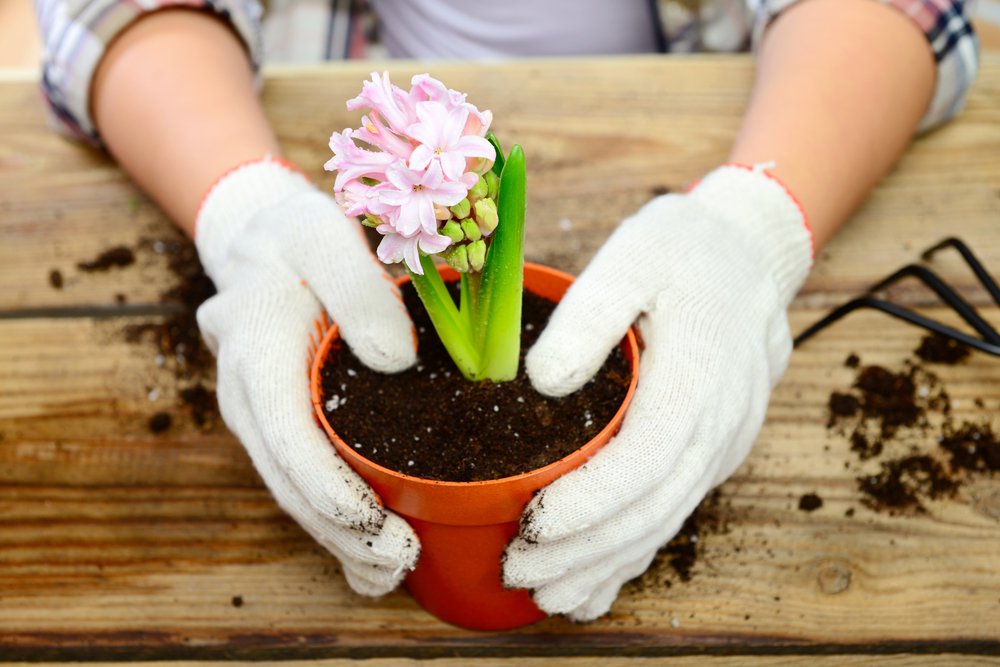 Around Earth Day, we think about taking care of Mother Nature by cleaning up a park, planting trees or getting the garden ready for spring planting. But nature takes care of us too in so many ways.
Kyoko Peña-Robles was a little girl when she started helping her father grow monster zucchini and other vegetables. She still loves working in her vegetable garden, making her own compost and trying to get her kids to help.
"I grow tomatoes, green beans, yellow squash and cucumbers," says Peña-Robles, a a One Medical MD in San Francisco. "When we get to eat our fresh veggies, I feel so proud that I grew them myself!"
Besides delivering a sense of pride, here are three other ways flowers, green plants and digging in the dirt do wonders for your health.
Plants make you more creative at work.
Having a little succulent or air plant on your desk does more than give you something to fiddle with when you're bored. Researchers at Texas A & M University found that plants play a role in productivity and creativity. The study was led by Roger Ulrich PhD, a leading evidence-based healthcare design researcher. They studied 101 subjects over eight months, asking
them to perform a variety of office tasks. They tested how the group performed in a work area decorated with plants, an abstract piece of art or nothing at all. They found that people were more innovative and came up with more creative ideas in the work space with plants. The plants inspired men to come up with 15 percent more ideas, while women devised especially creative and flexible solutions.
Gardening relieves stress.
There's something wonderful about putting your hands in the soil and creating beauty where nothing existed before. Lee Orsky, a physician assistant in Boston, is looking forward to growing more pink Bernadette peonies in her hilltop garden. "I love moving the rocks around and making stone walls and figuring that out," she says. "I love the physical part and the creativity of taking it where you want it."
Devoted gardeners already know this, but researchers in the Netherlands have confirmed that gardening reduces stress. They asked a group of 30 subjects to perform a stressful task, followed by either 30 minutes of gardening or 30 minutes of reading indoors. Researchers tested the amount of the stress hormone cortisol in the subjects' saliva and asked them about their mood at different points in the experiment. Both gardening and reading caused a drop in cortisol levels, but the dip was more pronounced with the gardening group. And after they were finished, the gardening group was in a much better mood compared to the readers.
Flowers make us happy.
You know how seeing a golden sunflower or a bright Gerber daisy makes you smile? It turns out there's a reason for that. A study by researchers at Rutgers University found that flowers lift people's moods. As a part of the study, researchers sent surprise deliveries of either a mixed floral bouquet, a large candle or a fruit basket to the homes of their female subjects. The delivery person closely watched their immediate reactions. Every woman who received the flowers responded with a genuine smile that involved both her eyes and mouth, and they were still in a better mood days later. Researchers got similar results when they tried the test again and included male subjects.
This true smile, known as the Duchenne smile (after 19th century French doctor Guillaume Duchenne who studied the link between emotions and facial expressions), has been linked with better mood, lower blood pressure and a stronger immune system.
So the next time you're in the doghouse, consider sending flowers to help smooth things over; it's a make-up strategy backed by science.
The One Medical blog is published by One Medical, a national, modern primary care practice pairing 24/7 virtual care services with inviting and convenient in-person care at over 100 locations across the U.S. One Medical is on a mission to transform health care for all through a human-centered, technology-powered approach to caring for people at every stage of life.
Any general advice posted on our blog, website, or app is for informational purposes only and is not intended to replace or substitute for any medical or other advice. 1Life Healthcare, Inc. and the One Medical entities make no representations or warranties and expressly disclaim any and all liability concerning any treatment, action by, or effect on any person following the general information offered or provided within or through the blog, website, or app. If you have specific concerns or a situation arises in which you require medical advice, you should consult with an appropriately trained and qualified medical services provider.