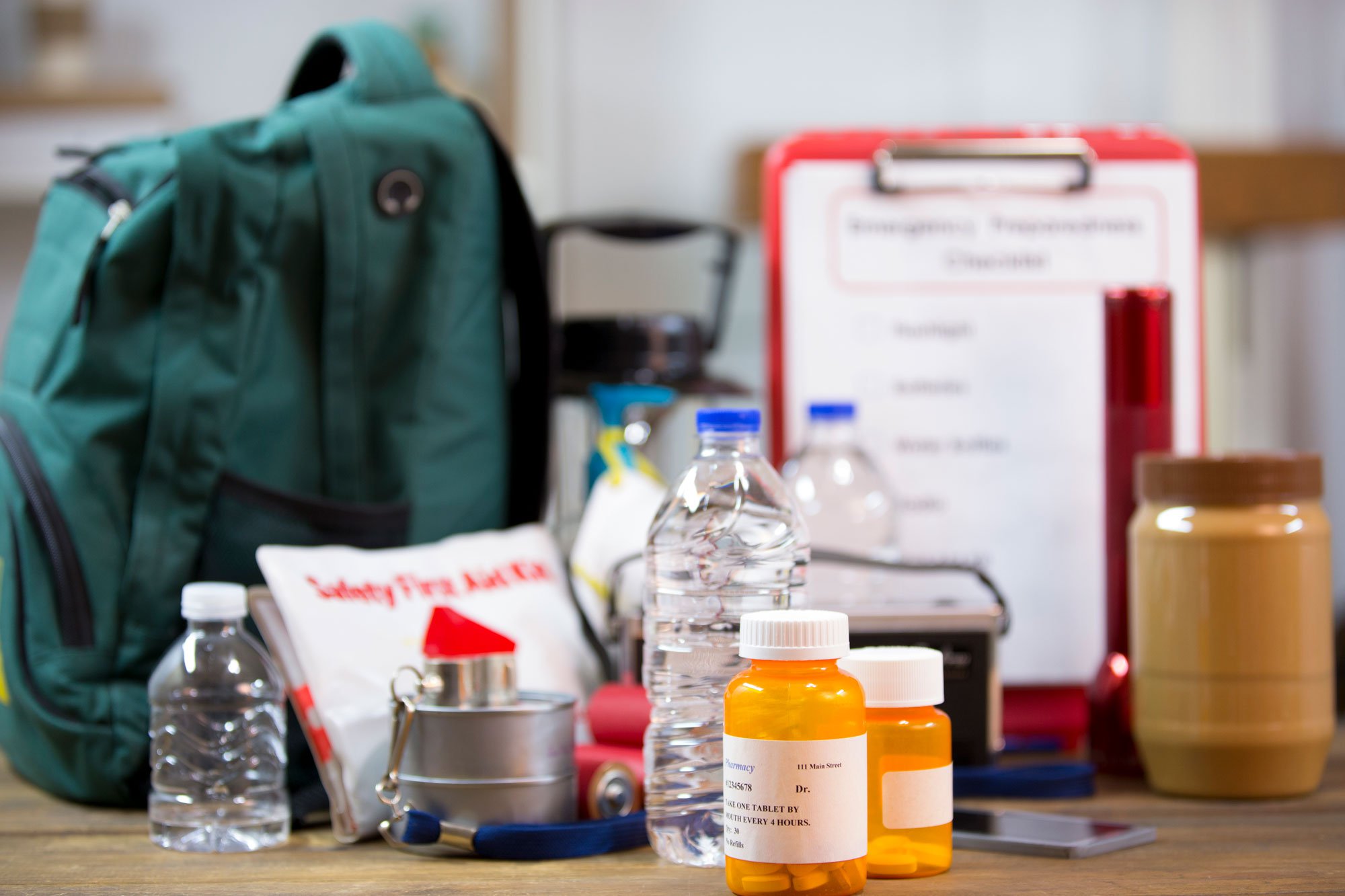 If the past few years have taught us anything, it's that unexpected events can hit at any time. Global pandemic aside, the number of natural disasters - those related to weather, climate, or water hazard - that occur every day is astounding — and has increased by a factor of five over the past 50 years. And climate scientists only expect this number to grow in coming years.
While this may be scary to think about, being prepared is the best way to protect the health and safety of you and your loved ones. Though guidance can vary based on the particular emergency situation, there are some basic things you and your family can do to prepare for any natural disaster. Here are the must-know methods for emergency preparedness:
1. Make a plan with your loved ones
The best way to prepare for the unexpected is to draw out a comprehensive plan. You may not be with your family, friends, or support network if and when a natural disaster strikes, so it's a good idea to sit down and discuss how you'll contact each other and reconnect if you're separated during an emergency. Every group's plan will look different, but establishing a meeting place that's familiar and easy to get to is a solid starting point. Some other questions to consider as you develop a family or friend plan:
How will you all receive emergency alerts and warnings?
What is your evacuation route?
What are some of the specific needs of different members of your group (i.e. kids, elderly family members, those with specific dietary needs, etc.)?
You might also want to include a list of important phone numbers and email addresses, such as those for your family members, local police and fire departments, or healthcare providers. If you're not sure how to start, this worksheet from the Federal Emergency Management Agency (FEMA) is a great way to collect all the relevant info you may need so you can discuss it as a group and get on the same page. No matter what your plan looks like, make sure to print copies for all household members and to update your plan as necessary. Practice gathering at your designated meet-up spot and role-play the various designated responsibilities of each household member.
2. Stock up on necessary staples
If a natural disaster hits, you may not be able to leave your home or access a store or pharmacy for several days. That means it's essential to have a backup supply of food, water, and other necessary items just in case. Make sure you have extras of these on hand somewhere in your home at all times:
One gallon of water per person per day for several days, for drinking and sanitation
Several-day supply of non-perishable food (think canned goods, protein bars, dry cereal, dried fruit, etc.).
Can opener
Prescription medications* and glasses
Pet food and water if necessary
Cash or traveler's checks
First aid kid
Extra cell phone battery or charger
Flashlight
Fire extinguisher
Battery-powered or hand crank radio and a NOAA Weather Radio with tone alert
Matches in a waterproof container
Feminine supplies and personal hygiene items
Important documents like passports and insurance policies in a portable, waterproof container
Whistle to signal for help
Local maps
Dust mask
Non-sparking wrench or pliers to turn off the utilities in your home if necessary
Books, puzzles, or games for children if necessary
Pencil and paper
*We do not recommend taking any over-the-counter supplements without talking to your healthcare provider.
3. Keep absolute emergency essentials in all the places you frequent most
You never know when and where a natural disaster might occur or where you might be. While you can't keep all the items mentioned above with you at all times, it's best to keep absolute essentials in your workplace, as well as your vehicle, in addition to your home. Your work kit should include some non-perishable food, water, and other necessities like medications, and comfortable walking shoes in case you need to evacuate. In addition to a selected number of items from the list above, you may also want to keep these in the trunk of your car:
Jumper cables
Car cell phone charger
Flares or reflective triangle
Map
Ice scraper
Blanket
Cat litter or sand (for better tire traction)
It's also a good idea to have your vehicle regularly inspected by a mechanic who can check on antifreeze levels, battery and ignition systems, brakes, oil, and more, to ensure your car is in good shape in case of emergency. Also remember to always keep your gas tank full in case you may need to evacuate or in the event of a power outage — a full tank will also help prevent the fuel line from freezing.
4. Consider your pets
You might think your pet will be one of the first things you grab in an emergency situation, but animals very easily get displaced in all the chaos of natural disasters. As pets are valuable members of the family, it's just as important to have a plan for them too. Prepare an emergency supply kit just as you would for your family, with some food, water, and important medications. Make sure to include a carrier, food bowl, leash, harness, plastic trash bags, or litter as needed. You should also make a list of a few places to take your pet in case of evacuation. Many public shelters or hotels don't allow animals, so know the names of a few pet-friendly locations you can go to in the event of an emergency. You might also want to connect with neighbors, friends, or family to see if they would be willing to care for your pet if you're unable to take them with you. Finally, have your pet microchipped or tagged, in case they get lost or separated from you at any point.
Taking these steps will help you feel more educated and empowered in case of emergency and may save you precious moments during a natural disaster. If you need more resources or are looking for other strategies to preserve your peace of mind, visit ready.gov, the official website of the U.S. Department of Homeland Security.
Have more questions about your health and safety during a natural disaster? Our primary care team is here to help. At One Medical, we aim to provide exceptional care designed around you and your unique health needs. Book an appointment with a provider through our app today or get 24/7 virtual care on demand.
The One Medical blog is published by One Medical, a national, modern primary care practice pairing 24/7 virtual care services with inviting and convenient in-person care at over 100 locations across the U.S. One Medical is on a mission to transform health care for all through a human-centered, technology-powered approach to caring for people at every stage of life.
Any general advice posted on our blog, website, or app is for informational purposes only and is not intended to replace or substitute for any medical or other advice. 1Life Healthcare, Inc. and the One Medical entities make no representations or warranties and expressly disclaim any and all liability concerning any treatment, action by, or effect on any person following the general information offered or provided within or through the blog, website, or app. If you have specific concerns or a situation arises in which you require medical advice, you should consult with an appropriately trained and qualified medical services provider.