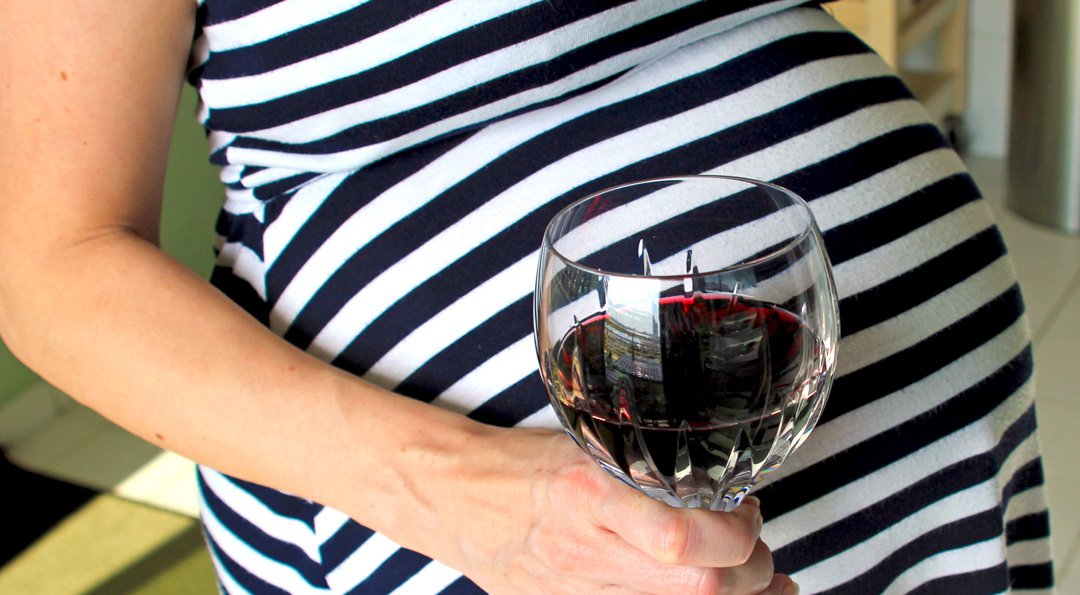 "What if I drank a little before I realized I was pregnant?" This is a fairly common question providers hear from newly pregnant women.
If you're trying to conceive, experts recommend avoiding alcohol, due to an increased risk of miscarriage. However, many women who drank before they knew they were pregnant go on to deliver perfectly healthy babies. In other words, don't stress if you had an occasional drink before learning that you were pregnant. Instead, focus on maintaining your health and abstaining from alcohol use now.
But is it OK to have an occasional drink in pregnancy? How much drinking leads to fetal alcohol syndrome? As women progress in their pregnancy, it seems like questions about how much alcohol is safe come up from time to time. Here's a look at the facts so you can make an informed decision about drinking alcohol during your pregnancy.
How does alcohol affect my baby?
Alcohol has a direct impact on the fetus. It readily crosses the placenta and fetal blood alcohol levels approach those of the mother within two hours of consumption. The evidence is clear: Heavy drinking (more than six drinks a day) and binge drinking (four or more drinks in one sitting) are strongly associated with fetal alcohol spectrum disorders (FASD), which can cause significant lifelong disabilities. Children with FASD may have growth deficiencies, learning disabilities, language delays, behavior problems, low IQ, and characteristic facial abnormalities.
Even having two drinks a day is associated with less severe, but still lasting, alcohol-related birth defects. Plus, consuming alcohol is linked with an increased risk of miscarriage, stillbirth, and having a low birth-weight baby.
Blood alcohol levels vary depending on things like your physical size, metabolic rate, the amount of food you've eaten, and other factors. This means that how quickly a woman can eliminate alcohol from her bloodstream varies widely. It may explain why babies born to different women who drink the same amount may be show different effects. All experts agree that heavy drinking and binge drinking should be avoided at every point during pregnancy.
Is all alcohol out of the question?
When it comes to light drinking, the research is less clear. The U.S Attorney General, the Secretary of Health and Human Services, the American College of Obstetricians and Gynecologists (ACOG), and the American Academy of Pediatrics tell women to avoid all alcohol in pregnancy. They assert that no safe amount of alcohol has been determined. Many providers follow these guidelines, stating that the potential benefits of a drink during pregnancy — such as relaxation and enjoyment — don't outweigh the potential risks.
But not everyone agrees. In her book Expecting Better: Why the Conventional Pregnancy Wisdom is Wrong – and What You Really Need to Know, Emily Oster, a Harvard-trained economist, argues that occasional drinking should be fine. After examining hundreds of studies, Oster determined that there is no evidence to suggest that having an occasional drink — even as much as one drink per day — is harmful to the fetus. But in the first trimester, due to an increased risk of miscarriage, she recommends no more than two drinks a week.
How did Oster come to these conclusions? She quotes one well-designed large-scale study involving 3,000 pregnant women in Australia who were separated into four groups: abstainers (no alcohol), occasional drinkers (up to 1 drink per week), light drinkers (2-6 drinks per week), and moderate drinkers (7-10 drinks per week). The women's alcohol use at 18 weeks of pregnancy was compared with the rate of behavioral problems in their children at age 2 and again at age 14. The study showed no difference between the children of mothers who abstained and those who had up to a drink a day. A similar study of 5,000 women in Australia found that children of mothers who drank occasionally during pregnancy had IQ levels at age 14 equivalent to those whose mothers did not drink at all.
In addition, a systematic review from 2011 (not quoted in Oster's book) did not find an association between consuming up to about one drink per day and an increased risk for a low birth weight baby. Similarly, the study found no association between preterm labor and drinking up to 1.5 drinks a day. However, it should be noted that the researchers did not test for alcohol-related damage in the babies.
Does that mean light drinking is safe?
The assertion that occasional drinking may be fine has stirred up considerable controversy. Some providers embrace this more relaxed approach to drinking and appreciate Oster's desire to cede some decision-making power back to women. Many others are up in arms.
Dr. Jeanne Conry, president of ACOG, as well as the National Organization on Fetal Alcohol Syndrome have spoken out publicly in opposition to Oster, pointing to additional studies that indicate that low to moderate levels of drinking increase the risk of miscarriage, stillbirth, preterm delivery, and sudden infant death syndrome. They state that the research is too muddled and the potential pitfalls of getting it wrong are too great to recommend occasional drinking during pregnancy.
Should I abstain from drinking during pregnancy?
While drinking alcohol during pregnancy can have serious lifelong repercussions for the fetus and frequent heavy drinking and binge drinking greatly increase the risk of fetal alcohol spectrum disorders, the evidence is more ambiguous when it comes to occasional drinking. Some experts assert that a few drinks in the second or third trimester, even as much as one drink per day, is fine while others look at the evidence and proclaim that no amount of drinking is safe.
The leading obstetric and pediatric organizations recommend total abstinence from alcohol for the entire pregnancy. But ultimately, it's a personal decision, so if you decide to imbibe, know the risks and drink as minimally as possible.
If you think you may have a problem with alcohol, talk to your prenatal provider right away. Other resources include your local chapter of Alcoholics Anonymous or a behavioral health treatment center near you.
Concerned about alcohol you drank before you knew you were pregnant?
We now offer pediatric services in San Francisco and New York.
Register today
.
The One Medical blog is published by One Medical, a national, modern primary care practice pairing 24/7 virtual care services with inviting and convenient in-person care at over 100 locations across the U.S. One Medical is on a mission to transform health care for all through a human-centered, technology-powered approach to caring for people at every stage of life.
Any general advice posted on our blog, website, or app is for informational purposes only and is not intended to replace or substitute for any medical or other advice. 1Life Healthcare, Inc. and the One Medical entities make no representations or warranties and expressly disclaim any and all liability concerning any treatment, action by, or effect on any person following the general information offered or provided within or through the blog, website, or app. If you have specific concerns or a situation arises in which you require medical advice, you should consult with an appropriately trained and qualified medical services provider.