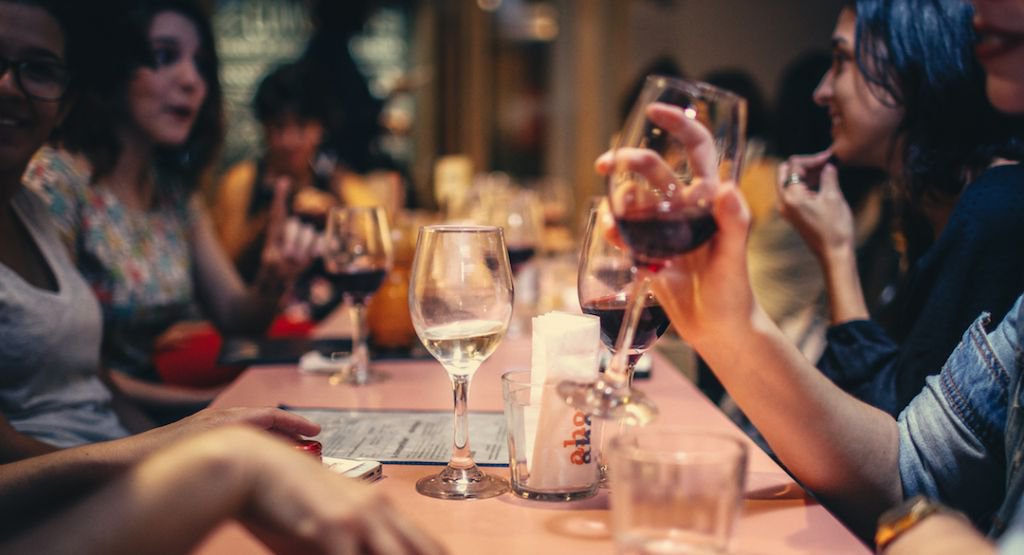 How do you define a "drinking problem"? Does it mean waking up and swilling whiskey in place of coffee? Or partying every night with a cocktail constantly in hand? Or can problematic drinking be something more subtle? Something you don't even realize you're doing?
The answer is complicated, but in some cases, yes — a "drinking problem" may not neatly line up with a textbook example or a stereotypical standard set by the media.
There are a lot of different ways experts categorize problematic drinking; getting to know the definitions of phrases like "heavy drinking," "high-risk drinking," and "alcohol use disorder" may help you better understand whether your behavior (or the behavior of your loved ones) is indicative of an issue.
According to the 2015 National Survey on Drug Use and Health (NSDUH), 56 percent of American adults reported drinking in the past month, and 26.9 percent reported "binge drinking" in the past month. Seven percent reported "heavy alcohol use" in that same time period. A 2017 study published in the the JAMA Psychiatry painted a more alarming present-day picture: Between 2001-2002 and 2012-2013, general alcohol use rose from 65 percent to 73 percent of the adult population, and the percentage of the population that engaged in "high-risk" drinking rose by almost 30 percent. Also in that time period: The amount of people who were identified as having "alcohol use disorder" (AUD) increased by almost 50 percent.
But what do all these categories mean, and at what point does drinking actually become an issue? Learning where experts draw the line between moderate use and addiction or abuse is an important step in understanding your own relationship with alcohol, and potentially helping to educate and support someone you love who may be struggling.
Defining drinking levels
One reason many people find it difficult to identify a drinking problem is that there's no single definition for what exactly that is. According to the Dietary Guidelines for Americans, "moderate" drinking is considered a maximum of one drink per day for women and up to two drinks per day for men (for reference, a standard drink serving is typically considered 12 ounces of beer, 8 ounces of malt liquor, 5 ounces of wine, or 1.5 ounces of liquor). But behavior that goes beyond those standardized limits is harder to neatly classify.
The National Institute of Alcohol Abuse and Alcoholism (NIAAA) outlines different levels of drinking that go beyond the boundaries of moderate use:
Binge drinking

— A pattern of drinking that brings blood alcohol concentration (BAC) levels to 0.08 g/dL, which typically occurs after

four drinks for women

and

five drinks for men

a two-hour period.

Heavy/risky alcohol use

— The NIAAA

considers

anything more than single-day or weekly limits to be "at-risk" or "heavy" drinking (which, for men, is four drinks on any day or 14 per week, and for women is more than three drinks on any day or seven per week). The Substance Abuse and Mental Health Services Administration (SAMHSA), which conducts the NSDUH referenced above, defines "heavy alcohol use" as binge drinking on five or more days in the past month.
The NIAAA reserves another label for problem drinking that becomes severe enough to merit a medical diagnosis: "alcohol use disorder" (AUD), a chronic relapsing brain disease characterized by "compulsive alcohol use, loss of control over alcohol intake, and a negative emotional state when not using." Individuals have to meet a specific set of criteria to be diagnosed with AUD; currently about 16 million people in the U.S. have it.
But while these black and white categories do exist, a person doesn't necessarily have to meet any kind of official criteria to merit help with their drinking. "Harmful alcohol use is a pattern of drinking that causes damage to physical or mental health," Bhuyan says. And what's considered damaging to these areas of well-being may vary from person to person. Generally speaking, drinking is considered a problem when it starts to negatively affect a person's personal or professional life, or when a person has lost control over their drinking.
What to do if you suspect you have a drinking problem
"The AUDIT-C is a great and shorter tool," Bhuyan says of the modified screening instrument which can be found online. "But honestly, if a person is worried that their drinking is a problem, it's probably a problem, and they should seek professional help."
"The most important step for people is to first recognize they have a problem with alcohol," Bhuyan says. "After that, there are a lot of resources. You should see your primary care provider to come up with a game plan that makes sense for you as an individual. The treatment plan may include medications, counseling, group therapy, or other options."
How to help a friend in need
Recognizing and dealing with your own problematic behavior around alcohol can be a challenge, but addressing a loved one's addiction issues can be difficult in different ways. "Approaching a friend or family member about their alcohol usage is never easy, especially if the person does not realize they have a problem themselves," Bhuyan says. "Consider your relationship with the person, and make that the focus of your conversation." To make the most out of a tough interaction, Bhuyan suggests the following guidelines:
"Think about your safety and theirs. Talk with them when they are not drinking."

"Make sure that you emphasize how important this person is to you and that you want to see them living a healthy and happy life."

"Focus on communicating your own feelings. Give them time to share how they are feeling." "Remember, they need to recognize they have an issue with alcohol. Talk about the person you know, the person beyond the alcohol use. People are not their disease — it can change their lives, but it doesn't change who they are."

"Offer to help find resources for them — offer to even attend any appointments with them. Just be supportive!"
The One Medical blog is published by One Medical, a national, modern primary care practice pairing 24/7 virtual care services with inviting and convenient in-person care at over 100 locations across the U.S. One Medical is on a mission to transform health care for all through a human-centered, technology-powered approach to caring for people at every stage of life.
Any general advice posted on our blog, website, or app is for informational purposes only and is not intended to replace or substitute for any medical or other advice. 1Life Healthcare, Inc. and the One Medical entities make no representations or warranties and expressly disclaim any and all liability concerning any treatment, action by, or effect on any person following the general information offered or provided within or through the blog, website, or app. If you have specific concerns or a situation arises in which you require medical advice, you should consult with an appropriately trained and qualified medical services provider.