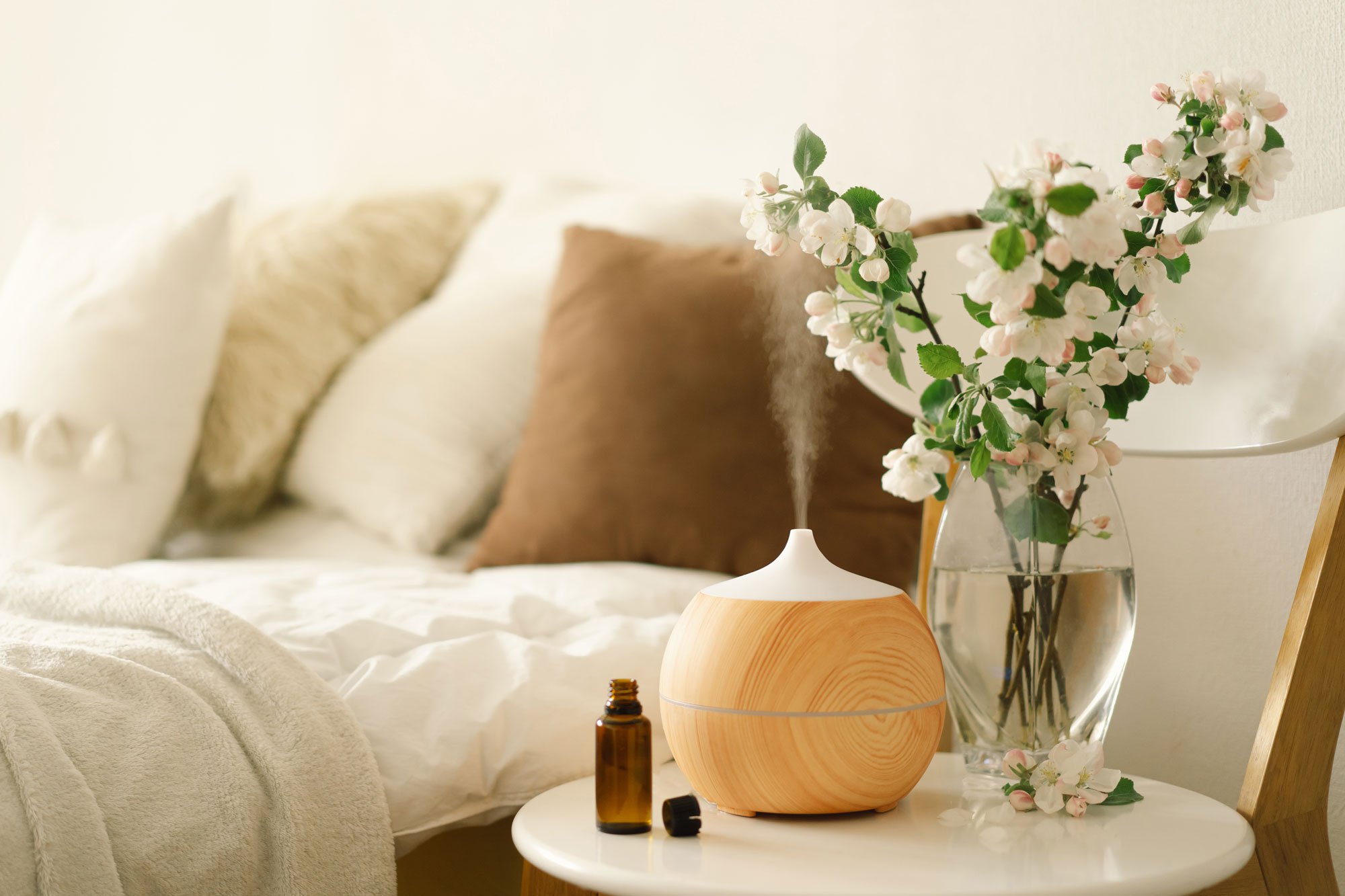 Raise your hand if you've ever bought essential oils because the labels assured you they would somehow boost your energy, improve your sleep, increase concentration, and/or change your whole life for the better? If you're waving your arm in the heavily scented air, you're not alone.
Oils and diffusers have grown in popularity with the self-care movement in recent years, with many being marketed as a solution to pain, stress, and other health ailments. But do they actually work and are they safe? Here's what we know:
What are essential oils?
Essential oils are concentrated plant extracts that have been used in various ways for generations. According to the National Institute of Environmental Health Sciences, essential oils are produced through mechanical pressing or distillation. It takes a massive quantity of a plant to produce a concentrated extract. For example, about 220 pounds of lavender flowers produces just one pound of lavender oil and it takes approximately 5,000 pounds of rose petals or lemon balm to make a pound of rose or lemon balm essential oil.
Dozens of essential oils exist, but some of the most common types include lavender, tea tree, frankincense, eucalyptus, and lemon. Each essential oil has a unique chemical makeup, and the distinct composition influences how the oil smells, how it's absorbed, and what effect it may have on the body. Proponents believe that specific oils may be used to improve mood, enhance a sense of relaxation and calm, and even relieve pain. Essential oils have been used for therapeutic purposes for nearly thousands of years throughout the world in everything from cosmetics and perfumes and have been included in spiritual, hygienic, and ritualistic practices as well.
How are essential oils used?
There are a variety of ways essential oil enthusiasts recommend using these potent liquids, but one of the most popular methods is aromatherapy, a form of complementary medicine that uses the sense of smell to target certain health concerns. It's important to note that topical or internal use of essential oils has been linked to a variety of health problems (including hormonal disruption, skin irritation, and seizures), so you shouldn't take essential oils by mouth without specific instructions from a trained and qualified medical professional. Although there is limited research on aromatherapy, it is generally considered safe when used as directed.
How does aromatherapy work?
Experts believe the mechanism of aromatherapy lies in the concentrated scent's ability to stimulate smell receptors in the nose. When these receptors are stimulated, they may send messages through the nervous system to the brain's emotional center, otherwise known as the limbic system. Some researchers believe that inhaling the molecules of certain essential oils may stimulate the limbic system to calm or energize, or to help with sleep.
Why do aromatherapy?
While there's not enough research to prove aromatherapy is necessarily helpful for any medical condition, some studies indicate it may be a useful tool in managing conditions like anxiety, depression, nausea, and insomnia. Some smaller studies have also indicated that aromatherapy could help improve quality of life for people with dementia, and reduce pain in people with kidney stones or osteoarthritis and during labor/childbirth. Some evidence also suggests that citrus oils may help bolster the immune system. However, research on these uses of aromatherapy is limited, so there's no guarantee the practice will actually help improve any health condition.
Many people also just like the idea of aromatherapy because the scents of certain oils are pleasant — which, in and of itself, can help boost mood and promote relaxation. A few popular scents that have been shown to help relieve stress, anxiety, and depression are lavender, rose, sandalwood, and more.
While essential oils are generally considered safe for aromatherapy (research on the safety and efficacy of taking any essential oil internally is extremely limited), essential oils aren't regulated by the Food and Drug Administration (FDA), so consumers are always advised to proceed with caution and consult with a medical professional about the potential risks and benefits. It's also important to know that — although rare — some people may experience irritation or allergic reactions to certain essential oils, so it's always best to consult with a medical professional before trying a new product.
How can you use essential oils for aromatherapy at home?
While essential oils aren't regulated by the FDA and the quality may vary widely (some may be more diluted than others), they are generally considered safe for use in aromatherapy under certain conditions. Many people use essential oil diffusers to disperse the scent throughout a space in their homes, but some medical experts caution against this because the diffusion of different scents can affect people differently. For example, while peppermint oil may help alleviate headache symptoms in one person, it may have a negative effect in another.
Diffusers also aren't without risk to those who live alone. General safety principles include following dilution guidelines for the oils involved, diffusing in a well-ventilated area, and diffusing intermittently (usually for about 30-60 minutes at a time and then taking a 30-60 minute break).
Some less risky ways to reap the potential benefits of aromatherapy include using aromatherapy accessories like bracelets or keychains scented with the desired fragrance, using body oils that mix essential oils with safe carrier oils like olive or jojoba that help dilute the concentrated essential oil, or using an essential oil inhaler, a portable plastic with an absorbent wick that soaks up essential oil.
While there are still a lot of unknowns around the concrete pros (and potential cons) of essential oils, practicing aromatherapy safely may help elevate a low mood or boost energy. If you're interested in trying aromatherapy yourself, talk to your primary care provider about the simplest and safest strategies to get started.
The One Medical blog is published by One Medical, a national, modern primary care practice pairing 24/7 virtual care services with inviting and convenient in-person care at over 100 locations across the U.S. One Medical is on a mission to transform health care for all through a human-centered, technology-powered approach to caring for people at every stage of life.
Any general advice posted on our blog, website, or app is for informational purposes only and is not intended to replace or substitute for any medical or other advice. 1Life Healthcare, Inc. and the One Medical entities make no representations or warranties and expressly disclaim any and all liability concerning any treatment, action by, or effect on any person following the general information offered or provided within or through the blog, website, or app. If you have specific concerns or a situation arises in which you require medical advice, you should consult with an appropriately trained and qualified medical services provider.