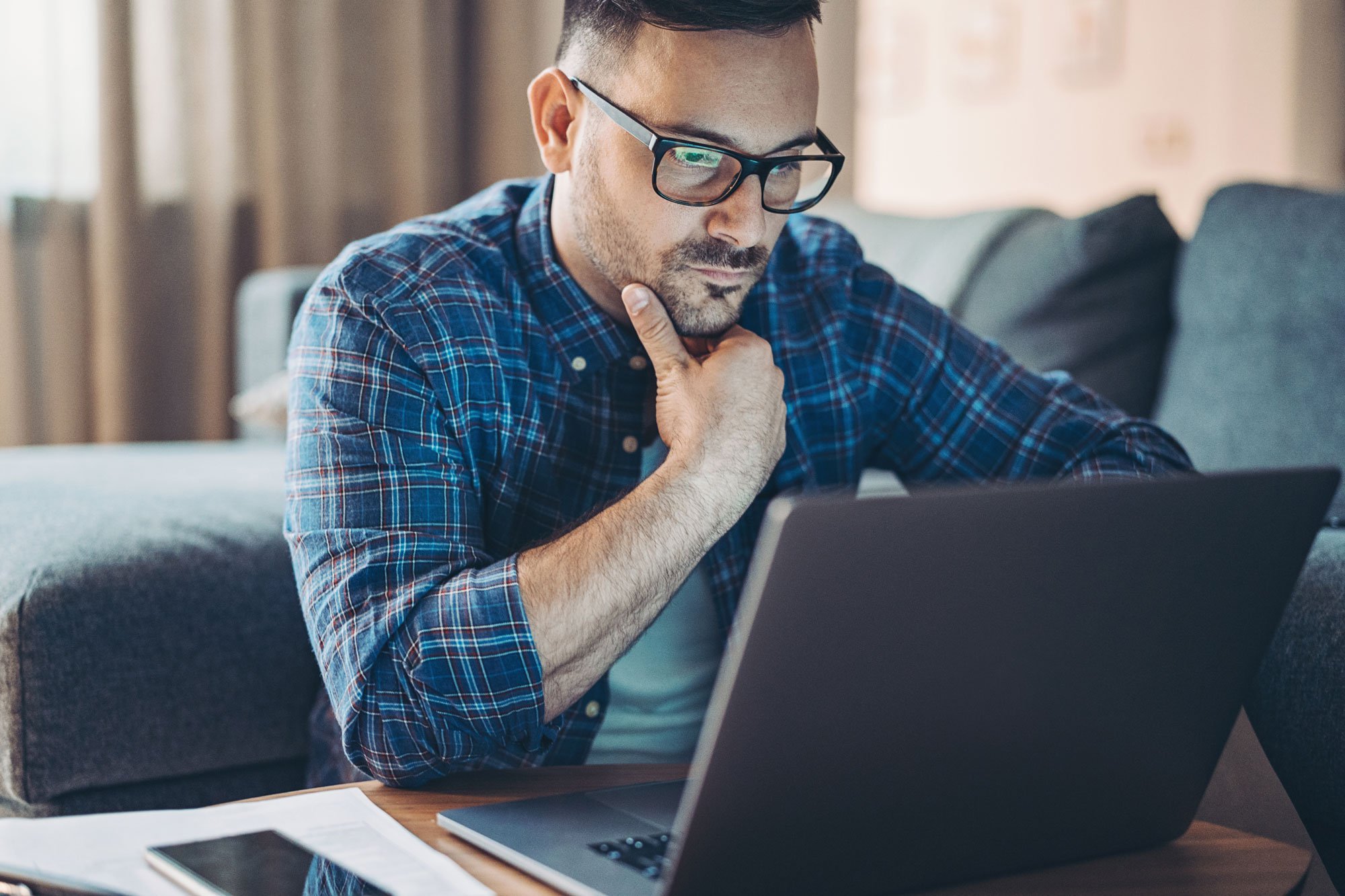 Applying for jobs during a pandemic can feel downright impossible. The stakes are high, the interview settings are less than ideal, and the futures of so many businesses are uncertain. Managing your stress is critical for your success in landing a new role, as well as for your physical and mental health.
When you're stressed, your body produces cortisol, a hormone created in your adrenal glands, which at high levels can interfere with brain functioning and impair your immune system. Prolonged, unmanaged stress can also cause depression, digestive issues, sleep loss, weight fluctuations, headaches and fatigue - not exactly setting you up to nail an interview.
So how do you combat it? You've heard it all before: eat well, exercise, get 7-8 hours of sleep, avoid alcohol, hydrate, and meditate. But here are some additional ways to stay calm during this turbulent time:
Focus your mindset
"Try to remember that worrying can't resolve anything faster," says Christine Celio, PhD, and Clinical Director of Mental Health Integration at One Medical. It's understandable to be worried with so much uncertainty in the world, but dwelling on the unknown isn't productive. Reminding yourself that this period of job hunting will not define the rest of your life can ease your anxiety. Understanding that you aren't the only one going through this right now can also put things in perspective. If you're struggling to calm down, breathe in for 5 counts, out for 5 counts and repeat. Constantly checking for incoming emails from potential employers can exacerbate anxiety. Nothing productive comes from your body being in a state of fight or flight, and keeping your cortisol levels in check will make you a better partner, parent, friend, and interviewee. "Getting lost in worries about potential failure will also distract you from doing the things you need to get a job, like preparing your resume, practicing for an interview, or networking," says Celio. "Try to do one thing at a time." Multitasking or toggling between tasks can cause you to do things poorly or get worked up into a state of overwhelm or panic.
Spend more time outside
The grounding abilities of nature can be extremely calming during stressful periods. "Forest Bathing" is a term the Japanese use to describe simply being in, sitting in, and observing nature as a method of relaxation . No phones, no exercise, just calmly pay attention to the breeze, the sounds, and the smells. Even just walking barefoot in the grass can help your ground yourself. Can't get outside? Open your windows to let in fresh air or put on a nature documentary or audio track. Studies have shown that physically placing yourself in nature has the ability to reduce stress and anxiety, as well as boost your mood. One study, for instance, found that people who spent just 20 minutes in a park outdoors each day reported feeling happier.
Engage your parasympathetic nervous system
Your parasympathetic nervous system regulates your circulatory and respiratory systems and keeps you calm. In contrast, your sympathetic system is what controls your body's involuntary response to stress or survival and sends you into fight or flight mode. When we are in states of chronic stress, like unemployment, our perpetual anxiety is hard to relieve without actively doing something to fix it. "Having 2-3 things to do on a regular basis to kick in your parasympathetic system is key, Celio says. "Exercise, breathing exercises, laughter, hugs, and petting your animals are all things that can help stimulate your parasympathetic system." This in turn releases the cortisol created by stress and restores balance in your system. If you can't go outside, exercise inside or do breathing exercises. If you have time before your interview, do one of the activities that works for you to make sure you're at your best. "Try to interview at the time of day that works for your energy levels. Some people like to interview first thing in the morning so they don't have time to overthink, others like afternoons so they can research or exercise beforehand," says Celio.
Be realistic
Job seeking is like dating. It's easy to jump to thinking a particular role is "the one" when it looks like the perfect fit on paper. Be realistic about each position you find. Try to avoid putting all your eggs in one basket or getting your hopes up about one specific role or company. Diversify where you apply and be open-minded. "Don't get in your own way," says Celio. "Apply for jobs you have the experience for, but let the hiring teams decide if you're qualified before you assume you are not the right fit and don't apply." says Celio. If you've gone through a recruitment process and you think things are going great but the recruiter ghosts you, don't take it personally. At One Medical we pride ourselves on our quick turnarounds to reply to candidates but unfortunately, a lot of companies do not have adequate processes or resources to do so. It may be frustrating when a recruiter goes AWOL, but it can also be a red flag that a company is scattered, so consider it a blessing and move on.
Get organized
Just as a clean and organized home can help create a sense of calm, it's equally important to organize your job search. Tracking when and where you apply will enable you to conduct the appropriate follow up, while saving you from worrying about loose ends. You don't have to be an Excel wizard to create a basic spreadsheet with columns for company, role, date applied, hiring manager, etc. Having that information written down so it's not at the back of your mind will allow you to be present in your daily activities. Additionally, it can help to write down your fears, anxieties, and worst case scenarios, even if you jot them down on a piece of paper and throw it away. The human brain is creative and loves coming up with hypothetical scenarios, but it's important to not believe everything you think and focus on what you can control with your job search.
Create a distraction-free interview space
Many companies are now conducting interviews over video calls, which can present a plethora of challenges. A few things to keep in mind are: sounds, background, and connection. It's important that you find somewhere quiet - sitting in your kitchen while your roommate washes dishes will make it hard to hear you. On many video call applications like Zoom you can add a virtual background, transforming your bathroom into an office or another professional workspace. It's perfectly fine to interview using headphones so you can't hear any background noises that may pull your attention away from the interview. Flag any potential interruptions at the start of the interview so it's not alarming if you do have to hop out mid-call to restart Peppa the Pig for your toddler.
If you're still struggling with your mental health or feel as if your stress and anxiety are interfering with your ability to function, please reach out to your primary care provider. For more tips on coping with unemployment during the pandemic, see here.

The One Medical blog is published by One Medical, a national, modern primary care practice pairing 24/7 virtual care services with inviting and convenient in-person care at over 100 locations across the U.S. One Medical is on a mission to transform health care for all through a human-centered, technology-powered approach to caring for people at every stage of life.
Any general advice posted on our blog, website, or app is for informational purposes only and is not intended to replace or substitute for any medical or other advice. 1Life Healthcare, Inc. and the One Medical entities make no representations or warranties and expressly disclaim any and all liability concerning any treatment, action by, or effect on any person following the general information offered or provided within or through the blog, website, or app. If you have specific concerns or a situation arises in which you require medical advice, you should consult with an appropriately trained and qualified medical services provider.