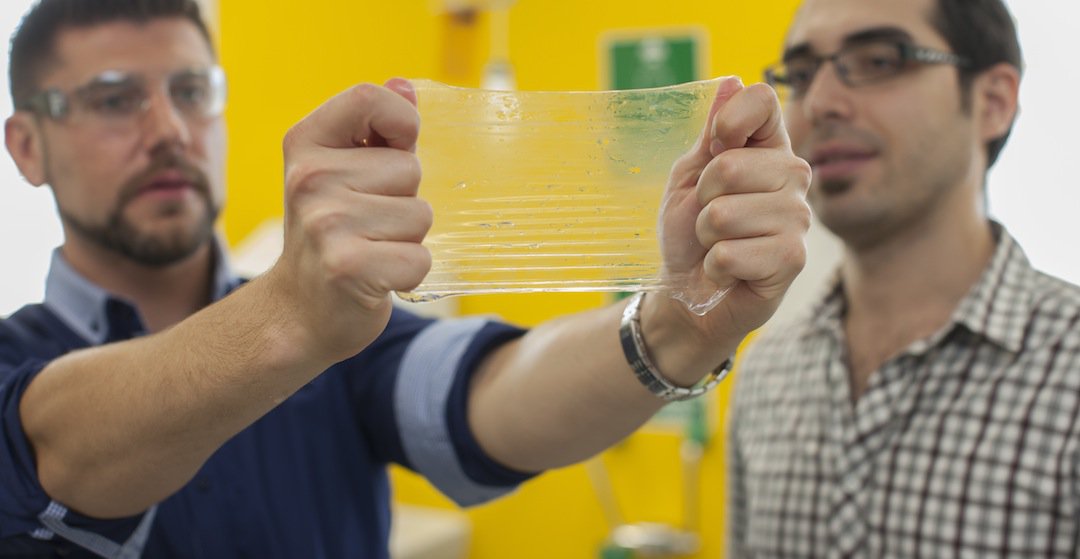 Condoms can be ribbed, flavored, and even glow-in-the-dark, but generally speaking, they're all pretty much the same. Despite the different new materials and available bells and whistles, condoms, which date back to 11,000 BC, haven't evolved much in the last several hundred years.
But Bill Gates is changing all that.
Sure, Gates may not be the first name that comes to mind when you think about safe sex, but the Microsoft magnate is paving the way for some revolutionary research via the Bill & Melinda Gates Foundation. In 2013, their Grand Challenges Explorations (GCE) initiative, which aims to advance the treatment and prevention of disease, awarded $100,000 grants to 11 winners working to find a new condom frontier.
Not all these contenders have gone on to make major waves in the condom industry, since getting Food & Drug Administration (FDA) approval for a new condom costs millions, but the competition has renewed interest in creating novel, more effective, convenient, and just plain cool contraception.
"The Gates Foundation grant seems to have made this a big topic," says Babeland co-founder and co-author of Moregasm: Babeland's Guide to Mind-blowing Sex, Claire Cavanah. "Condoms haven't been updated for years and it's an area that I think customers will be interested in if there are new choices."
Natasha Bhuyan, a One Medical provider in Phoenix, agrees, noting that while condoms play an in important role in protection, they're not always crowd-pleasers. "Despite advancements in reproductive health, condoms are still the most effective way to prevent STIs, like HIV, gonorrhea, chlamydia, syphilis or genital warts; no other form of birth control is able to prevent STIs," she says. "Unfortunately, condoms are not used consistently because of the way they feel to some people."
So can new innovations change the condom game and convert nonbelievers? The jury's still out, but the advances are fascinating. Here's the lowdown on some of the newest developments in condom technology:
ORIGAMI
What it is: Unlike traditional condoms, ORIGAMI condoms are folded rather than rolled (hence the origami reference), allowing for a looser fit and more movement while still being protective. ORIGAMIs are made from an alternative material that manufacturers say is "non-allergenic, strong, highly stretchable, lacks taste and odor, and has certain antimicrobial properties." The inside of the condom is also designed to feel like human mucosal tissue in an effort to make sex more pleasurable for anyone who dislikes the feeling of conventional condoms.
Is it a game changer? "Origami's innovation is that it allows for more movement," says Carol Queen, Good Vibrations sex educator and author of The Sex & Pleasure Book.
The Galactic Cap
What it is: The polyurethane Galactic Cap has two parts: an adhesive base that sticks to the tip of the penis but doesn't cover the entire shaft, and a cap that sticks to this base and goes on before intercourse. It's been pre-approved by the FDA, the manufacturers raised more than $100,000 to continue development, and prototypes are available on the website. The prototypes are pricey though: one condom is $25 and a pre-order of the FDA-approved model (which won't be available until 2017) is $15.
Is it a game changer?: "The Galactic Cap is a very interesting and somewhat innovative design," Queen says, noting that head-only condoms have existed in the past, but haven't been fool-proof. She's not sure this one is a perfect solution either.
Hydrogel
What it is: Hydrogels are uniquely textured condoms that are currently being developed by Bill & Melinda Gates Foundation grant recipient Mahua Choudhury and her team at the Texas A&M Health Science Center, as well as Australian company Geldom. Hydrogels (pictured above) are made from materials that consist mostly of water held together by molecular chains called polymers but have properties similar to rubber, resulting in a softer feeling that may improve the feeling of condom wear. According to the Geldom website, "Hydrogels also have properties close to tissue and can be designed to feel like skin." They also sidestep the potential irritations of latex, and are potentially biodegradable and eco-friendly. The manufacturers add, "they even have the potential to deliver anti-STD medication or sensation enhancing agents."
Is it a game changer?: "The hydrogel condom is a pretty radical idea if it will work and if its texture is truly different," Queen says. Hydrogels are still being prototyped, but they could debut later this year.
FC2
What it is: FC2 is considered the next generation of the female condom. Traditional female condoms, which are inserted into the vagina prior to intercourse, are considered effective but expensive. This newer version is made of nitrile, a latex-free material that maintains the same level of safety and effectiveness as the original's polyurethane material, but is more cost-effective.
Is it a game changer?: The World Health Organization (WHO) approved FC2 for use in 2005 and the FDA granted approval in 2009. According to the company website, testers around the world have noted that the product is not only less expensive, but also lacks the greasiness and squeakiness that accompanied the original model. FC2 is currently available in a variety of countries and can be found on Amazon for about $2 apiece (the original female condom cost about twice as much).
Other Potential Game Changers
In addition to the innovations above, other designs are currently in development as well. A team from the University of Manchester for example, is working on a model made of elastic materials that will supposedly allow more of a skin-to-skin feel and a team from Northwestern University is working on a material that is intended to feel more like mucosal tissue to replicate a natural experience.
In addition to these tactile improvements, researchers are also looking to enhance safety. A team at the Boston University Medical Center is developing a nanoparticle coating that reduces friction and helps prevent breakage, and researchers at the University of Tennessee are hoping their technology will allow for thinner, softer, stronger condoms that are more resistant to tears.
With continued funding and development, condoms of the future could be better, stronger, and easier to use than ever before.
The One Medical blog is published by One Medical, a national, modern primary care practice pairing 24/7 virtual care services with inviting and convenient in-person care at over 100 locations across the U.S. One Medical is on a mission to transform health care for all through a human-centered, technology-powered approach to caring for people at every stage of life.
Any general advice posted on our blog, website, or app is for informational purposes only and is not intended to replace or substitute for any medical or other advice. 1Life Healthcare, Inc. and the One Medical entities make no representations or warranties and expressly disclaim any and all liability concerning any treatment, action by, or effect on any person following the general information offered or provided within or through the blog, website, or app. If you have specific concerns or a situation arises in which you require medical advice, you should consult with an appropriately trained and qualified medical services provider.