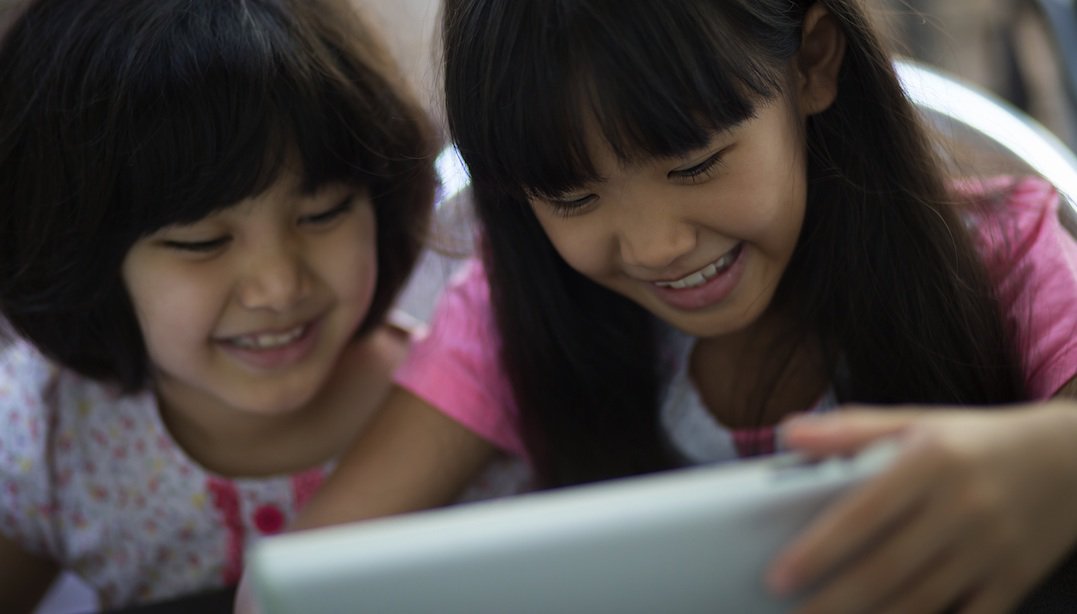 On a trip to the mall, you've probably spotted a very young child transfixed by a smartphone, sitting quietly in a stroller as his mom shops. Or maybe you've had to get in between two siblings squabbling over whose turn it is to use the family iPad.
Kids love the shiny screens of tablets, laptops, TVs and smartphones, maybe more than adults do. In fact, children ages 5 to 16 are on a screen an average of six and a half hours a day, according to statistics from Childwise, a research firm based in the UK. And the figure for teens is close to nine hours.
But just what effect is all this screen time having on their developing brains and eyes? The answer to that question isn't entirely clear, but educators and health care professionals are concerned that excessive screen time is harming children and teens in a number of ways. They're urging parents to set limits on screen time, just like they limit eating junk food.
"Almost all families have problems with managing technology with their children,"  says Jody Ullom, a pediatrician in San Rafael. She asks about screen time at every wellness visit, and uses it to get into a conversation about why limiting time online is a good idea.
So What's the Problem?
In 2013, the American Academy of Pediatrics issued a report on tech use with recommendations for pediatricians, parents and schools. Their guidelines included no screen time for children under age 2, less than two hours a day for older children and no TVs in the bedroom.  But those recommendations aren't based on a specific study, because there are very few randomized case controlled studies that show how children's development is affected by screen time.
Penelope Hsu, a pediatrician in Brooklyn, and many other health care providers, base their concerns on the way excess screen time can affect the lives of kids and teenagers. Here's some of what she's noticed.
It can make kids less active.


"We don't want them sitting in front of the TV all day, we want them to go outside and play with their friends," says Hsu.

 
It can hinder social skills.


"If you're only interacting with a screen, you don't learn how to socialize very well. Social skills, empathy — all those things are learned in a social context instead of in front of a screen," says Hsu.

 
It's hard on the eyes.
Hsu had a 16-year-old patient who complained that her eyes hurt every time she looked up from her computer screen. The girl was a bookworm who liked to study, so she ended up spending four hours a day on her computer on weekdays and eight hours a day on weekends. "She was complaining so much, I sent her to an opthamologist. The diagnosis was dry eyes from too much screen time," says Hsu.
Delaney Ruston, MD found other impacts on cognitive development, including the ability to focus, sense others' emotions and pay attention as she researched her movie 2016 Screenagers.
"In Screenagers, we look at a compelling study whereby young kids in preschool are randomized to watch fast-paced screen time as opposed to playing with crayons," says Ruston. Afterward, researchers at the University of Virginia gave all 60 of the 4 year-olds in the study cognitive-functioning tests . The kids who played with crayons did better on those tests, leading researchers to conclude that the fast-paced screen time fatigued the brain.
What Parents Can Do
Ullom says helping manage the way kids use tech now is setting them up for habits they will carry through life. "What kind of daily habits do you want your kids to have?" she asks. Should it be running around outside, doing yoga and reading a book or do you want it to be hours of My Little Pony and Sponge Bob?
Here are some ways to avoid having a screenager:
Keep your kids busy.
Keeping the kids occupied with chores, cooking, crafts and extracurricular activities such as soccer or violin lessons, means they won't have as much time to zone out on their smartphones.
"The studies show that when kids participate in after school programs — Boys and Girls Club, Boy Scouts —  learning life skills and social skills and doing sports and learning cooperation, it predicts for doing better in life in jobs and relationships," says Ruston.
Learn how to say no.
Ullom remembers treating a morbidly obese 17-year-old who seemed to be addicted to video games. "He weighed about 350 pounds," says Ullom. "He was doing poorly at school, he was online gaming every waking minute. His goal was to be a professional gamer. His mom said 'you know, I never said no to him.' It's not like she didn't love him; she didn't feel like she could."
Work with your kids to develop house rules.
In Ruston's house, they do "Tech Talk Tuesday" where she, her daughter and son talk about strategies for making sure their devices don't take over. Their house rules include leaving the phone in another room while the kids are studying. They take breaks every 30 minutes or so to catch up on the latest with their friends. Others rules might be no phone at the dinner table or in bed.
Don't use a device as a babysitter.
"It's so easy to take care of the kids when they're watching something you can get the laundry done and cook," says Ullom."But it's a trap."  Instead, try to find a way your child can help.
Set a good example.
If parents want their kids to be engaged at the dinner table or on weekends around the house, parents need to do the same. Stop checking your email every five minutes, put down the phone, close the laptop, look your children in the eye and listen.
"Parenting around technology is the biggest parenting issue of our time," says Ruston. "It's an incredibly important time of mental and social development with such high potential to learn all sorts of things. We don't want it reduced to video games."
The One Medical blog is published by One Medical, a national, modern primary care practice pairing 24/7 virtual care services with inviting and convenient in-person care at over 100 locations across the U.S. One Medical is on a mission to transform health care for all through a human-centered, technology-powered approach to caring for people at every stage of life.
Any general advice posted on our blog, website, or app is for informational purposes only and is not intended to replace or substitute for any medical or other advice. 1Life Healthcare, Inc. and the One Medical entities make no representations or warranties and expressly disclaim any and all liability concerning any treatment, action by, or effect on any person following the general information offered or provided within or through the blog, website, or app. If you have specific concerns or a situation arises in which you require medical advice, you should consult with an appropriately trained and qualified medical services provider.