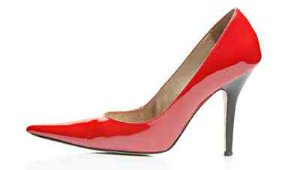 You might love how high heels add inches and style to your stature. And you may even feel so comfortable in them that you can sprint for the bus-and make it! But over time, high heels can wreak havoc on your body. "When you're young, your body is incredibly resilient. It doesn't have as many years of strain from repetitive patterns," says One Medical Group osteopathic physician Carrie Bowler. "When you're older, you have a lower threshold for body dysfunction. And if you've worn heels a lot in your life, poor alignment patterns can trigger painful conditions." Before you continue to slip on your favorite stilettos, here are the specifics on how high heels can affect your health:
Misalignment
The main problem with high heels, says Bowler, is that they change your body alignment while you wear them. Elevating your heels places more of your body's weight on your toes, which causes your body, particularly your pelvis, to tilt forward. To compensate and stay upright, you unconsciously lean backward and overarch your back, creating a posture that can strain your knees, hips, and low back. According to Bowler, this may not be a problem if you wear heels only on occasion, "But when you're doing it all the time, it can cause unhealthy patterns–some muscles get tight, while others get weak–and these patterns can persist even when you're not wearing heels."
Knee pressure
Wearing heels also causes anterior loading, or uneven distribution of weight on the front part of the knee. This positioning can cause knee pain, and if you're predisposed to arthritis, Bowler says, it may exacerbate the condition.
Nerve compression, muscle spasms, and pain
Over time, wearing high heels can shorten the muscles in your calves and lower back, leading to pain and muscle spasms. An overarched back can cause a forward head posture, which strains neck muscles. And, Bowler explains, it's not uncommon for heel-loving women to experience sciatica. As muscles in the groin and hip flexors tighten, lower back and gluteal muscles compensate and can go into chronic spasm, creating pressure on the sciatic nerve.
Foot problems
High heels can cause plantar fasciitis, aggravate bunions, and contribute to other foot maladies. Any time you wear shoes that restrict the natural shape of your foot, you're at risk of causing pain; with high heels, you add an angle that puts increased pressure on the restricted areas. Additionally, if you're routinely wearing high heels, your Achilles tendon may contract, which strains your plantar fascia and can lead to painful inflammation of this fibrous tissue.
Will every woman who wears high heels suffer these consequences? Not necessarily. "Some women do better in heels than others," Bowler says. It just depends on your body's susceptibility and its innate stability and coordination. However, she adds, no matter how adept you feel at walking in heels, if you experience pain in your low back, groin, neck, or feet or get spasms in your calves at the end of the day, you should probably take a closer look at your shoe selection. Here are Bowler's suggestions:
Mix it up
Vary the height of your heels and don flat shoes on occasion. Wearing shoes that allow your body to move naturally during walking will allow your feet, legs, hips, and back to stretch and can help keep you from developing damaging repetitive body patterns.
Go wider
Wedge heels provide more stability than stilettos. Your feet can also sit more naturally in square toe boxes than in pointed ones.
Stretch it out
Do yoga poses such as High and Low Lunge and Standing Forward Fold to stretch the muscles in your calves, hip flexors, and hamstrings. Core work can also help stretch out shortened muscles in your back and tone overstretched muscles in your abdomen.
The One Medical blog is published by One Medical, a national, modern primary care practice pairing 24/7 virtual care services with inviting and convenient in-person care at over 100 locations across the U.S. One Medical is on a mission to transform health care for all through a human-centered, technology-powered approach to caring for people at every stage of life.
Any general advice posted on our blog, website, or app is for informational purposes only and is not intended to replace or substitute for any medical or other advice. 1Life Healthcare, Inc. and the One Medical entities make no representations or warranties and expressly disclaim any and all liability concerning any treatment, action by, or effect on any person following the general information offered or provided within or through the blog, website, or app. If you have specific concerns or a situation arises in which you require medical advice, you should consult with an appropriately trained and qualified medical services provider.