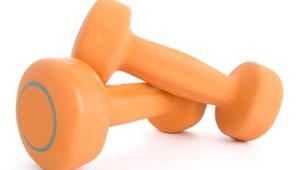 This move targets the front of your upper arms, specifically the biceps brachialis, biceps brachii, and brachioradialis. It will add tone and curves to your upper arms, and help you carry heavy boxes, babies, and grocery bags.
Step 1:
Stand tall and lengthen your lower back. Hold a weight in each hand and allow your arms to hang by your sides, palms facing in. Look forward and tuck your chin in, close to your neck. Soften your knees slightly.
Step 2:
Keep your upper arms close by your sides and bend your elbows. As you do, rotate your forearms so that your palms are facing forward and lift the weights up. Hold, then slowly lower, keeping your upper arms stable and held close to your torso. Repeat.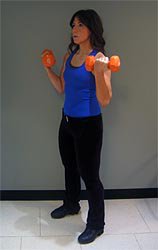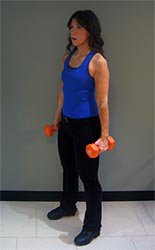 Do:
Choose a weight that is heavy enough to challenge your target muscles, but not so heavy that your joints feel strained.
Start with dumbbells that are at least 3 to 8 pounds, and gradually work up to heavier weights as one set of exercises becomes easier to complete.
Begin by doing one set of 8 to 12 repetitions. The move should feel challenging by the time you reach the last few repetitions of each set.
As you get stronger, work up to three sets.
Rest for 1 to 2 minutes before performing another set.
Do this exercise two to three times a week with a rest day in between.
Don't:
Grip the weights too tightly. Instead, hold the dumbbells loosely.
Ignore strain in your joints. If you feel stress or strain, try lifting one dumbbell at a time, or use a slightly lighter weight.
Allow your shoulders to hunch up by you ears. Draw your shoulder blades down your back and press them against your ribcage.
Martica Heaner PhD is a nutritionist and exercise physiologist and an award-winning health writer with a weekly column on Health.MSN.com. She is a research associate at Columbia University Medical Center in New York City and is the co-author of Cross-training for Dummies and Lean Mommy. Follow Dr. Martica on Facebook and Twitter.
The One Medical blog is published by One Medical, a national, modern primary care practice pairing 24/7 virtual care services with inviting and convenient in-person care at over 100 locations across the U.S. One Medical is on a mission to transform health care for all through a human-centered, technology-powered approach to caring for people at every stage of life.
Any general advice posted on our blog, website, or app is for informational purposes only and is not intended to replace or substitute for any medical or other advice. 1Life Healthcare, Inc. and the One Medical entities make no representations or warranties and expressly disclaim any and all liability concerning any treatment, action by, or effect on any person following the general information offered or provided within or through the blog, website, or app. If you have specific concerns or a situation arises in which you require medical advice, you should consult with an appropriately trained and qualified medical services provider.