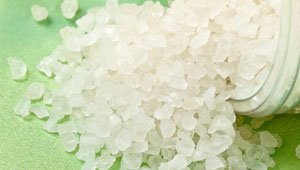 No, I'm not talking about those lovely lavender-scented crystals you keep by the tub. Rather, these latest designer-drugs-of-the-day are potent synthetic concoctions of a natural chemical found in the leaves of the khat plant, indigenous to Arabia and North Yemen. Bath salts produce the combined effects of amphetamines and cocaine and are far more potent than either. As a result, bath salts are more addictive and much more dangerous. In the last year alone, the use of these drugs prompted over 6,000 calls to poison control centers.
About Bath Salts
Bath salts are sold at head shops, gasoline stations, and online under various colorful epithets such as Vanilla Sky, Blue Silk, Purple Wave, Zoom, Cloud Nine, and Hurricane Charlie. They're usually found in small packets marked "Not Fit for Human Consumption," and are often disguised as plant fertilizer, toilet bowl cleaner, and other household products. They're called "bath salts" for the simple reason that they resemble ordinary bath crystals.
These drugs can be swallowed, smoked, snorted, or injected intravenously, but no matter how a person takes them, they are extremely dangerous. The risk of overdose is great, because the packets usually contain several times the amount of drug necessary to get high. In addition, the amount of drug in each packet can vary considerably.
Side Effects from Bath Salts
Side effects from bath salts can be terrifying and very dangerous. They include:
Neurologic effects. Users may experience muscle spasms, involuntary movements of the arms and legs, and seizures.
Cardiac effects. Side effects range from a racing heartbeat to a heart attack and sudden death.
Psychologic effects. These may be the most frightening side effects of all, including violent–often murderous–behavior, nightmares, paranoia, and hallucinations.
Acute kidney and liver failure.
Whatever name they are sold under, bath salts are unsafe, and the only sensible advice to anyone who wishes to try them is, "Don't!" Emergency rooms and intensive care units have already seen far too many patients who have suffered ill effects from these drugs.
The One Medical blog is published by One Medical, a national, modern primary care practice pairing 24/7 virtual care services with inviting and convenient in-person care at over 100 locations across the U.S. One Medical is on a mission to transform health care for all through a human-centered, technology-powered approach to caring for people at every stage of life.
Any general advice posted on our blog, website, or app is for informational purposes only and is not intended to replace or substitute for any medical or other advice. 1Life Healthcare, Inc. and the One Medical entities make no representations or warranties and expressly disclaim any and all liability concerning any treatment, action by, or effect on any person following the general information offered or provided within or through the blog, website, or app. If you have specific concerns or a situation arises in which you require medical advice, you should consult with an appropriately trained and qualified medical services provider.