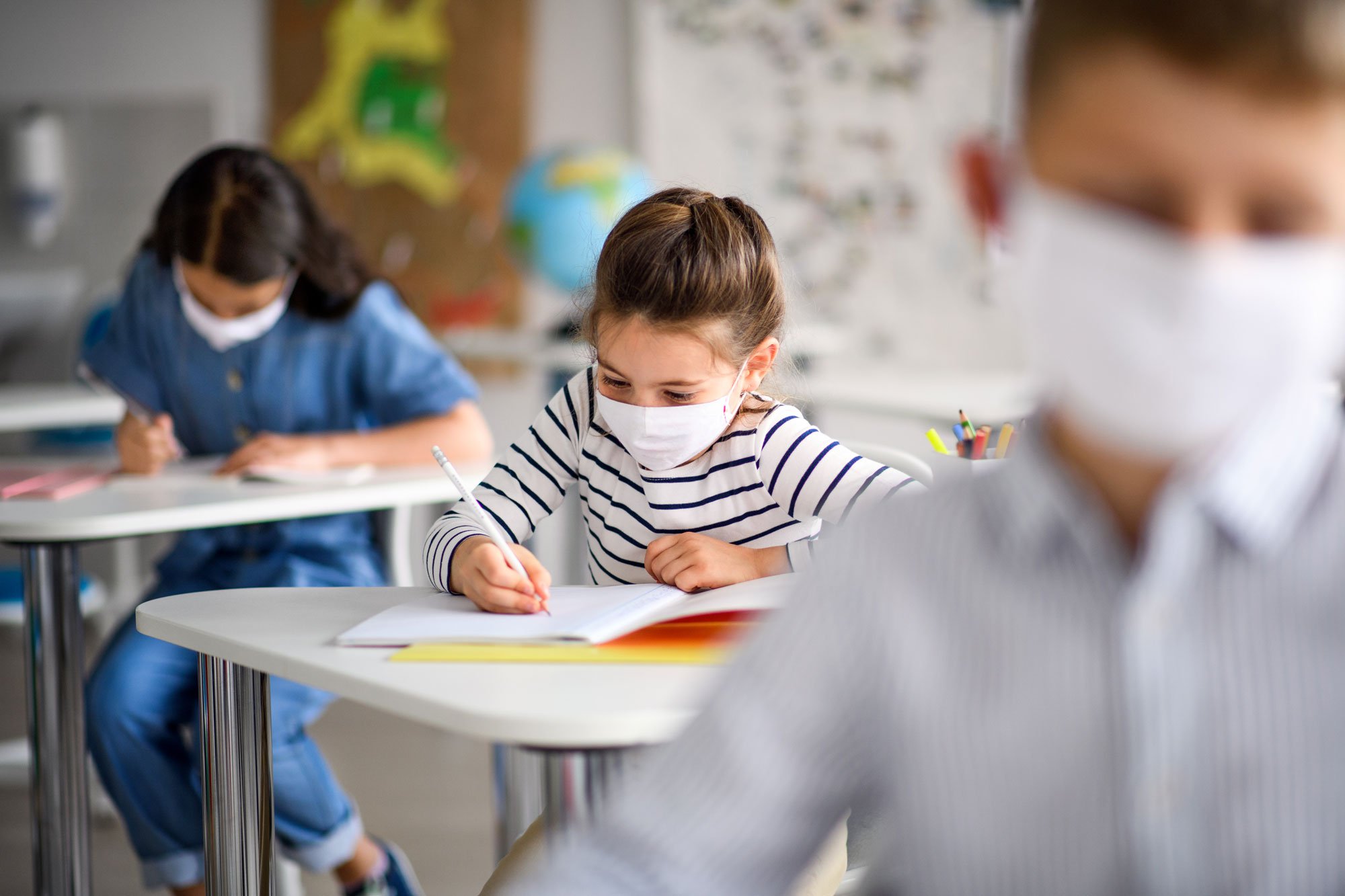 As fall approaches, parents and students across the country are gearing up for the start of school. But as the coronavirus pandemic continues, this school year will look like no other. With growing concern about the spread of the virus, some districts have announced plans to conduct all education online, while others are looking to return kids to classrooms in cohorts. As national debate over school reopenings continues, millions of families are now faced with a tough decision: Should their kids return to the classroom and risk exposure to the virus? Or should they stay home and miss out on important social-interaction?
From your child's mental health to your school district's safety protocols, there are many factors to consider when making this decision. Here's what you should keep in mind when evaluating the risks and benefits of sending your kids back to school this fall:
Personal risk
Local case & spread rates
Everytime your kids interact with another person, they risk exposing themselves and others to the virus. Whether that risk is high or low, however, is dependent on the situation. Are cases rising or falling in your city? If you are located in a hot spot, there may be additional risk associated with your child leaving the house each day. Meanwhile, if cases are falling in your area, your child may be able to more safely socialize in a classroom.
Health of your child and family
Though children are not at increased risk of contracting COVID-19, there are several health conditions that may make them more likely to become severely ill from the virus. If your child is immunocompromised or has any one of these conditions, you may reconsider sending them back to the school until the curve has flattened. Additionally, if another member of your household falls into one of these more vulnerable categories, understanding school safety measures and options for distance or hybrid learning will be especially important.
Mental health of your child
Will your child's mental health be negatively affected by attending or not attending school in-person? We know that socialization plays an important role in developing interpersonal skills. Social distancing and school closures due to the pandemic have also increased feelings of loneliness, stress, fear, and anxiety for some children. At the same time, it's important to recognize that children may have worries about wearing a mask, seeing friends after long periods of social distancing, fear of getting sick, or general anxiety about returning to school. When making plans for the upcoming school year, it's important to weigh the impact of in-person or virtual instruction on your child's mental health.
Commute plans
In addition to the actual classroom, you might also factor public transportation into your decision. Densely populated public spaces, like buses or trains, inadvertently raise your child's risk of exposure to COVID-19. If your child regularly rides a school bus or relies on another form of public transportation, you should look into the district's social distancing and sanitation policies. Many are limiting the number of people per bus, assigning seats, and regularly cleaning buses, for example. If you are able to do so, you may also consider less-crowded methods of transportation, including walking, biking, or driving to school.
School policies & procedures
Symptom screening procedures
Many schools are following CDC guidelines and taking extra precautions to protect both their students and staff. When considering whether to send your child back to school, be sure to ask questions about your school's plans for monitoring positive symptoms for COVID-19 among both students and staff. Some schools are using temperature checks, while others may be relying on parents to conduct daily home screenings.
Social distancing measures
Practicing social distancing and wearing a mask are the most effective ways your child can reduce their risk of COVID-19 infection. With this in mind, many schools are restructuring their classrooms, cafeterias, and standard activities to ensure as much physical distance between students as possible. Look into your school's mask-wearing and distancing policies during classroom instruction, mealtime, playtime, and around campus.
Disinfecting procedures
How will your school be cleaning school grounds, including bathroom, doors, desks, lockers, cafeterias, and common areas? Does your school have necessary supplies such as soap, paper towels, and hand sanitizers?
Plan for positive cases and contact tracing
If a student or faculty member tests positive for the virus, does your school have a plan for communicating this update and tracing any physical contact this person may have had with others?
It's important to remember that this isn't a one-size-fits-all scenario and there isn't a right or wrong decision. Each family has its own unique context to weigh and it's important that this choice works for the whole family. Have other questions or want guidance about your family's personal situation? Connect with a pediatrician today.
The One Medical blog is published by One Medical, a national, modern primary care practice pairing 24/7 virtual care services with inviting and convenient in-person care at over 100 locations across the U.S. One Medical is on a mission to transform health care for all through a human-centered, technology-powered approach to caring for people at every stage of life.
Any general advice posted on our blog, website, or app is for informational purposes only and is not intended to replace or substitute for any medical or other advice. 1Life Healthcare, Inc. and the One Medical entities make no representations or warranties and expressly disclaim any and all liability concerning any treatment, action by, or effect on any person following the general information offered or provided within or through the blog, website, or app. If you have specific concerns or a situation arises in which you require medical advice, you should consult with an appropriately trained and qualified medical services provider.