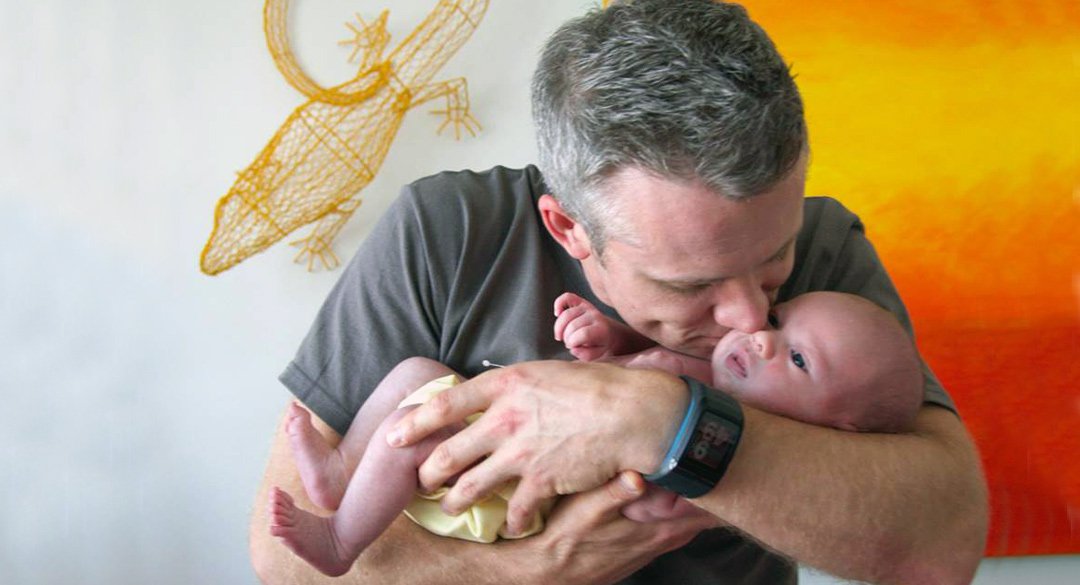 Whether you're wondering how to address your baby's fever, craving a heart-to-heart about parenthood, or looking for the perfect journal to catalogue your baby's milestones, these picks have you covered.
Great with Child: Letters to a Young Mother
by Beth Ann Fennelly
When a former student became pregnant, poet Beth Ann Fennelly composed near-daily letters to her, ruminating on the joys and trials of pregnancy and early motherhood. After these letters were passed to a series of expecting friends, Fennelly got the idea to compile them into a book. The result is "moving, inspiring, and sometimes laugh-out-loud funny," says One Medical Group's Bernadette Donovan, ANP. Topics range from Fennelly's identity shift when she became a mother to potty-training troubles. "In the midst of all the bewildering to-do lists, this book makes you sit down with a cup of tea and ponder the changes in a wow-this-is-really-happening way," Donovan says. "It helps you to be in the moment with yourself and your baby within."
Best for: First-time parents and anxious moms looking for emotional support.
Mindful Motherhood: Practical Tools for Staying Sane During Pregnancy and Your Child's First Year
by Cassandra Vieten
Cassandra Vieten is a clinical psychologist and lead researcher of mind-body medicine at California Pacific Medical Center (CPMC) Research Institute. In "Mindful Motherhood," Vieten shares mindfulness techniques, from meditations to breathing exercises and yoga poses, to help new parents reduce stress, center themselves, and approach parenthood—and life in general—with compassion and curiosity. Mindfulness isn't about presenting a calm and collected persona or striving for perfection—instead, Vieten explains, mindfulness entails learning to be present in your body and responding to challenging situations (like a crying baby) with acceptance and fewer judgmental thoughts. Interwoven with candid stories of her own childrearing experiences, the book is easy-to-read and the tips are practical.
Best for: Tired, stressed parents and those who want to develop a more mindful approach to life as a whole.
Eat, Sleep, Poop: A Common Sense Guide to Your Baby's First Year
by Scott W. Cohen
Written by a renowned pediatrician while his daughter was a baby, "Eat, Sleep, Poop" provides practical, evidence-based advice on the three subjects in the title as well as everything from vaccinations to teething. Cohen's stated goal is to empower parents with the facts so that they know when they can handle things on their own and when they should call their provider. In addressing clinical concerns, Cohen provides comprehensive information on each subject and a quick, easy-to-follow synopsis. "This book is a must for new parents," says Donovan. "You can look up 'fever' and know what do for your baby in three minutes." Donovan adds, "I used this book constantly with my two babies and I give it to all my friends who are new parents."
Best for: Parents looking for a straightforward, essential guide to their baby's first year.
Operating Instructions: A Journal of My Son's First Year
by Anne Lamott
Single and 35, novelist Anne Lamott found pregnancy to be an unexpected but welcome surprise. In her now classic memoir, she explores the first year of her son's life with humor, tenderness, and often aching candor. One moment enthralled by her son, the next enraged from sleep deprivation, her honest descriptions are refreshing. Many new parents will sigh with relief—and understanding—when they see they're not alone in oscillating between feelings of adoration and frustration. Lamott's story eventually evolves into her experience dealing with an unexpected tragedy alongside her son's growth into toddlerhood. The effect is poignant and her wit keeps the story from delving too deeply into heart-wrenching territory.
Best for: Parents looking for someone to commiserate with about the hardships of new parenthood.
The First 1000 Days: A Baby Journal
by Nikki McClure
"This is a great journal to chronicle your baby's first milestones," says Donovan. Made from intricate paper cutouts capturing the natural world, the journal is beautiful and simple, lacking the sentimentality or kitsch of many baby journals. Rather than requiring daily upkeep, the journal is low-maintenance, containing plenty of blank space for musing. At the same time, there are intermittent prompts (like "your first day, first visitors, first yawn") which provide structure and "make keeping a journal of this sort easy and practical" says Donovan. "This is a great book to get and to give as a gift."
Best for: All parents.
Looking for more great reads? Don't miss Our Favorite Books on Childbirth and Our Favorite Books on Pregnancy.
The One Medical blog is published by One Medical, a national, modern primary care practice pairing 24/7 virtual care services with inviting and convenient in-person care at over 100 locations across the U.S. One Medical is on a mission to transform health care for all through a human-centered, technology-powered approach to caring for people at every stage of life.
Any general advice posted on our blog, website, or app is for informational purposes only and is not intended to replace or substitute for any medical or other advice. 1Life Healthcare, Inc. and the One Medical entities make no representations or warranties and expressly disclaim any and all liability concerning any treatment, action by, or effect on any person following the general information offered or provided within or through the blog, website, or app. If you have specific concerns or a situation arises in which you require medical advice, you should consult with an appropriately trained and qualified medical services provider.