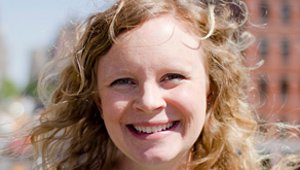 Working at One Medical, I often hear stories about our providers and local teams going the extra mile for our members. But it's not every day I get to share a story from a New Jersey Transit train.
One Medical physician Allison Fox, MD and her husband were commuting home on the 5:15 PM Morristown train about a week ago when the train stopped longer than expected at the Newark station. A bad summer storm had just started, and she thought the delay might be due to the intense thunder and lightning.
But a few minutes later, the conductor came on the PA to say that there was a medical emergency and to ask if there was a physician on board. Fox immediately rushed out to find a woman unconscious and bleeding profusely from the head.
"The woman was lying on the platform in the small space between the train and where the metal platform is, sort of hanging half in and half out," Fox said. "When I got her rolled over and secured her head, I was able to see that she had cut herself very badly on two places on her face, and she was swelling up. The transit team ran to get me some gauze and gloves from the first aid kit, as well as some clean water. I was able to apply a lot of pressure and slow the bleeding down, then wash and wrap the wounds."
Because of the severe storm and flooding, the ambulance was delayed in arriving on the scene. When the woman began to wake up, confused and scared, Fox lay down next to her in the pouring rain to keep her calm while they waited for the paramedics. This also gave Fox the opportunity to ask the woman a few questions about her medical history and determine that she was generally in good health and would likely be OK.
Once the ambulance arrived 20 minutes later, Fox was able to turn her care over to the paramedics, pull herself together, and get back on the train to finish her commute home.
"Beyond being dripping wet from the rain, I also had blood all over me-it was all over my dress, my bags, my arms. I had to walk through the train to wash my hands…that definitely stopped everyone complaining about the train being delayed!" added Fox.
Fox also had some help in her hero turn from the fast-thinking NJ Transit team.
"The NJ Transit conductor and team were amazing-they held umbrellas over me the whole time while I was getting the woman stabilized, they got her phone out and tracked down her boyfriend, they rushed to get the first aid kit-they were really on top of it and careful to make sure she was taken care of," Fox said.
Through it all, Fox never lost her sense of humor.
"I went home, took a really long shower, and threw out my dress. My husband said, 'That's fine, it really wasn't one of my favorites anyway.'"
Have another One Medical hero story to share? Email us at press@onemedical.com.
The One Medical blog is published by One Medical, a national, modern primary care practice pairing 24/7 virtual care services with inviting and convenient in-person care at over 100 locations across the U.S. One Medical is on a mission to transform health care for all through a human-centered, technology-powered approach to caring for people at every stage of life.
Any general advice posted on our blog, website, or app is for informational purposes only and is not intended to replace or substitute for any medical or other advice. 1Life Healthcare, Inc. and the One Medical entities make no representations or warranties and expressly disclaim any and all liability concerning any treatment, action by, or effect on any person following the general information offered or provided within or through the blog, website, or app. If you have specific concerns or a situation arises in which you require medical advice, you should consult with an appropriately trained and qualified medical services provider.