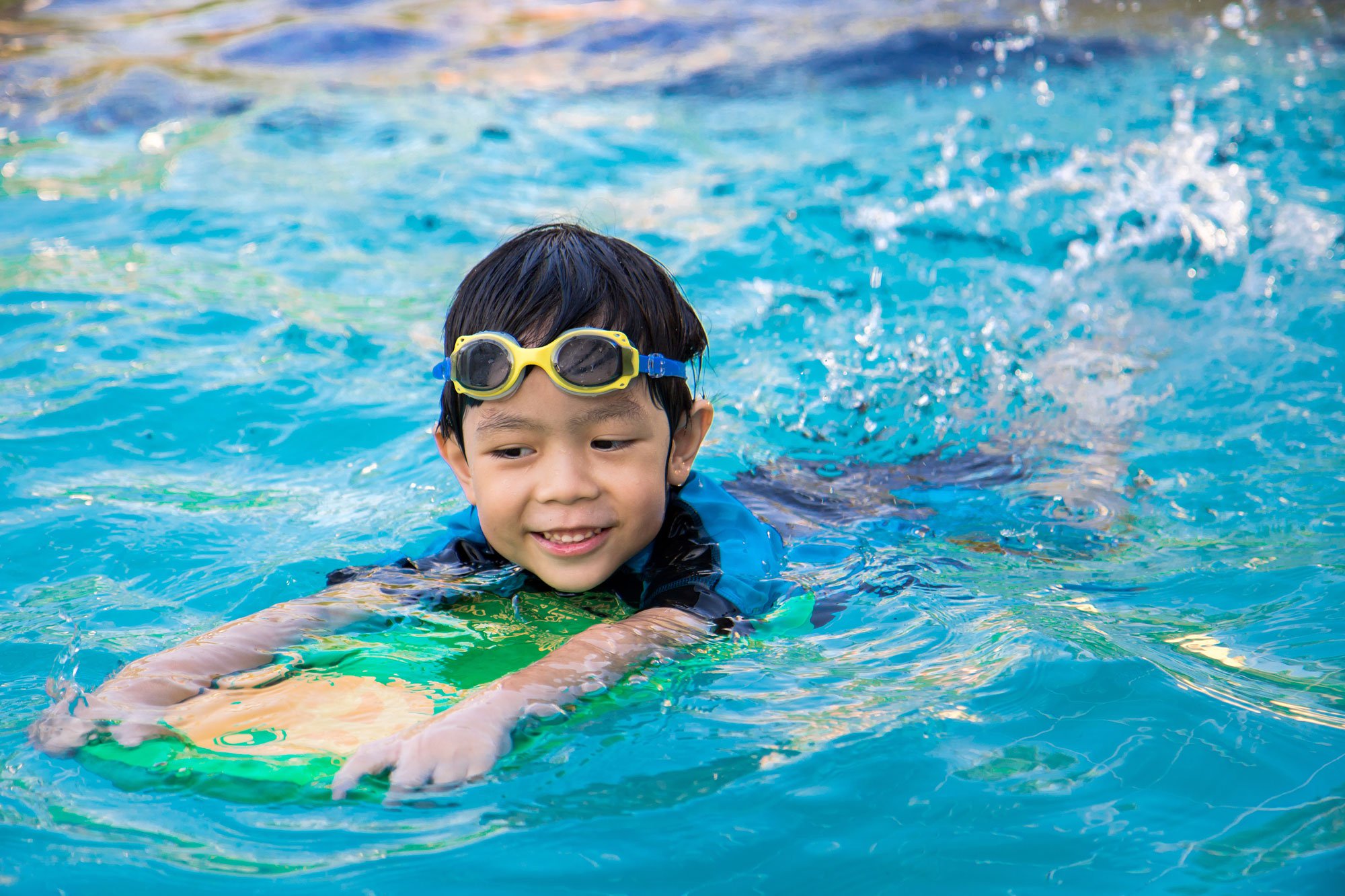 Clinical Editors: Megan Dodson, PA-C and Deanna Scoca, MD, FAAP
As families flock to pools and beaches to cool down this summer, parents and caretakers should be aware that water safety is important for kids of all ages. Drowning is one of the leading causes of injury-related death in children as well as teens. Likewise, kids who survive drowning may experience long-term complications and injury. The great news is that there are some simple prevention strategies and water safety techniques that can help keep your child safe.. Here's what every family should know as they embark on summer getaways with kids and teens.
1. Never leave your child unsupervised
While there are many ways to keep kids as safe as possible around pools, lakes, rivers, oceans, and more, there is one golden rule experts say is absolutely non-negotiable: "Always designate one parent or guardian, who is a strong swimmer, to be within arms' reach of a child around any body of water," says One Medical pediatrics provider Deanna Scoca, MD, FAAP. "If that parent needs a break, they should reassign another trusted adult, or the child should come out of the water and remain with a designated supervising adult."
And while it should go without saying, Deanna says alertness is essential when keeping an eye on kids — particularly in high-risk situations — so it's best to sidestep any recreational substances, including adult beverages. "Avoid drinking alcohol when supervising your child in or around water," she says.
2. Sign up for swim lessons
While every family situation is unique, if parents are able to enroll their kids in swimming lessons early in life, the skills they acquire can potentially be life-saving. Because kids develop at different rates, it's important to consider a child's physical and developmental abilities and limitations, as well as their emotional maturity and comfort level in the water when deciding whether it's the right time to sign them up for classes.
"The American Academy of Pediatrics (AAP) recommends swim classes starting at 1 year-old," Deanna says. "The risk of drowning is higher in children ages 1-4 and increases again among adolescents. Children who take swim lessons still need to be supervised constantly with a parent or trusted adult always within arm's reach."
3. Use a life jacket
Deanna says life jackets are a good idea whenever possible. "Have your child wear a life jacket at all times when on a boat, kayak, or while near bodies of water, especially if they are not a strong swimmer" she says. "The CDC recommends life jackets be used by children for all activities while in or around natural bodies of water. Life jackets are preferred over other devices for swimmers of all ages and may be used in addition to constant close adult supervision."
Unfortunately, even the most well-intentioned caregivers make mistakes that Deanna says can be dangerous. "Pool toys and other floatation devices other than life jackets, including noodles and 'swimmies' or 'floaties' do not prevent drowning and may contribute to a false sense of security when learning how to swim for both parents and children," she says. "Avoid using floatation devices while your child is learning how to swim since they do not provide any increased safety."
4. Pay attention to water conditions
Another common mistake to be aware of, according to Deanna, is bringing kids of any age into bodies of water that can have unexpected and sudden changes in conditions. "Avoid bringing children or teens into water where there may be strong currents, including oceans and lakes," she says.
5. Keep your pool closed off
Whether a family has a pool at home or they are renting a home with one, it's critical to keep kids away from the water outside of supervised swim times. "It is important for all parents who may have their own pool to ensure a fence is installed completely around the pool, or if your family is staying elsewhere temporarily, to ensure any pools are completely fenced in on all sides," Deanna says.
6. Talk to teens
While many parents may think of water safety as an issue that primarily concerns small children, teenagers are actually at major risk as well. In fact, individuals between the ages of 15 and 24 have among the highest rates of drowning nationwide. There are many factors at play contributing to this heightened risk, but social pressure, popular activities, and impulsiveness can all play a role.
"Teach your child or teenager to swim only with your permission and in areas where a lifeguard is on duty," Deanna says. "We recommend talking to your teenagers about water safety regularly." If you're not sure how to approach the topic with older kids and teens or want to know more about the specific risks they face and how to keep them safe, Deanna recommends checking out this information from the AAP.
7. Learn basic rescue skills
While preparing kids and teens for risky scenarios is important, parents and caregivers should also make sure their skills are on point as well. Knowing first aid and how to perform CPR can restore breathing and circulation until emergency care arrives and potentially save a child's life.
"Enroll in CPR classes in your area," Deanna says. "You can visit the American Red Cross website or the American Heart Association site to find an online or in person CPR course near you."
If you don't know how to swim already, it might also be a good idea to take some lessons yourself, so you can be prepared if your child needs assistance. Consider looking into adult classes at your local community center or check out the American Red Cross for upcoming lessons.
While these basic tips are a good start, Deanna recommends all caretakers visit the CDC's Drowning Prevention page to learn more facts and view additional resources. And if you have more questions or concerns about water safety, it's always a good idea to check in with your child's primary care provider to make sure you continue with the summer vacation scene as safely as possible.
Looking for a new primary care provider for your child? We're here to help. At One Medical, we aim to provide exceptional care designed around your child's unique health needs. With One Medical, you have a place to turn for your kids' physical and mental health. Learn more here.
The One Medical blog is published by One Medical, a national, modern primary care practice pairing 24/7 virtual care services with inviting and convenient in-person care at over 100 locations across the U.S. One Medical is on a mission to transform health care for all through a human-centered, technology-powered approach to caring for people at every stage of life.
Any general advice posted on our blog, website, or app is for informational purposes only and is not intended to replace or substitute for any medical or other advice. 1Life Healthcare, Inc. and the One Medical entities make no representations or warranties and expressly disclaim any and all liability concerning any treatment, action by, or effect on any person following the general information offered or provided within or through the blog, website, or app. If you have specific concerns or a situation arises in which you require medical advice, you should consult with an appropriately trained and qualified medical services provider.