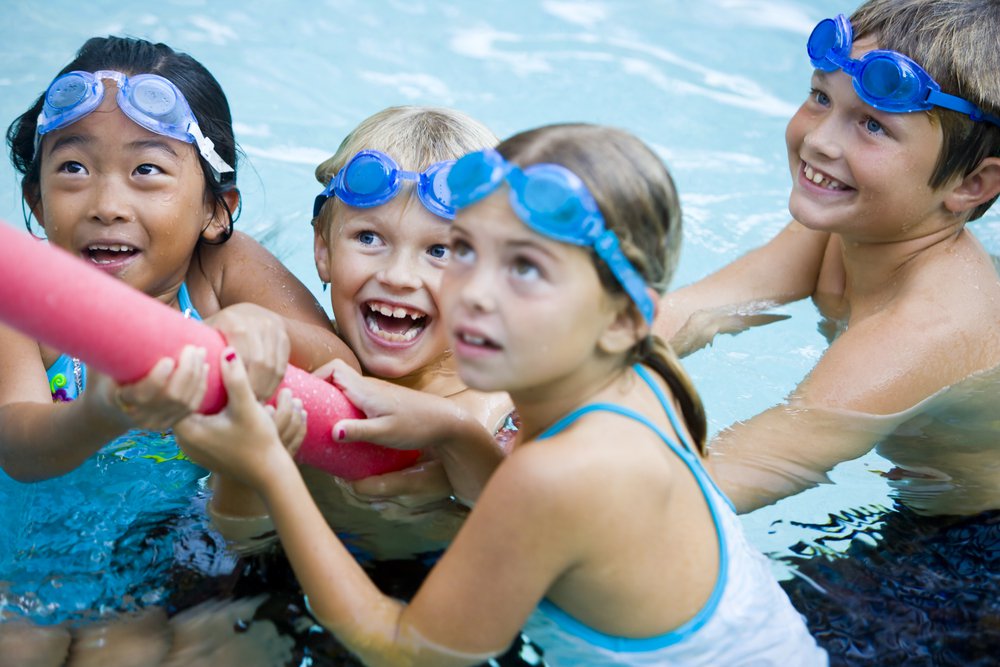 Updated July 14, 2023.

Clinical Editor: Megan Dodson, PA-C
School's out and so is the sun, but along with warm weather and outdoor adventures, summer can also bring unfortunate injuries. Kids are especially prone to mishaps since they're so active, so it's important to take special precautions. Here are five ways to keep your kids healthy this summer:
1. Choose the right sunblock.
You know sunblock is essential, but the type you choose is important too. I recommend a physical blocker as opposed to a chemical one since it sits on top of the skin and offers superior protection. Just make sure the active ingredients include zinc oxide or titanium oxide and that the label promises broad-spectrum protection against UVA and UVB rays. SPF 30 is perfectly sufficient as long as it's reapplied every two hours, and a water-resistant brand is best since it withstands sweat. You can use a small amount on infants, but their primary protection should be long sleeves, a hat, and plenty of shade; it's best to keep little ones under 6 months out of the sun as much as possible.
2. Stay safe in the streets.
Whether your child skates, bikes, or zips around on a hoverboard, a helmet is a must. The most important consideration is size — make sure they try it on in the store to ensure the right fit. And even if your kid isn't on wheels, make sure they know basic street safety like looking left, right, then left again when watching for cars.
3. Practice good pool habits.
Kids as old as 8 should be within arm's reach any time they're in the pool — even if they know how to swim. It only takes a second for accidents to happen, so it's best to stay close. While floaties can be fun, they also make kids overconfident in their water skills, so keep the arm's distance rule even if they're buoyed by floatation devices. And if you have a pool at home, make sure it's surrounded on all sides by a 4-foot safety gate that's child-proof. Even if your child is confident in the pool by themselves, always have one adult designated as the "water watcher" to act as a lifeguard at all times.
4. Prevent and treat mosquito bites the right way.
There are several things you can do to limit mosquito bites. Children 2 months or older can safely wear repellents containing DEET, IR3535 or picaridin, but make sure the concentration is 10 percent or less. Rather than opting for a spray, try to find wipes, which offer more precise application and less fumes. If you'd prefer chemical-free alternatives, citronella, lemongrass, and eucalyptus oils can be effective, but they haven't been studied in children under three. If your child does get a bite, apply over-the-counter 1 percent hydrocortisone or a baking soda and water paste to stop the itching.
5. Stay hydrated in hot weather.
Drinking enough fluids is important any time of year, but it's especially crucial while running around in hot weather. Kids between ages 4 and 8 should aim for about five cups of liquid a day, and teenagers should strive for seven to 11. Water's the best choice, but milk, as well as limited amounts of juice, can also be hydrating. Check out these ideas for easy healthy drinks you can make at home.
With these tips in mind, you and your kids should have a happy and healthy summer full of fun. Have more questions about your child's health? Our primary care team is here to help! At One Medical, we aim to provide exceptional care designed around your child's unique health needs. Sign up today to book an appointment — in person or over video — through our app.
The One Medical blog is published by One Medical, a national, modern primary care practice pairing 24/7 virtual care services with inviting and convenient in-person care at over 100 locations across the U.S. One Medical is on a mission to transform health care for all through a human-centered, technology-powered approach to caring for people at every stage of life.
Any general advice posted on our blog, website, or app is for informational purposes only and is not intended to replace or substitute for any medical or other advice. 1Life Healthcare, Inc. and the One Medical entities make no representations or warranties and expressly disclaim any and all liability concerning any treatment, action by, or effect on any person following the general information offered or provided within or through the blog, website, or app. If you have specific concerns or a situation arises in which you require medical advice, you should consult with an appropriately trained and qualified medical services provider.