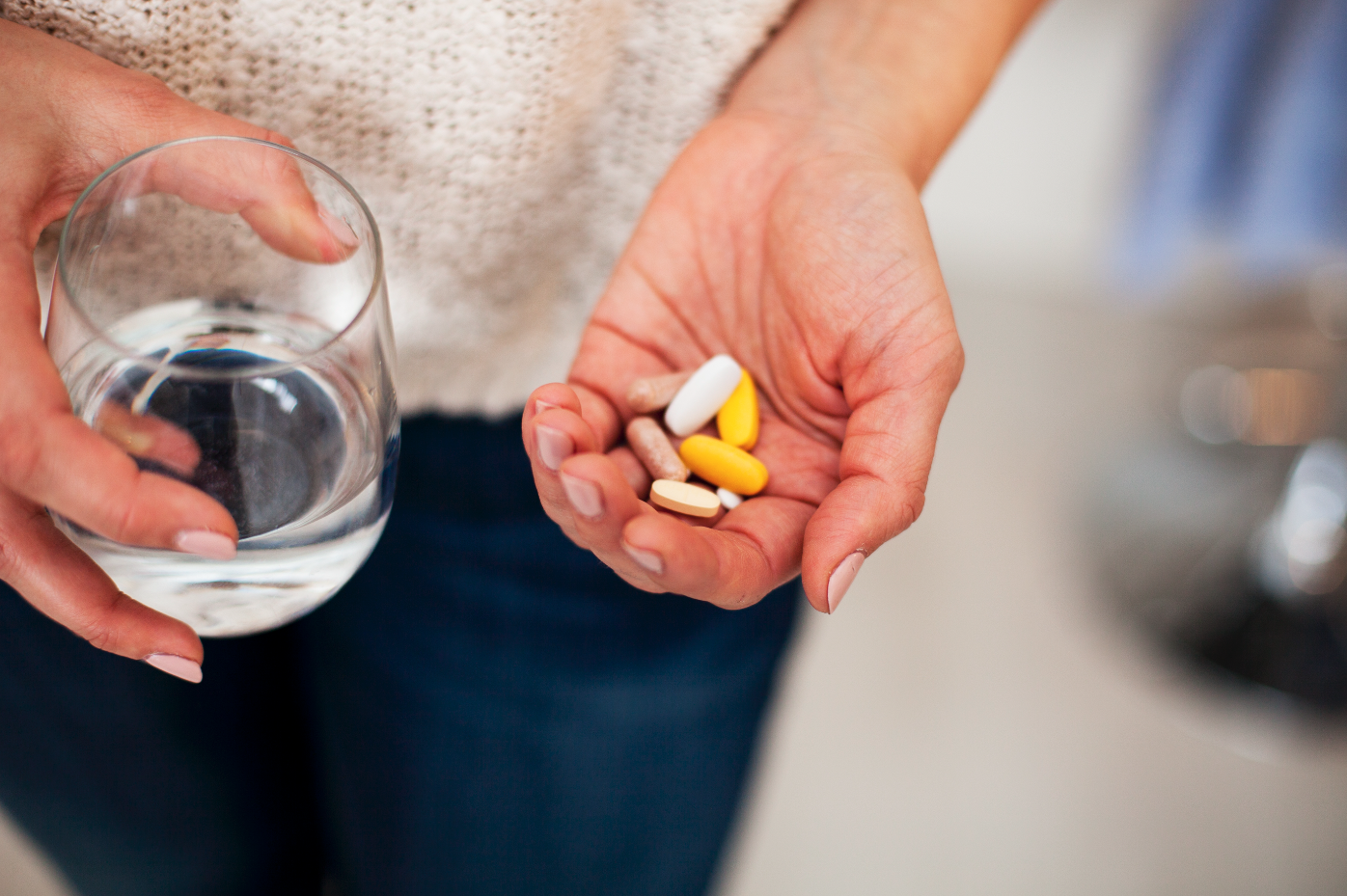 Between constant television commercials, targeted social media ads, and of course, tons of celebrity endorsements, you might be feeling like dietary supplements are something you should absolutely be incorporating into your health regimen. But while half of all American adults take a multivitamin or another vitamin or mineral supplement regularly, not all supplements are created equal, and not all research supports the effectiveness and legitimacy of vitamin-infused pills, powders, potions, and more.
First and foremost, it's important to understand that the Food and Drug Administration (FDA) doesn't regulate dietary supplements like vitamins, minerals, herbs, amino acids, and enzymes. Unlike medications, supplements are not allowed to be marketed for the purpose of treating, diagnosing, preventing, or curing diseases, and if any supplement claims to do anything along those lines, there's no way of knowing whether those claims are legit.
It may not be possible to know whether the supplements you're buying actually contain the ingredients they claim to have, and often, experts aren't always convinced those ingredients are necessary to consume outside of food. However, what is known is that supplements can carry risks similar to medications. Combining certain supplements with specific medications, mixing supplements, substituting supplements for prescription drugs, and/or taking too much of certain supplements can be seriously unsafe.
All that said, supplements aren't inherently bad — in fact, in some cases, your primary care provider might recommend you take one or more for any number of reasons. But in the absence of a provider recommendation, understanding which supplements are worth your time and money can be tricky. Remember, every person is different when it comes to their dietary needs, but when it comes to general recommendations, One Medical's Lenard Lesser, MD, MSHS, has some overarching thoughts on five of the most popular supplements out there.
1. Magnesium
Magnesium plays a critical role in many bodily functions, including muscle and nerve performance and energy production. Luckily, you can get plenty of magnesium from foods, including nuts, seeds, whole grains, beans, leafy vegetables, milk, yogurt and fortified foods. In fact, just an ounce of almonds contains 20% of your daily magnesium needs.
"Some people think magnesium is helpful for muscle cramps, but the research does not support that." Lesser says. "Muscle cramps are usually caused by overworking the muscle or dehydration and magnesium can't really help that."
However, magnesium could be helpful for your gut. Different preparations for magnesium have been found to improve constipation, but to what extent it helps and for how long is unclear.
2. Vitamin D
Vitamin D is often touted as an important nutrient — and it is. It helps your body absorb calcium, which is essential for strong bones, and it aids in muscle movement, nerve message signaling, and even plays a role in immunity. While very few foods naturally contain vitamin D (fatty fish, mushrooms, and beef liver are some examples), many foods in the United States, like milk, milk alternatives, and breakfast cereals are fortified with it. Your body does, however, make vitamin D when your bare skin is exposed to the sun, and this is how most people get their dose. The catch here is that clouds, smog, age, and having dark-colored skin reduce the amount of vitamin D your skin can make and of course, too much sun exposure can lead to skin cancer. All that said, most people in the U.S. do have adequate blood levels of vitamin D — and if you suspect you're low, it's best to talk to your provider before supplementing.
"At One Medical, we don't recommend checking Vitamin D levels unless you have a specific medical condition." Lesser says, "However, it's probably safe to take a Vitamin D supplement of 800-1000 IU, especially if you are older and live in a climate with little sunlight for much of the year. Older Americans who do not have a lot of outdoor exposure, such as those in nursing homes, benefit. For everyone else, we should try to get outside as much as possible."
3. Vitamin B12
Vitamin B12 helps keep your body's blood and nerve cells healthy and aids in the production of your cells' genetic material (otherwise known as DNA). B12 also helps prevent macrocytic anemia, which can make you feel weak and tired. The amount of B12 you need depends on your age, but you can get it from a variety of foods like fish, meat, poultry, eggs, dairy products, clams and beef liver, as well as some breakfast cereals and other fortified foods.
"Most people get plenty of Vitamin B12," Lesser says. "Since it is water-soluble, if you take in excess of what you need, it will end up in your urine. However, people who are strictly vegan should take a supplement.
There are also individuals with medical conditions such as Crohn's disease, alcoholism, and celiac disease, that would benefit from supplementation due to issues with absorption of the vitamin in a normal diet.
4. Fish oil
Fish oil, a dietary source of omega-3 fatty acids that are essential for a variety of bodily functions, has been shown to protect against heart disease, high blood pressure, high cholesterol, and more, but Lesser says context is important; taking a supplement may not be the same as consuming the oil in the form of salmon, mackerel, trout, or other food sources.
"Fish oil was once thought to be protective of heart disease," Lesser says. "This hypothesis came from the research showing that people that ate fish had lower levels of heart disease. But, as with many things in nutrition, when we take food and make it into a supplement, we often don't see the same benefit.
The research on the relationship between heart health and fish oil supplements is inconsistent. Some studies show a benefit while others do not. While it's unclear if fish oil supplements offer a true cardiac benefit, what we do know is that it does not replace the overall benefit of following a heart healthy diet. "Substituting fish rich in omega 3's for meat may lower your risk of heart disease," Lesser says.
5. Iron
Eating iron-rich foods like red meat, seafood, and dark leafy greens can help prevent iron deficiency anemia, which can cause fatigue and other serious symptoms. Primary care providers commonly prescribe iron supplements if they find their patients are not getting enough iron in their diet to correct any underlying anemia. " Iron deficiency is fairly common in women who are menstruating, so if you feel especially tired and don't get much iron in your diet, consider talking to your primary care provider. This is especially important for vegetarian women of childbearing age." Lesser says.
But again, Lesser says supplements aren't always an ideal delivery system for the nutrient."Consuming iron often has side effects, especially constipation," Lesser says. "Iron can also be an inflammatory nutrient, so you don't want to take it unless you have been diagnosed with iron deficiency."
The One Medical blog is published by One Medical, a national, modern primary care practice pairing 24/7 virtual care services with inviting and convenient in-person care at over 100 locations across the U.S. One Medical is on a mission to transform health care for all through a human-centered, technology-powered approach to caring for people at every stage of life.
Any general advice posted on our blog, website, or app is for informational purposes only and is not intended to replace or substitute for any medical or other advice. 1Life Healthcare, Inc. and the One Medical entities make no representations or warranties and expressly disclaim any and all liability concerning any treatment, action by, or effect on any person following the general information offered or provided within or through the blog, website, or app. If you have specific concerns or a situation arises in which you require medical advice, you should consult with an appropriately trained and qualified medical services provider.