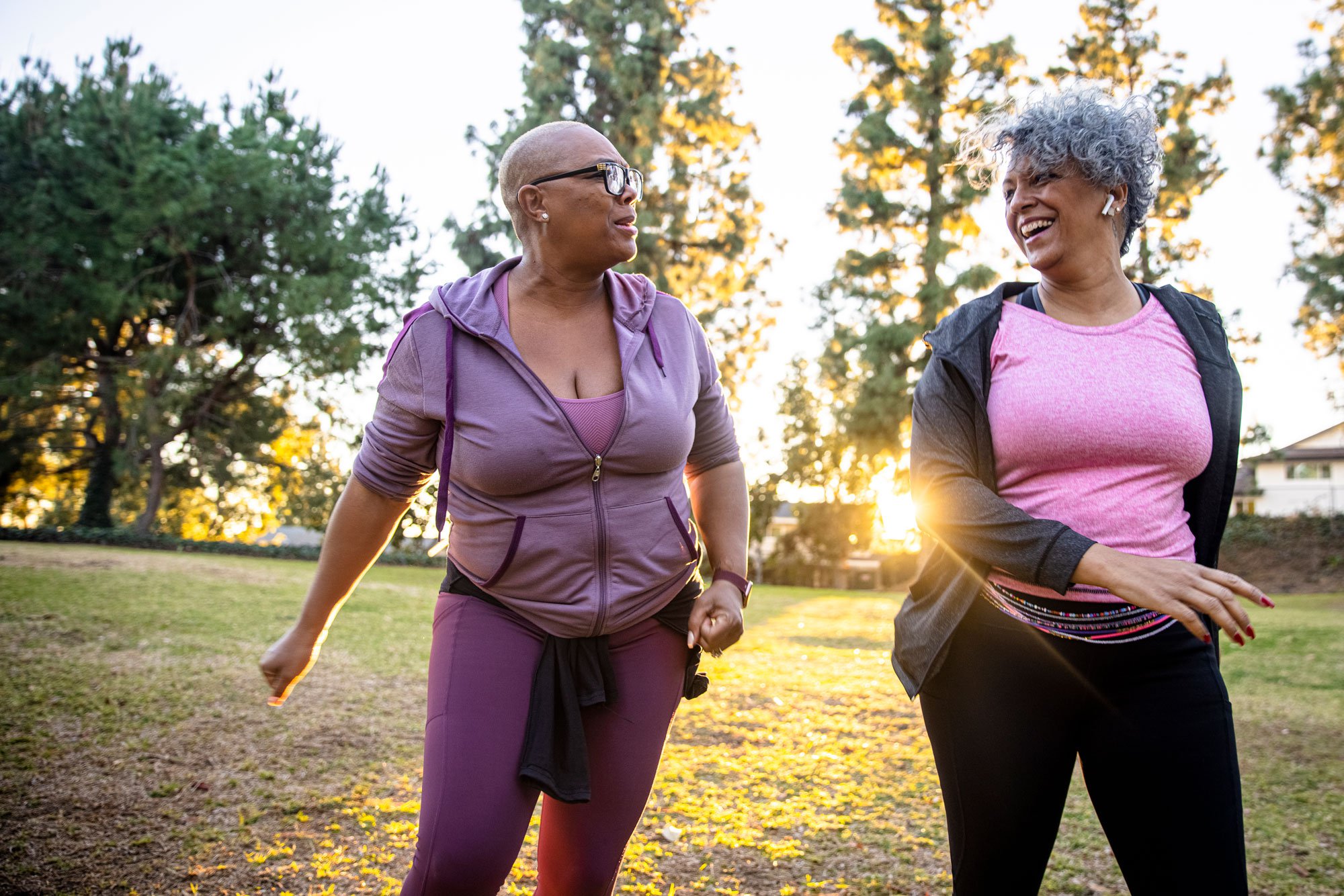 Ahh, menopause. We don't learn about it in school, we don't talk about it in popular culture, and yet it sneaks up on (virtually) everyone. Despite being a universal experience for those of us with ovaries, those first symptoms can still come as a shock… and with that shock, fears and concerns. One Medical provider Jessica Lue-Lai, MD is here to highlight and dispel some of the most common myths about menopause and assuage some of your worries.
Myth 1: Menopause is a uniform experience
Let's clear this up right away: menopause is not the same for everyone. It varies in experience, time of onset, and presentation and severity of symptoms. Though 51 is the average age for menopause, says Lue-Lai, there's still quite a range. Most individuals reach menopause between the ages of 40 and 55, but some may experience it earlier due to certain factors, such as family history, smoking, chemotherapy, radiation, or hysterectomy.
While some individuals may have worse symptoms than others, some may have little to no symptoms at all. Likewise, some symptoms may be consistent, while others may fluctuate. Typically, however, symptoms tend to be stronger and more frequent while your body is transitioning to menopause (one to two years before menopause hits).
As Lue-Lai puts it, there's no singular menopausal experience. You could have a completely different experience than that of your peers, mother, sibling, etc — this is why it's so important to pay attention to symptoms, tune into bodily cues, and check in with your primary care provider regularly.
Myth 2: Menopause starts when periods stop
Many individuals associate the end of a regular menstrual cycle with the start of menopause, says Lue-Lai. "The reality is that menopause doesn't happen until you've had 12 months in a row without a period." So if you skip a period or two, it's likely not the beginning of menopause, but a sign of perimenopause - the period of time during which the body begins naturally transitioning to menopause. Lue-Lai says irregularity can continue for several years of the perimenopause phase.
Myth 3: Hormone therapy is dangerous
Perhaps you've heard that hormone therapy shouldn't ever be used to help treat menopause — Lue-Lai says this is false.
"Over the years, healthcare providers have had some hesitation about prescribing hormone therapy, due to possible risks of breast cancer and cardiovascular disease," she explains. While there are merits to these concerns, the benefits may outweigh the potential harms for some. As everyone's health needs and risk factors are unique, it's best to talk to your primary care provider to create an individual, personalized plan for your health.
"In recent decades, discussing the benefits of hormone therapies, and how those benefits might outweigh the potential harms, can help you make an informed decision about whether hormone therapy could be helpful and safe for you," says Lue-Lai.
This is especially true if you're afflicted with stronger symptoms that interfere with your daily life and wellbeing. "If you're struggling with troublesome symptoms of menopause, feel free to ask your provider about whether you might be a good candidate for hormone therapy."
Hormone therapy can relieve uncomfortable symptoms of menopause, like hot flashes and night sweats, and help with mood issues and in preventing age-related bone loss.
Myth 4: You have to tough it out alone
Individuals assigned female at birth go through a lot in their lifespan, from PMS cramps to childbirth to menopause, and much of the time there's a cultural expectation that we should grit and bear it. It's time to put that notion to rest. "You don't have to be alone in this struggle," affirms Lue-Lai.
Menopause is still somewhat of a taboo topic within the mainstream conversation, and isn't discussed often, she says. "People usually try and wait it out to see if symptoms get better." You don't have to do this!
"Reach out to your provider if you're experiencing uncomfortable symptoms, such as hot flashes and sweats that are interrupting your sleep, sexual health concerns, mood swings, irregular and/ or heavy bleeding or brain fog issues."
You're not meant to live a life of pain and struggle, no matter what stage of life or reproductive chapter you're in. Creating a plan with your provider to address your specific needs can help you regain the autonomy and empowerment you deserve — and get you feeling good again.
Myth 5: Menopause destroys your… [sex life, personality, physique]
Another common (and frankly, understandable) fear is that menopause will ruin some aspect of your life, be that your waistline, your mood, or your sex drive.
The reality is that there are changes, explains One Medical provider Laura Korin, MD, MPH. But that doesn't mean things are hopeless, or that some aspect of your life or body is ruined. "Hormonal changes can affect libido," she says."You may also experience some pain with sex, but it is a myth that nothing can be done about these things."
As Korin puts it, working with your provider is the best step to ensure you're taking care of every area of your health during this transition. "There are different treatments out there to help women continue to enjoy a healthy sex life with menopause," she says.
The same goes for weight changes. If this is a concern, there are steps you can take to mitigate dramatic changes to the way your body looks — and your doctor can help here, too. Changing up your diet, mixing up your exercise routine, and limiting alcohol (another win-win health situation) are all straightforward ways to manage changes to your weight.
It's also important to remember that menopause is also a neurological transition, and can affect the state of your mood and mental health — this is often overlooked! If you're struggling with mental health or are concerned about changes in your mood, reach out to your primary care provider. They can work with you on a plan that fits your needs and lifestyle — whether that's lifestyle changes, medication, one of our mental health programs, or a referral to a specialist.
Have more questions about menopause? Our primary care team is here to help. At One Medical, we aim to provide exceptional care designed around you and your unique health needs. Sign up today to book an appointment — in person or over video — through our app.
The One Medical blog is published by One Medical, a national, modern primary care practice pairing 24/7 virtual care services with inviting and convenient in-person care at over 100 locations across the U.S. One Medical is on a mission to transform health care for all through a human-centered, technology-powered approach to caring for people at every stage of life.
Any general advice posted on our blog, website, or app is for informational purposes only and is not intended to replace or substitute for any medical or other advice. 1Life Healthcare, Inc. and the One Medical entities make no representations or warranties and expressly disclaim any and all liability concerning any treatment, action by, or effect on any person following the general information offered or provided within or through the blog, website, or app. If you have specific concerns or a situation arises in which you require medical advice, you should consult with an appropriately trained and qualified medical services provider.