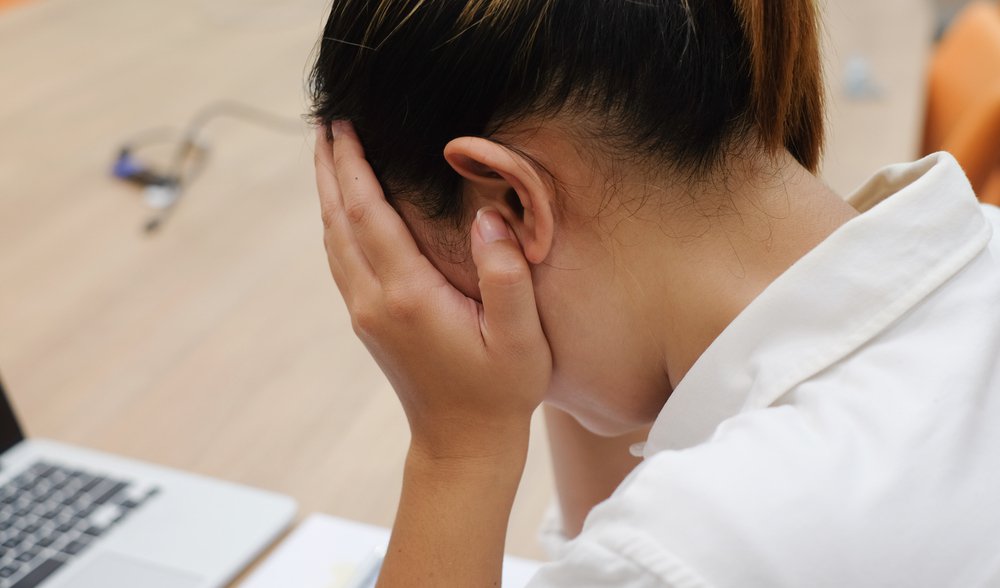 Just the other day, a healthy 33-year-old woman asked me to look at her jaw. For some reason, when she woke up that morning, the left side of her jaw was especially tight and stiff.
I see this all the time, so I had a pretty good idea what the problem was: stress. Even though they don't realize it, the physical effects of stress send many people to my office. How people deal with stress — or don't — affects your overall health and happiness.
Here are some common complaints rooted in stress, and how to deal with them in the short and long term.
Jaw pain
If you wake up with your jaw aching on one side, there's a pretty good chance you're grinding your teeth at night. This condition is called bruxism and it's caused by stress. Some people hear popping and cracking noises every time they open their mouth, while some have trouble getting their mouth open and that usually freaks them out.
Solution: Ease the discomfort by icing your jaw and taking an anti-inflammatory drug like ibuprofen. A dental guard, available from the pharmacy or your dentist, helps prevent you from grinding your teeth in your sleep.
Headache
We've all probably had a stress headache — one pain reliever brand made a whole product line out of it. There are a lot of large muscles attached to the back of the skull that flow into the neck and shoulder area. Some people hold stress in these muscles, which can lead to a headache. Others have bad posture or sit at a desk all day crunched in one position for hours without breaks. Eventually, your muscles tighten up and revolt!
Solution: Focus on maintaining good posture throughout the day, especially while you're working on your computer. For temporary relief, over-the-counter medications like acetaminophen and ibuprofen can help.
Neck pain
I've seen some bad cases with people not being able to move their neck because it's so tight and stiff or they can't get rid of nagging soreness. It's typically on one side, or they can have pain on both sides of their lower neck when they look left to right. Some people get tingling in the back of the neck. When I do an exam, I determine if what they're feeling is something local to rule out a more dangerous condition, like a central nervous issue.
Solution: You may want to deal with neck pain by not moving your neck at all, but this will actually make things worse and cause more stiffness. Instead, do gentle stretches like neck rolls or oblique stretches to help your muscles relax. If your muscles are spasming, heat and anti-inflammatory drugs can also help. Just be patient; sometimes it can take a week or two for neck pain to go away, especially if you're at a computer all day.
Upper back pain
Maybe it's sharp pain between your shoulder blades or tension across your shoulders. It's usually related to sleeping on the wrong position or a function of your life or job. You may not realize your shoulders are clenched as you're driving to and from work every day or while you're sitting at your desk. Eventually, the muscles start to spasm because they're not in a relaxed state.
Solution: Tackle upper back pain with a combination of stretching, heat, ice, anti-inflammatory drugs and massage. It's not an easy place to reach by yourself and it can linger a while longer. Rolling a tennis ball along the wall with your back can help too. To keep it from coming back, improve your posture and the way you sit when you're working. If you slouch with your neck and back at an awkward angle day after day, your body will get used to it, and it will hurt when you stand up straight. So if you're one of those people who sits hunched over your laptop on the sofa or in bed, please stop!
Insomnia
There are two types of insomnia. Sometimes people are good sleepers have a change in their sleep patterns. These people usually know that their sleep troubles started after a traumatic event, like a loved one passing away or losing their job. The other group is people who have had trouble sleeping for months. With those people, we'll look at their sleep habits to see if there's an issue there.
Solution: Make sure you power down devices like tablets, phones and laptops at least two hours before bed. Lay off the coffee and tea in the afternoon if you're caffeine sensitive. Try meditating or exercising during the day so you wear yourself out enough to sleep. As long as you don't have chronic insomnia, which could be related to a hormonal imbalance, your sleep should go back to normal.
Your real deal long-term solution
Unchecked stress can cause physical health problems or make other conditions worse. The best way to prevent all of these aches and pains is to find an effective way to reduce your stress.
Being stressed can lead you to tighten up your neck, shoulders and back, especially when you're working on your computer. Be sure to keep your shoulders back and relaxed, take frequent breaks and do stretches so your muscles stay loose.
Sleep is super important to make sure your overall lifestyle is healthy. So is a balanced diet that limits processed carbohydrates, sugar and caffeine. Make time to do fun things that relax you, like listening to music or some form of exercise or going to the spa.
Yoga is definitely a great antidote for stress. You do breathing, and a little meditation and stretching — it's one-stop shopping for stress relief. Pair these strategies with a little heat and some anti-inflammatory drugs when you need them, and you should be good to go.
The One Medical blog is published by One Medical, a national, modern primary care practice pairing 24/7 virtual care services with inviting and convenient in-person care at over 100 locations across the U.S. One Medical is on a mission to transform health care for all through a human-centered, technology-powered approach to caring for people at every stage of life.
Any general advice posted on our blog, website, or app is for informational purposes only and is not intended to replace or substitute for any medical or other advice. 1Life Healthcare, Inc. and the One Medical entities make no representations or warranties and expressly disclaim any and all liability concerning any treatment, action by, or effect on any person following the general information offered or provided within or through the blog, website, or app. If you have specific concerns or a situation arises in which you require medical advice, you should consult with an appropriately trained and qualified medical services provider.