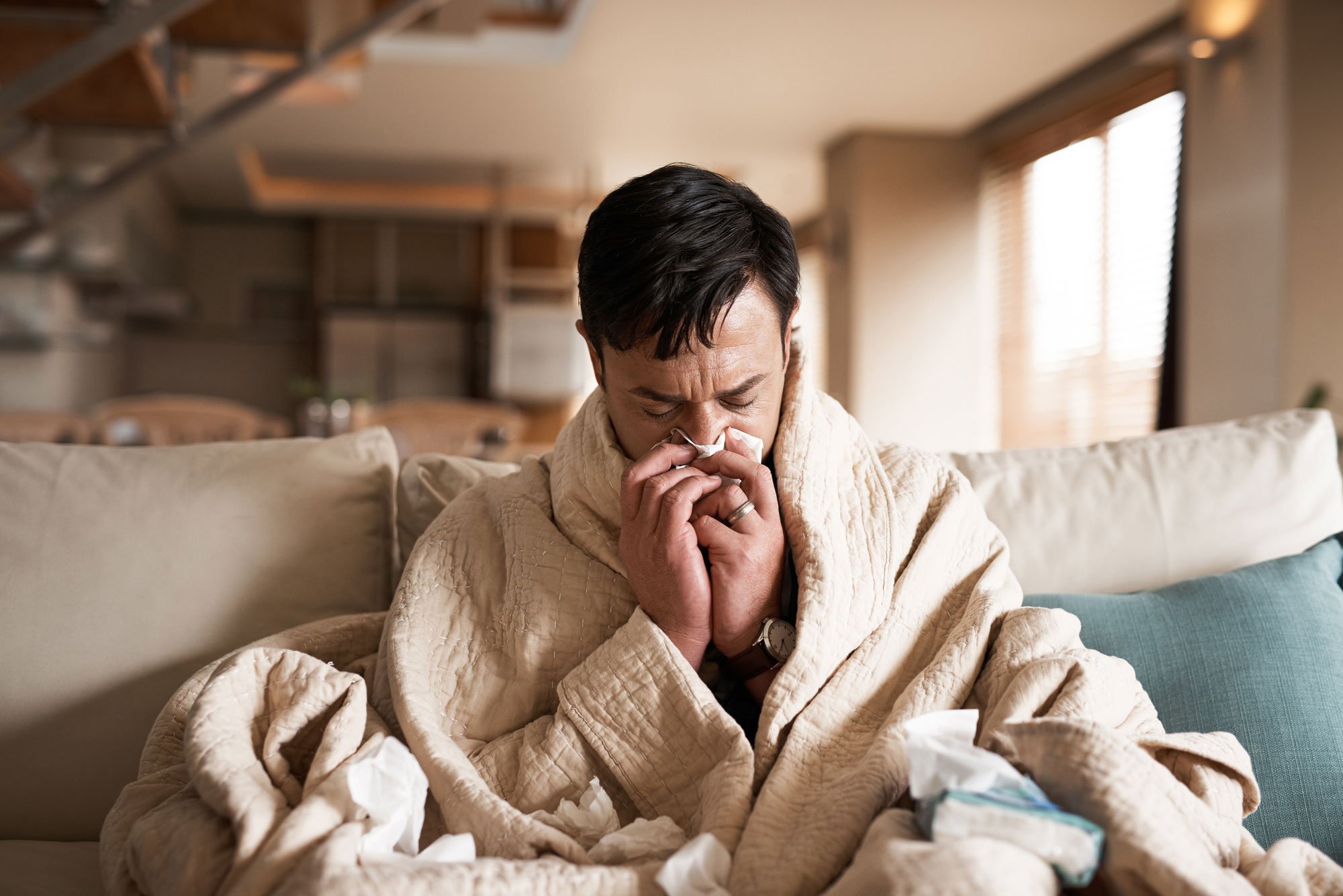 Clinical Editor: Megan Dodson, PA-C

Health and wellness myths run rampant in the media, on the internet, and even in real life (how many times have you heard a friend or family member swear by a bogus treatment?). While some subjects are understandably complex and confusing, others don't have to be so shrouded in mystery and myth. Take for example, the common cold.
While this viral infection of your nose and throat may feel terrible, the common cold is usually harmless. In fact, most healthy adults can even expect to have two or three colds a year, each infection lasting about seven to ten days. No one likes being sick, but trying to attack cold symptoms with ineffective and inappropriate treatments isn't the key to getting well. We asked One Medical provider Anna Askari, MD, to help debunk some of the most common, pervasive, cold myths. Here's what we learned.
Myth 1: Antibiotics will cure the common cold.
So what's the most prevalent myth Askari encounters about the common cold? "That antibiotics can be used to treat or speed up the healing process of a cold," she says. "The reality is that time and your own body are the tools that we have to fight these infections."
"The majority of infections that we refer to as the common cold are viral," Askari explains. "Antibiotics, however, are only effective against bacterial infections. Instead, using antibiotics for cold treatment can actually result in harmful side effects such as loose stool or a yeast infection."
There's a good reason why Askari is passionate about debunking this myth. Each time a person takes an antibiotic medication (i.e. a medicine that fights bacterial infections), there's a risk that the bacteria will become resistant to treatment. Over time, overuse or inappropriate use of antibiotics could contribute to a serious public health threat known as antibiotic resistance.
If you do come down with a cold or flu,, stock up on appropriate remedies and consider brushing up on all your treatment options with this definitive guide.
Myth 2: "Natural" remedies don't work.
Some people may roll their eyes at the prospect of "natural" or "holistic" remedies, but Askari says there are some home treatments that actually do speed up the recovery process. The biggest strategy is rest — and that includes taking a break from devices and screens. Instead of burying yourself in work assignments or logging into every single Zoom meeting, take a sick day and actually get some solid sleep.
In addition to getting enough Zs, Askari says there are some other home-based strategies that can actually help you heal and feel better faster. "Take a warm bath with Epsom salts to relieve body aches and headaches," she says. "Drink plenty of fluids such as water, tea, and clear broths. Steam inhalation as well as nasal irrigation with warm saline solution can help loosen up mucus and salt water gargles are helpful for the throat. Also apply warm, moist compresses over the sinuses several times daily."
Myth 3: Prescription strength drugs are the only way to go.
You don't need a prescription to get access to effective treatment. Askari says there are plenty of over-the-counter medications that can help alleviate symptoms and make you feel much more comfortable as you wait for your cold to run its course.
"Take ibuprofen/tylenol as needed for pain and fever reduction," she says. "Cooling and numbing throat sprays will help soothe the throat and oral decongestants, antihistamines, and steroid nasal spray can help with symptoms. Expectorants can help thin the mucus in the airways and cough suppressants can help with cough."
There are, however, some exceptions to Askari's enthusiasm for over-the-counter remedies. "The thing that I would skip is vitamin C because it has not been shown to shorten the duration of a cold any better than a placebo," she says. "However, zinc can be helpful with improving cold symptoms and the duration."
Myth 4: If it's not COVID-19, I don't need to stay home sick.
Over the past couple of years, we've all become used to following social distancing and masking regulations. But many people have erroneously assumed those prevention strategies are exclusively reserved for COVID cases. On the contrary, the common cold is contagious too, so isolating yourself when you have any kind of sickness is important to keep others safe and healthy. This can also help prevent immuno-compromised individuals and other vulnerable individuals such as children and older adults from contracting your illness.
"Please stay home and out of public places if you have cold symptoms and consistently wash your hands this season!" Askari says. "You don't want to give anyone your infection."
Have more questions about the common cold or treatment options, our primary care team is here to help. At One Medical, we aim to provide exceptional care designed around you and your unique health goals. Sign up today to book a same or next day appointment — in person or over video — through our app.
The One Medical blog is published by One Medical, a national, modern primary care practice pairing 24/7 virtual care services with inviting and convenient in-person care at over 100 locations across the U.S. One Medical is on a mission to transform health care for all through a human-centered, technology-powered approach to caring for people at every stage of life.
Any general advice posted on our blog, website, or app is for informational purposes only and is not intended to replace or substitute for any medical or other advice. 1Life Healthcare, Inc. and the One Medical entities make no representations or warranties and expressly disclaim any and all liability concerning any treatment, action by, or effect on any person following the general information offered or provided within or through the blog, website, or app. If you have specific concerns or a situation arises in which you require medical advice, you should consult with an appropriately trained and qualified medical services provider.