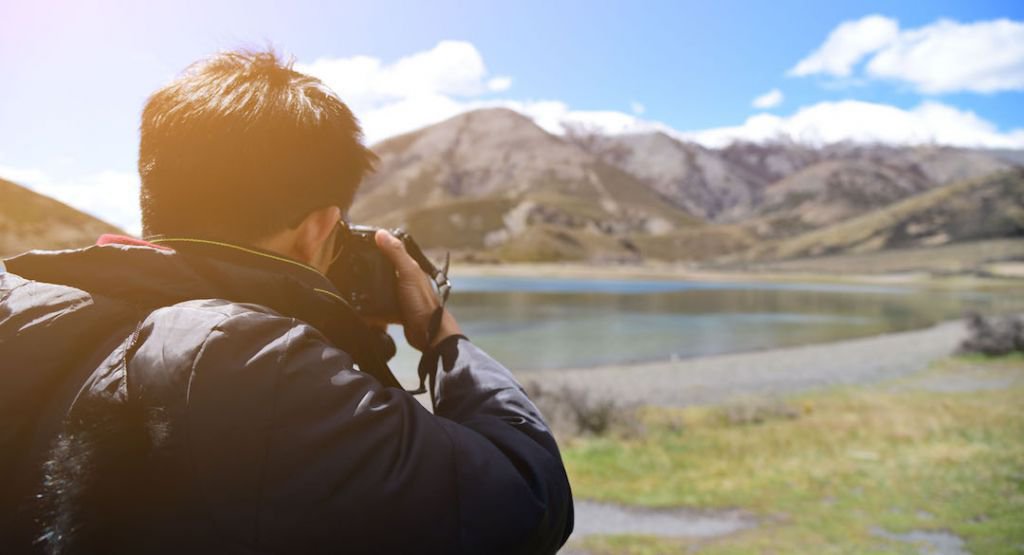 1. Get enough sleep.
Studies show that poor sleep increases your chance of getting sick after exposure to a virus. So getting proper sleep is important. Try to maintain the same sleep schedule every day, keep your room cool at night, minimize caffeine consumption, and avoid devices with screens for at least an hour before bed. You may also want to bring an eye mask and earplugs to create an ideal sleep environment.
Traveling to a different time zone? Heese says, "Taking melatonin 30 minutes before bed may help reset your internal clock."
You can also try out out some of our other jet lag tips.
If you regularly have sleep issues or need something to help you sleep on a plane, talk to your primary care provider for advice.
2. Stay hydrated.
Between dry plane air, busy days, and time in the sun, it's easy to get dehydrated when you travel. To avoid this, Heese advises, "Drink enough that you're peeing your normal amount. If your urine is darker than usual, you need to drink more." And remember, alcohol is dehydrating so drink extra water to offset it.
3. Set an alarm to remind you to take medication.
It's not uncommon for travelers to forget to take medication. Set alarms on your phone as reminders to take everything at the right time. For medications that need to be taken at the same time every day (like birth control pills), keep taking them on your home schedule. If that isn't convenient, start shifting your medication time by an hour every day before you leave on your trip until you're on a new schedule that works while you're away. Do the same when you return.
4. Stay safe in the sun.
While you may love spending time in the sun, a bad sunburn — or worse yet sun poisoning, heat exhaustion, or heatstroke — can ruin a vacation. Wear sunscreen that's at least SPF 30 and offers both UVA and UVB protection every day. Be sure to reapply every two hours and more frequently if you swim, sweat, or have fair skin.
Heese also suggests, "Wear a hat and sun-protective clothing for added protection. You can burn through your clothes, especially if they're light-colored or thin or loosely-woven fabric."
To prevent heat exhaustion and heatstroke, avoid spending too much time in direct sunlight on very hot days, especially when the heat index is over 90 degrees F. Also remember to hydrate more frequently, limit physical activity, and avoid alcohol.
5. Protect yourself from mosquitoes.
Mosquitoes aren't just annoying — they also spread disease in many places around the world. If you're visiting an area with them, use an appropriate mosquito repellant and concentrate on your feet, ankles, lower legs, and wrists. Going somewhere where malaria or yellow fever are present? Talk to your provider or use our virtual travel clinic to see if you need malaria pills or a yellow fever vaccine.
6. Watch what you eat and drink.
Visiting the developing world? Any fruits and vegetables you eat should be cooked. Avoid ice cubes unless they're made from purified water. And make sure bottles and cans are sealed. Heese adds, "Street food is more of a risk than food from restaurants." A probiotic that doesn't require refrigeration may also help prevent stomach issues.
7. Carry an in-case-of-emergency card with you.
Carry a card with contact information of someone who's not traveling with you in case of emergency. If you have existing medical conditions or medication allergies, include them on the card in the local language.
If You Get Sick or Injured
1. Contact One Medical.
If you're a One Medical member and not suffering from a life-threatening condition, you can call us or use the app to have an on-demand video visit, message us, or use Treat Me Now. These services are available 24/7 and are included in your annual membership fee. If you happen to be in a city where we have offices, you can also book an appointment there.
2. Visit a local pharmacy.
Talk to a pharmacist for advice and over-the-counter medication. They can be especially helpful about health issues common to the area and may be able to recommend a medical provider if needed.
3. Find a medical provider.
Not sure where to go? Ask your hotel, your travel insurance company, or the U.S. Embassy if you're out of the country. Some rewards credit cards also have a travel and emergency assistance service that can provide medical referrals.
———————————–
By taking a few precautions, you'll have a better shot at staying healthy and happy wherever go. Happy travels!
The One Medical blog is published by One Medical, a national, modern primary care practice pairing 24/7 virtual care services with inviting and convenient in-person care at over 100 locations across the U.S. One Medical is on a mission to transform health care for all through a human-centered, technology-powered approach to caring for people at every stage of life.
Any general advice posted on our blog, website, or app is for informational purposes only and is not intended to replace or substitute for any medical or other advice. 1Life Healthcare, Inc. and the One Medical entities make no representations or warranties and expressly disclaim any and all liability concerning any treatment, action by, or effect on any person following the general information offered or provided within or through the blog, website, or app. If you have specific concerns or a situation arises in which you require medical advice, you should consult with an appropriately trained and qualified medical services provider.