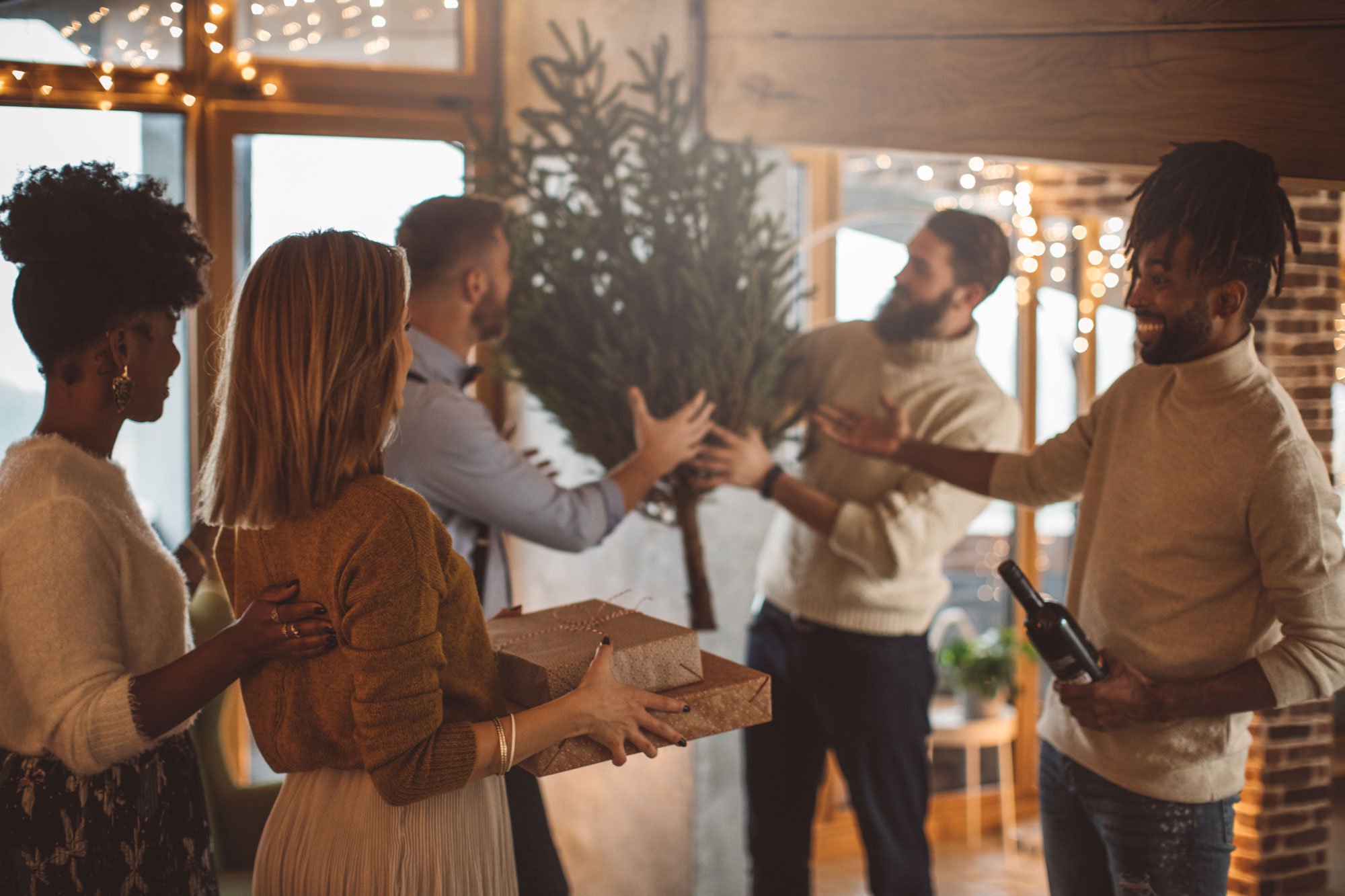 Updated December 13, 2022.

Tis the season for delectable foods, festive fun, and gift giving. If you're on the hunt for something that will actually be of use to your friends and family, look no further! To reduce the stress of figuring out what to get your loved ones, our providers shared ten unique gift ideas to support healthy living. Here are their top gift recommendations for promoting both physical and mental health this year.
1. Meditation app subscription
"Guided meditations help improve mood and improve your sleep quality. Apps like Headspace, Calm, and Ten Percent Happier are great places for those that are just beginning to start learning the basics on mindfulness and meditation," says One Medical Mental Health Therapist, Sherese Ezelle, LMHC.

While meditation has been around for thousands of years, the practice has grown in popularity in recent years as a growing body of research continues to point to its physical and mental health benefits. Numerous studies have found that meditation can reduce stress, ease anxiety and depression, lower blood pressure, increase self-awareness, improve memory and concentration, and boost feelings of happiness and satisfaction.

Meditation apps like the ones mentioned above make it easy to unwind, de-stress, and focus on the present, with thousands of different mindfulness exercises you can practice at home or on the go. Between courses and single sessions, you can choose meditations for almost any occasion, mood, or health goal. Help your loved one find their zen and gift a monthly or yearly subscription.
2. Meal prep or delivery service
"The holidays are filled with an abundance of festive foods. To avoid overindulging, stick with nutritious foods from meal prep and delivery services like Daily Harvest, Sunbasket, Hello Fresh, and Home Chef. With all sorts of easy-to-make or ready-to-eat options, these meal services are wonderful ways to stay on top of your health and wellness goals throughout the holidays and in the new year " says One Medical provider, Hemalee Patel, DO.
Finding time to make nutritious, well-rounded meals is no easy task. Meal prep and delivery services like these, however, remove some of the stress and guesswork out of mealtime, bringing fresh, pre-portioned ingredients right to your door. Whether you're looking for diabetes-friendly, keto, or gluten-free dishes, these subscription services allow you to tailor your meal plan to your unique lifestyle and dietary restrictions. Your friends and family will love the convenience of these nourishing meals.
3. White noise machine
"Sleep is essential for a healthy life and sometimes it can be hard to unplug and get a full good night's rest. Something like a white noise machine or a weighted blanket can block out extra noise and ease anxiety," said Sherese Ezelle, LMHC at One Medical.
Creating the perfect sleep environment can feel like a complicated science. Too much noise and you might find your mind running all night. Too little and every small creak or cough in the night can sound extra loud. That's where white noise machines come in. Machines like these from Tuft & Needle, Yogasleep, and Hatch provide continuous, steady sounds to help drown out distracting and disruptive noises. With these devices, you can choose from electrically generated, fan-like noises to ambient nature sounds like ocean waves, rainfall, and more to create a consistent soundscape and mute interruptions. Some even come with an app so you can conveniently set and control your sleep preferences remotely.
4. Weighted blanket
In addition to a white noise machine, weighted blankets can also make great gifts for restless sleepers and anxious minds. These blankets, often filled with plastic or glass beads, mimic a type of therapy known as deep pressure simulation, in which gentle pressure - similar to the feeling of being hugged or swaddled - applied to the body calms the nervous system, lowering one's heart rate and slowing breathing. As a result, research has suggested that weighted blankets may help reduce stress and anxiety, as well as improve sleep. Choose from blankets like Luna, Bearaby, and Baloo that come in a range of weights and sizes to induce calm and relaxation. Plus, they come in a variety of colors.
5. Ergonomic laptop stand
"Working from home became the new norm over the last two years and dining room tables and couches became the new workplace. Sitting or laying in these positions for an extended period of time can lead to awkward posture and potential musculoskeletal injuries. Practicing ergonomics, or the science of fitting a workplace to a user's need, can increase productivity, lessen muscle fatigue, and reduce risk of injury, said Natasha Bhuyan, MD at One Medical.
One of the best ways to protect your body while you work is to elevate your laptop so the top of the screen is just above eye-level. Help the workaholic in your life avoid unnecessary trips to the chiropractor with an ergonomic laptop stand. Stands like these from BoYata and Rain Design are slideproof, compatible with most laptops, and can be adjusted to one's height. Their body will thank you later!
6. One Medical Membership
A One Medical membership is the gift that keeps on giving. One Medical makes it faster, easier, and more enjoyable for the people you care about to safely get the care they need. Through the One Medical app, your loved one can book same or next-day appointments, renew prescriptions, access fast and easy COVID-19 care, and even receive 24/7 virtual care, saving them unnecessary trips to urgent care or the emergency room. Simply pick the day you wish the digital gift card to be sent, write a message, and the recipient can activate their membership at any time.
7. Light therapy lamp
"Seasonal affective disorder (SAD) is very real and a mental health issue that is part mood disturbance, part biological and typically happens in the fall and winter months. Invest in a light therapy lamp that improves sleep, boosts mood, increases energy, and enhances focus, leaving you feeling revitalized," said Sherese Ezelle, LMHC at One Medical.
Winter is here, and for many, it can bring a drastic shift in mood. Support your loved one's mental health this season with the gift of a light therapy lamp or light box. Light therapy involves sitting in front of an artificial light source that mimics natural outdoor light, triggering a release of feel-good chemicals like serotonin that can boost your mood. Not sure what kind to buy? Check out these lamps from Verilux, Carex, and Northern Light Technologies, which safely bring daylight indoors with LED technology without any harmful UV rays.They're the perfect gift for someone who lives in a less than ideal climate and could use a little energy boost.
8. Humidifier
"As it gets colder and the heat cranks up, skin and nasal passageways can dry out. A humidifier can help to reverse those effects and keep skin less irritated and nasal passageways open," said Natasha Bhuyan, MD at One Medical.
If you're on the hunt for a gift your skin-care obsessed friend or relative will love, look no further. A good humidifier can help your loved one prioritize their skin health year round, while even relieving sinus congestion and improving sleep. Options from brands like Levoit and Pure Enrichment add cool moisture into the air quickly and quietly so they'll never even know they're there. As a plus, they're easy to clean.
9. Eye mask
Got a frequent flier or road tripper on your list? Send them on their travels with a new eye mask. Between bright planes and sunny hotel rooms, it's not always easy to get proper shut-eye while traveling. Silk or satin eye masks like these from Brooklinen, Kitsch, and Blissy can help block out light so your giftee can rest peacefully, no matter what environment they're in, while reducing wrinkles and keeping hair smooth. They're also lightweight and breathable, making them great for any season.
10. Gratitude journal
"Gratitude helps keep you grounded and taking the time to jot down things you are thankful for, big or small, can help you reflect on those positive experiences, become more mindful, and start the day with a fresh perspective," said Sherese Ezelle, LMHC at One Medical.
Practicing gratitude has been associated with a whole host of physical and mental health benefits, including reduced stress, anxiety, and depression, and increased happiness and overall life satisfaction. The Five Minute Journal, One Line a Day, and Start Where You Are journals are great for those that like to set weekly goals, go over daily affirmations, jot down what they're grateful for, browse inspiring quotes, and focus on highlights of the day. It's a simple way to help your loved one focus on the positive and get the most out of their day.
The One Medical blog is published by One Medical, a national, modern primary care practice pairing 24/7 virtual care services with inviting and convenient in-person care at over 100 locations across the U.S. One Medical is on a mission to transform health care for all through a human-centered, technology-powered approach to caring for people at every stage of life.
Any general advice posted on our blog, website, or app is for informational purposes only and is not intended to replace or substitute for any medical or other advice. 1Life Healthcare, Inc. and the One Medical entities make no representations or warranties and expressly disclaim any and all liability concerning any treatment, action by, or effect on any person following the general information offered or provided within or through the blog, website, or app. If you have specific concerns or a situation arises in which you require medical advice, you should consult with an appropriately trained and qualified medical services provider.