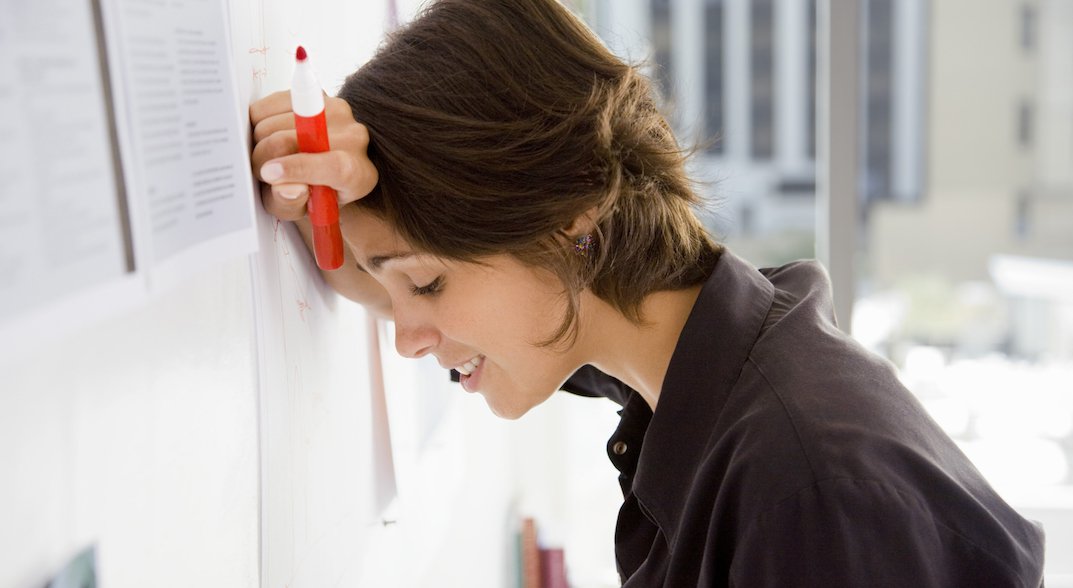 Stressed about work? You've got plenty of company: 84 percent of respondents said stressful jobs impacted their personal lives, and 42 percent had purposely changed jobs due to stressful work environments, according to a Monster.com report. Even if you're lucky enough to love what you do, it's normal to face some amount of stress regularly — and that's not always a bad thing. In moderate amounts, stress can motivate us to fulfill our commitments and remain on our toes.
The short-term stressors that come with many jobs — such as long commutes and marathon meetings — are distinct from chronic stressors, like an impossible workload or an intolerable boss. But both kinds of stress can cause a range of health problems.
"I've had visits for generalized fatigue, insomnia, abdominal pain, headaches, night sweats and many other complaints," says Nasser Mohamed, a One Medical doctor in San Francisco. "A good number of patients are really surprised to hear that stress is the reason for their problem. They can be so overwhelmed that they don't even listen to their own bodies."
Mohamed tells his patients to put self-care on their to-do list, just like a conference call or building a spreadsheet.
So, short of winning the lottery and quitting your job, what can you do to prevent work stress from taking over? Our Spencer Blackman, MD offers the following tips to help ease stress and get you through the work week. To learn more, book an appointment with any One Medical provider to discuss how they can help you manage your stress.
1. Practice Self-Care
Make sure you're eating a healthy diet, drinking water and getting enough exercise — consider taking up yoga. Maintaining a base level of health and work-life balance will only enhance other stress-busting techniques.
2. Get Physical
Be physically active for at least 30 seconds at frequent intervals throughout the day. For example, if you've been sitting at your computer for an hour, stand up and do 10 jumping jacks. Work in an open space? Make it a group activity! It will increase productivity, reduce stress and help with shoulder and neck tension as well as eyestrain.
3. Rest Up
Get enough sleep — ideally seven to eight hours each night. You'll be better equipped to face daily challenges if you're well-rested.
4. Catch Some Rays
Take a short walk. If you have 5 to 10 minutes at any point in the day, go outside! Even a 5-minute walk outside will pay for itself in increased productivity and creativity throughout the day.
5. Unwind
Try progressive muscle relaxation. This technique involves flexing and relaxing muscle groups one by one. Start by clenching and unclenching your hands. Then move to your feet and work your way up. Flex and relax every muscle group from your feet to your face.
6. Use Breaks Wisely
Resist the temptation to cruise Facebook, Buzzfeed, or other sites that suck you in—this doesn't actually create a sense of relaxation. Instead, use your time to do something genuinely rejuvenating, like closing your eyes and taking a few slow, diaphragmatic breaths, or talking to a coworker.
7. Take a Breather
Find a couple of minutes to practice mindful abdominal breathing. Simply sit quietly, relax your muscles, inhale slowly and deeply through your nose, and exhale through your mouth. Focus on puffing out your abdomen with each inhalation, and avoid raising your shoulders or breathing only through your chest. Two minutes of deep breathing can really help reduce feelings of stress.
8. Keep Work at Work
Be mindful of letting work bleed into your free time. Set boundaries as needed. If you keep your work contained to the workday, you'll be better able to cope with stressful situations because you'll be rested and rejuvenated.
9. Seek Help
Examine your work environment and talk to your manager or your HR department if you feel that excessive stress is keeping you from performing at your peak. If necessary, consider finding a new job!
The One Medical blog is published by One Medical, a national, modern primary care practice pairing 24/7 virtual care services with inviting and convenient in-person care at over 100 locations across the U.S. One Medical is on a mission to transform health care for all through a human-centered, technology-powered approach to caring for people at every stage of life.
Any general advice posted on our blog, website, or app is for informational purposes only and is not intended to replace or substitute for any medical or other advice. 1Life Healthcare, Inc. and the One Medical entities make no representations or warranties and expressly disclaim any and all liability concerning any treatment, action by, or effect on any person following the general information offered or provided within or through the blog, website, or app. If you have specific concerns or a situation arises in which you require medical advice, you should consult with an appropriately trained and qualified medical services provider.