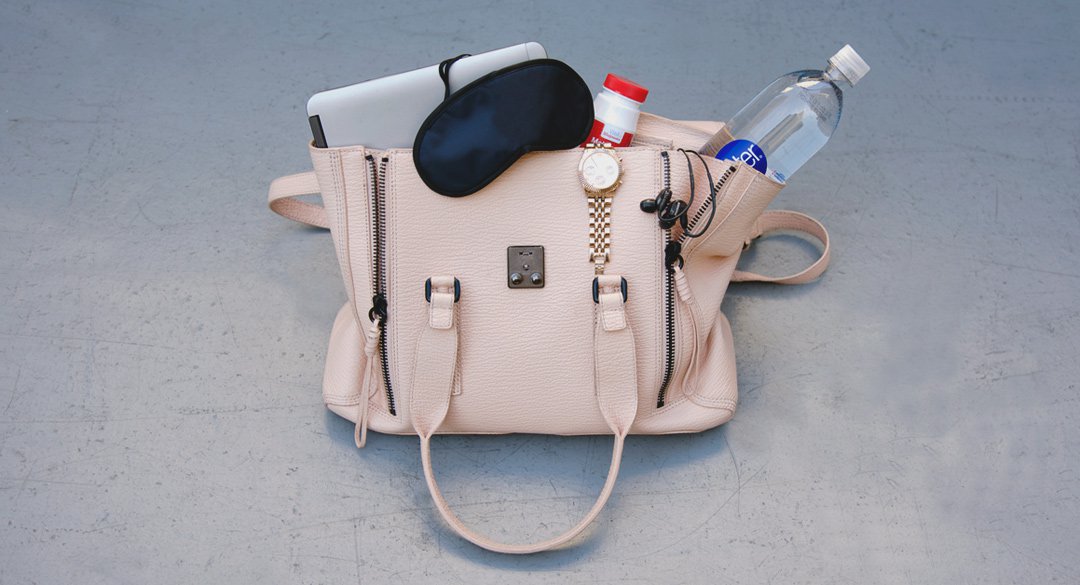 It's no secret that flying can be stressful — last-minute delays, unpredictable weather, and cramped spaces can make air travel fraught with unexpected issues. One aspect of flying you definitely want to have a handle on? Sleep. Whether you're traversing time zones and hoping to avoid jetlag, or you're worried about getting less-than-optimal shut-eye on an overcrowded plane, these tried-and-true methods will help ensure a more restful flight.
Before Your Trip
Reset Your Body Clock
Adjust your body clock by shifting your routine forward or backward—depending on where you're traveling—two to three days before your flight. You don't need to completely switch to your destination's time zone, but it helps to slowly adjust your sleep so that your circadian rhythm isn't totally out of whack upon arrival.
De-Stress
Get all your affairs in order as far in advance as you can to avoid stress right before your flight. Stress can have a substantial impact on your sleep and make it more difficult to relax once you're in the air.
Dress Comfortably
It can be tempting to wear business attire if you're heading straight to a meeting, but for a truly restful flight, wear loose, soft, breathable clothing and shoes that slip off easily, and pack any necessary change of clothes with you in a carry-on.
Book Your Seat Wisely
When making reservations, avoid seats in the back of the plane or in busy areas close to lavatories. It's easier to feel bumps and turbulence in the back of the plane, and it's nearly impossible to get shut-eye with constant foot traffic. Pick your perfect seat at SeatGuru, which offers advice and facts on seats on every type of plane.
Avoid Red-Eye Flights
Overnight flights might seem like they maximize efficiency, but red-eyes often lead to mid-day energy crashes. Take a flight that lands midday when you travel east and a flight that lands in the morning when you travel west.
On Board
Turn Off the TV
If you need to drown out noise, listen to guided meditations or soothing music; don't try to watch TV or a movie. Numerous studies have found that people are particularly sensitive to the blue light emitted by technology.
Avoid Alcohol
Alcohol may help induce sleep, but it's dehydrating and research shows it reduces rapid eye movement (REM) sleep, so any sleep you're able to get won't be as restorative, leading to daytime drowsiness and poor concentration.
Stick to Water
Dehydration worsens the physical symptoms of jet lag, so staying stocked on water is an important way to counteract the effects of dry plane air. Caffeine can disrupt your sleep, so avoid black tea and stick to plain bottled water.
Use a Sleep Mask or Light Visor to Regulate Melatonin
If you're traveling somewhere that's dark but it's bright and sunny onboard, try a sleep mask to block out light. If you're having the opposite dilemma, a light visor can help simulate daylight to regulate melatonin, the hormone that helps control sleep-wake cycles.
Take a Melatonin Supplement, Not Sleeping Pills
Sleeping pills don't help with the daytime symptoms of jet lag, but melatonin can. Take melatonin 20 to 30 minutes before sleep.
Use Noise-Canceling Headphones
Regular earbuds don't always cut it. Invest in a pair of noise-canceling headphones to block out the sound of the plane and fellow passengers.
If All Else Fails
If, despite your best efforts, you're still sleep-deprived when you arrive at your destination, try a power nap. "A short nap on arrival that's about 40 minutes maximum is perfectly acceptable and will help you function better during the day," says One Medical's Malcolm Thaler, MD. "Worrying about sleep won't help you get to sleep. The key is to relax and let go of any anxiety about sleeping. You can survive missing a night's sleep, so just close your eyes and don't worry."
The One Medical blog is published by One Medical, a national, modern primary care practice pairing 24/7 virtual care services with inviting and convenient in-person care at over 100 locations across the U.S. One Medical is on a mission to transform health care for all through a human-centered, technology-powered approach to caring for people at every stage of life.
Any general advice posted on our blog, website, or app is for informational purposes only and is not intended to replace or substitute for any medical or other advice. 1Life Healthcare, Inc. and the One Medical entities make no representations or warranties and expressly disclaim any and all liability concerning any treatment, action by, or effect on any person following the general information offered or provided within or through the blog, website, or app. If you have specific concerns or a situation arises in which you require medical advice, you should consult with an appropriately trained and qualified medical services provider.