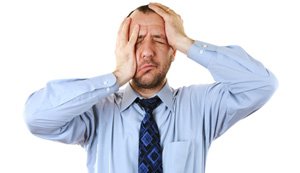 If you've had one, you're familiar with the symptoms: fatigue, throbbing pressure, and pain around your face and head–even your teeth ache. Sudden movements or bending over can exacerbate the sensations, leaving you wincing in pain, sometimes to the point of dizziness. When a sinus infection hits, your instinct might be to seek medical attention. In fact, in 2010 Americans spent nearly $3 billion on doctor visits, tests, and medications seeking relief for their sinus woes.
But there is now overwhelming evidence that the most commonly-prescribed treatment for sinus infections–antibiotics–are not the answer. According to One Medical Group's Anand Singh, MD, 98 percent of all cases are caused by viruses, not bacteria. And we all know that viral infections don't respond to antibiotics. In addition, more than 99 percent of sinus infections–regardless of whether they are viral or bacterial–will resolve on their own within two to four weeks.
Instead of pleading with your health care provider for a prescription, a better approach to acute rhinosinusitis, as the condition is officially called, is to manage your symptoms as you wait out the infection. Here are the key things you can do to lessen the pain and discomfort.
Rinse and Repeat
Sinusitis is caused by inflammation of the mucous membranes in the nose and sinus cavities around the eyes, nose, and cheeks. As these membranes swell, they block the normal flow of mucous through the sinuses and nasal passages. This result is pressure and pain that radiates from the inflamed areas.
The best way to manage sinus infection symptoms is to open up the pathways so that trapped mucous can drain, says Singh. And the "cornerstone" to this approach, he says, is nasal irrigation. At the first sign of pain or inflammation, rinse your nasal passages and sinuses with a salt-and-water mixture (1 teaspoon salt to 1 pint warm water) to help unblock your sinuses and expel trapped matter. Singh recommends doing it at least twice a day–first thing in the morning and in the evening–and more often if you can. Neti pots, which are available at drugstores and health-food stores like Whole Foods, are useful as a preventive tool. But when you're in the midst of an infection, Singh suggests an irrigator with more power to move the blocked mucous, such as NeilMed or Nasaline. He even recommends–as crazy as it sounds–a generic turkey baster.
More Ways to Drain
When you rinse your nasal passages, you want to achieve "turbulent flow," which means that you don't just want to moisten the sinuses, you want the water pressure to be strong enough that you actually rinse away the residue–but not so strong that you cause yourself pain.
In addition to nasal irrigation, over-the-counter decongestants such as Afrin and Sudafed can provide relief when sinus pain is at its worst, Singh says, although neither product should be used for more than three to five days.
Jennifer Mann, a naturopathic doctor with One Medical Group recommends daily 10-minute steam inhalations with a few added drops of eucalyptus oil. Holding warm compresses over the sinuses can relieve pain. And increasing your intake of liquids can also help keep mucous wet and thin, which helps keep it moving, Singh says.
While you are in the throes of a sinus infection, Mann suggests avoiding all dairy products and citrus–both of which may increase mucous production–and sugar, which is thought to suppress the immune system.
When to See Your Provider
If your symptoms persist longer than 10 days or if you're getting worse after a brief period of improvement, we suggest your health care provider. You should definitely come in if you have severe symptoms, such as a prolonged fever of 101 degrees F or higher, or if you're facing other serious medical conditions, such as cancer.
If you find yourself sidelined by sinus infections four or more times a year, the condition may be chronic and your health care provider will want to investigate further.
But for most of us, self-care is the only treatment that's necessary. So there's no need to be disappointed when your provider tells you you don't need antibiotics–it means that he or she is sparing you from unnecessary harm. Keep in mind that antibiotics can disrupt the healthy bacteria in your gut, causing diarrhea and abdominal pain. They're also notorious for causing yeast infections and, occasionally, serious allergic reactions. In contrast, nasal irrigation has no side effects and can reduce pain immediately. Says Singh: "If you can get ahead of a sinus infection early on, the condition will likely get better, and you'll never have to come into the doctor's office."
The One Medical blog is published by One Medical, a national, modern primary care practice pairing 24/7 virtual care services with inviting and convenient in-person care at over 100 locations across the U.S. One Medical is on a mission to transform health care for all through a human-centered, technology-powered approach to caring for people at every stage of life.
Any general advice posted on our blog, website, or app is for informational purposes only and is not intended to replace or substitute for any medical or other advice. 1Life Healthcare, Inc. and the One Medical entities make no representations or warranties and expressly disclaim any and all liability concerning any treatment, action by, or effect on any person following the general information offered or provided within or through the blog, website, or app. If you have specific concerns or a situation arises in which you require medical advice, you should consult with an appropriately trained and qualified medical services provider.