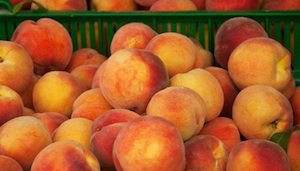 Food recalls happen as much as three times a week, but they rarely make the news. However, when the food item is widely disseminated and is possibly contaminated with a dangerous pathogen like listeria, it becomes a big story.
That's exactly what happened last week.
What foods were tainted?
The food in question are stone fruits—peaches, plums, nectarines, and pluots—supplied by the Wawona Packing Company to many popular stores, including Costco, Trader Joe's, Food 4 Less, Ralph's, and Whole Foods. The bacteria is listeria, which in the healthy, general population rarely poses a serious health threat. Most people never develop symptoms after coming into contact with the bacteria, and those who do usually just experience a brief gastrointestinal syndrome with fever, aches, pain, bloating, and diarrhea.
So, why the big fuss?
The problem occurs when people at risk of invasive disease are exposed to listeria. Invasive disease most commonly involves infection of the central nervous system, causing either meningitis—an infection of the thin membranes lining the nervous system and the cerebrospinal fluid they enclose—or meningoencephalitis, in which the infection spreads into the nervous tissue itself, most prominently the brain.
Those at risk include infants, the elderly, immunocompromised patients (including persons with immune deficiencies and T cell deficiencies, or persons undergoing chemotherapy), persons with chronic diseases like diabetes, and women who are pregnant. In pregnant women, infection can lead to infection of the fetus, premature birth, and even fetal death.
How do I protect myself?
The first step in limiting your chances of getting listeria infection is to throw out all potentially contaminated food. Although washing and cooking food greatly lowers the risk of infection, any possible source of disease should not be eaten and should be discarded immediately.
What do I do if I think I've been exposed?
If you think you may have eaten contaminated food, the Centers for Disease Control and the various state Departments of Health have issued recommendations for what you should do:
If you are in one of the high-risk groups described above and have no symptoms, then no testing or treatment is recommended. If you develop any symptoms consistent with listeria infection within two months of exposure, see your health care provider. These symptoms include fever, muscle aches, diarrhea, and other gastrointestinal symptoms. If you develop any symptoms of meningitis such as stiff neck or sensitivity to light along with fever, you should immediately go to an emergency room.
If you are having mild symptoms, you should notify your health care provider, but if you do not have a fever, many experts feel it's OK to watch and see if anything develops. Some clinicians take a more aggressive approach and obtain blood and possibly stool cultures and initiate antibiotic treatment (usually amoxicillin), while waiting for the results. But remember, you don't have to make these decisions on your own—talk to your provider.
If you have been exposed, are feeling fine now, but had symptoms in the previous four weeks, no testing or treatment is recommended. If symptoms recur within two months, contact your health care provider.
For persons not in one of the high-risk groups described above, the dangers are so low that no specific recommendations have been made. That being said, management can follow the same guidelines as those for high-risk persons, albeit with a much higher threshold to test and treat.
Listeria scares are not uncommon, and anyone at risk of invasive disease should follow these recommendations carefully. If you're uncertain about what to do, the best thing is always to speak with your health care provider.
The One Medical blog is published by One Medical, a national, modern primary care practice pairing 24/7 virtual care services with inviting and convenient in-person care at over 100 locations across the U.S. One Medical is on a mission to transform health care for all through a human-centered, technology-powered approach to caring for people at every stage of life.
Any general advice posted on our blog, website, or app is for informational purposes only and is not intended to replace or substitute for any medical or other advice. 1Life Healthcare, Inc. and the One Medical entities make no representations or warranties and expressly disclaim any and all liability concerning any treatment, action by, or effect on any person following the general information offered or provided within or through the blog, website, or app. If you have specific concerns or a situation arises in which you require medical advice, you should consult with an appropriately trained and qualified medical services provider.