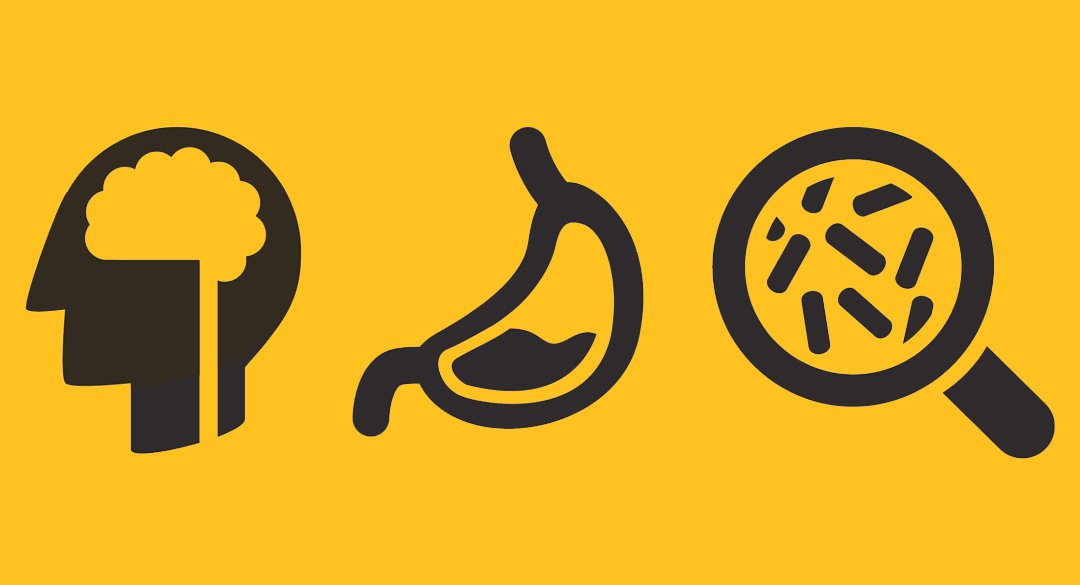 Whether you know it or not, your gut is teeming with over 100 trillion microorganisms. Although that concept may sound scary, most of the 500 different species inhabiting your bowels are essential to your health. Much has been said about the impact of "good" bacteria on digestive health, but not much has been known about how the gut impacts the brain — until now.
A 2015 study indicates that taking prebiotic supplements to boost healthy bacteria in the gastrointestinal tract alters the way people process emotional information and may have an anti-anxiety effect. Although most people are familiar with probiotic supplements, which are the strains of healthy bacteria, prebiotics are the carbohydrates (in the form of soluble fiber) that nourish these microorganisms and help them proliferate.
How Prebiotics May Benefit Your Brain
Researchers asked 45 healthy adults between 18 and 45 to take a prebiotic or a placebo every day for three weeks and administered salivary cortisol tests to evaluate their anxiety levels. On the final day of treatment, participants completed a series of computer tests that assessed their ability to process emotional information, including positively and negatively charged words.
According to the results, subjects in the prebiotic group paid less attention to negative information and more attention to positive information compared to the placebo group. This suggests that the prebiotic-takers had less anxiety when confronted with negative information.
Although additional research is necessary, the effect was similar to what's been observed in individuals taking antidepressants or anti-anxiety medication.
"I take a functional medicine approach to mental health, which is a root-cause approach to understanding and treating illness," says Ellen Vora, MD. "The brain is a physical organ, vulnerable to inflammation and poor health like any other organ in the body. Mental health issues are often rooted in physical health in addition to psychology, thought, and behavior patterns."
How to Use Pre/Probiotics for Your Mental Health
Prebiotics and probiotics have the potential to be used in addition to conventional treatments for mental health, but not as replacements. "I think pre/probiotics will only be used as 'adjuncts' to conventional treatments, and never as mono-therapies," the study's lead author, Philip Burnet, told The Huffington Post. "It is likely that these compounds will help to manage mental illness… they may also be used when there are metabolic and/or nutritional complications in mental illness, which may be caused by long-term use of current drugs."
According to Vora, treating the gut is an important way to address a long list of health issues. "Digestive health is fundamental to physical and therefore mental health," she says. "I always start with the gut because inflammation in the digestive tract causes inflammation and imbalance throughout the rest of the body. Probiotic and prebiotic supplementation is a step in the right direction, but for many people, although supplementation is necessary, it isn't sufficient on its own to heal the gut."
Other Ways to Restore Your Gut Health
According to Vora, anyone with digestive issues may need to go beyond supplements in order to truly restore balance in the gut. She recommends removing factors that may compromise gut health, such as sugar, gluten, industrial vegetable oils, soda, antibiotics, and oral contraceptives, and adding foods that soothe the gut like bone broth, starchy tubers, and fermented foods.
Additionally, she recommends making lifestyle changes to ensure adequate sleep and relaxation, and addressing possible gut infections with a comprehensive functional medicine evaluation and management of possible infections with herbal antimicrobials.
Remember to always talk to your health care provider before starting or stopping any medications, and make an appointment with a nutritionist if you need additional guidance on dietary choices.
"Many of my patients suffering from depression, anxiety, ADHD, bipolar disorder, and insomnia have digestive disturbances creating inflammation, which intensifies these mental health issues," Vora says. "Their symptoms improve when we heal the gut."
The One Medical blog is published by One Medical, a national, modern primary care practice pairing 24/7 virtual care services with inviting and convenient in-person care at over 100 locations across the U.S. One Medical is on a mission to transform health care for all through a human-centered, technology-powered approach to caring for people at every stage of life.
Any general advice posted on our blog, website, or app is for informational purposes only and is not intended to replace or substitute for any medical or other advice. 1Life Healthcare, Inc. and the One Medical entities make no representations or warranties and expressly disclaim any and all liability concerning any treatment, action by, or effect on any person following the general information offered or provided within or through the blog, website, or app. If you have specific concerns or a situation arises in which you require medical advice, you should consult with an appropriately trained and qualified medical services provider.