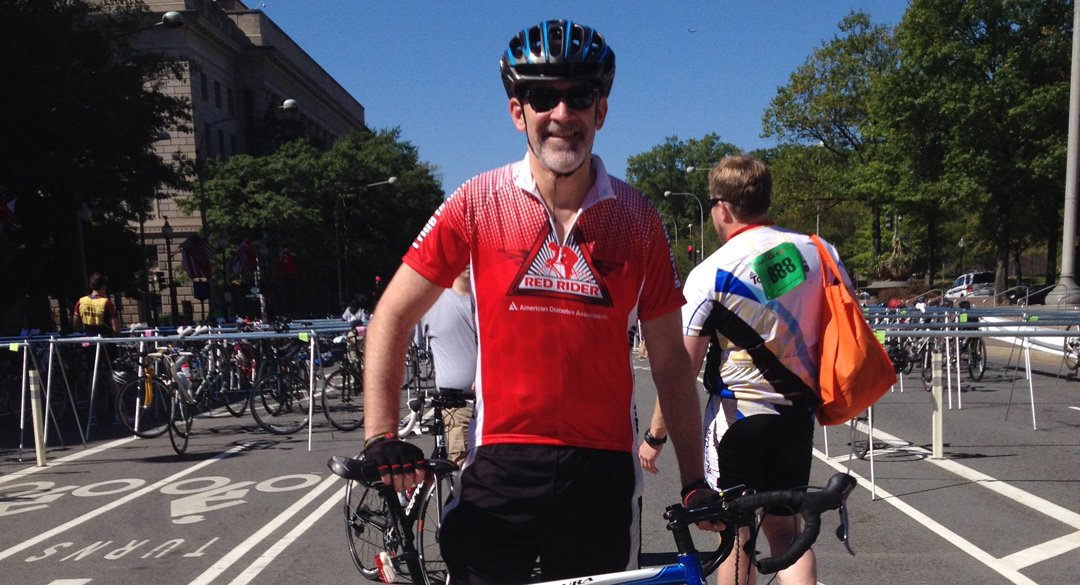 On September 27, One Medical provider Dan Garfinkel, MD, joined hundreds of other cyclists in the 2014 Washington DC Tour de Cure, raising awareness and funds for diabetes research, education, and advocacy.
According to the American Diabetes Association, over nine percent of the population has diabetes. As a National Committee for Quality Assurance (NCQA)-certified provider of diabetes care and a diabetic himself, Garfinkel is well-acquainted with the challenges diabetics face. He joined fellow Rotary club members—and hundreds of other riders—in an effort to change the lives of those impacted by diabetes.
After the 33-mile bike ride around the capital, Garfinkel joined fellow One Medical team members at the finish line where he shared some tips for preventing and managing diabetes—particularly type 2 diabetes.
One Medical: A 33-mile bike ride sounds like a lot. How did you prepare?
Dan Garfinkel, MD: Avid bikers here have no trouble finding a 30-50 mile "easy" round-trip trail. I also bike to work every day. When my wife and I go out in DC, we use Capital Bikeshare. It's easy to get in shape just by getting on one of these daily. On the weekends, I like to go for long rides, just to clear my mind, and end up at a nice destination (usually a good restaurant).
OM: You've been car-less for two years. How did you make that choice?
DG: When we moved down to DC, we decided to give up the car for four reasons: Save some money, save some hassle, get in shape by walking or biking most places, and do something responsible for the air and local traffic.
OM: What, in your opinion, are the primary benefits of biking?
DG: It's great for health and—as long as you're safe—better on your body than most impact exercises like running. It's good for the environment and faster—no looking for parking or getting stuck in traffic. It's also a good way to get your daily exercise in without having to schedule time at a gym. Cities like DC have really embraced bike culture by opening up bike routes and lanes. I recommend it for visitors to DC as a cheap and easy way to see all of the sights.
OM: Can you tell us more about your experience with diabetes and with Rotary?
DG: I have been NCQA-certified as a provider of diabetes care. Because I also have type 2 diabetes, I've been intensely interested in the best ways to not only treat it, but to make sure I can live longer without debility. My number one goal isn't so much longevity as much as being able to see my son when he's the father of a 17-year-old. Because of all the research I've done and the education I've had from all my patients, I've become comfortable with treatments and medications, including intensive insulin pump management. I've tried most of the medications, including most of the insulin formulations, so I have some personal experience when counseling patients on how to use medications and what to expect from them. Over the years, though, I've been most impressed with how well diet and exercise can manage diabetes, so I try to practice what I counsel my patients to do. By treating and counseling them, I've become much healthier.
I joined Rotary in rural Upstate New York as a way of being involved with an organization that is committed to local and global service. I got involved initially because we would host exchange students from other countries in the Rotary Exchange Program. I recommend Rotary highly to anyone who is looking to give back.
OM: What are some of your tips for type 2 diabetes lifestyle management?
DG: Number one tip: Eat real food. This can be a challenge for people without a lot of financial resources since good food is expensive and takes time to prepare, but the extra effort is worth it.
Tip two: Move and sweat at least once a day. It doesn't matter if that means climbing some stairs and walking an extra few blocks, or joining a gym. A few minutes can make a lot of difference.
OM: You've talked about having a holistic approach to type 2 diabetes care. What does that mean to you?
DG: I think of type 2 diabetes as not being so much a disease in itself, but as a syndrome of the consequences of an out-of-whack relationship with food, activity, work, and daily schedule balances, combined with some genetic tendencies towards the condition. The treatment has to include addressing all these issues. Eat the right food, but give yourself some breaks for special occasions. Move, stretch, and use exercises and yoga for both fitness and stress reduction. Sleep.
OM: How do you recommend diabetic patients work with their PCP to manage their care?
DG: Ask questions! It may seem confusing when your doctor is focused not only on your blood sugar, but also on your blood pressure and lipid numbers. Have your doctor explain why he or she needs to check your feet or get you to see an eye doctor every year. Ask why lower carbohydrate diets are now thought to be better than the old low fat, low cholesterol diets. Make sure your goals line up with your doctor's so you can have a unified vision of your life for the next 10, 20, or 30 years. Ask: What are the best ways for me to be around for the big moments in life—my child's graduation, the birth of my grandchildren, and more?
The One Medical blog is published by One Medical, a national, modern primary care practice pairing 24/7 virtual care services with inviting and convenient in-person care at over 100 locations across the U.S. One Medical is on a mission to transform health care for all through a human-centered, technology-powered approach to caring for people at every stage of life.
Any general advice posted on our blog, website, or app is for informational purposes only and is not intended to replace or substitute for any medical or other advice. 1Life Healthcare, Inc. and the One Medical entities make no representations or warranties and expressly disclaim any and all liability concerning any treatment, action by, or effect on any person following the general information offered or provided within or through the blog, website, or app. If you have specific concerns or a situation arises in which you require medical advice, you should consult with an appropriately trained and qualified medical services provider.