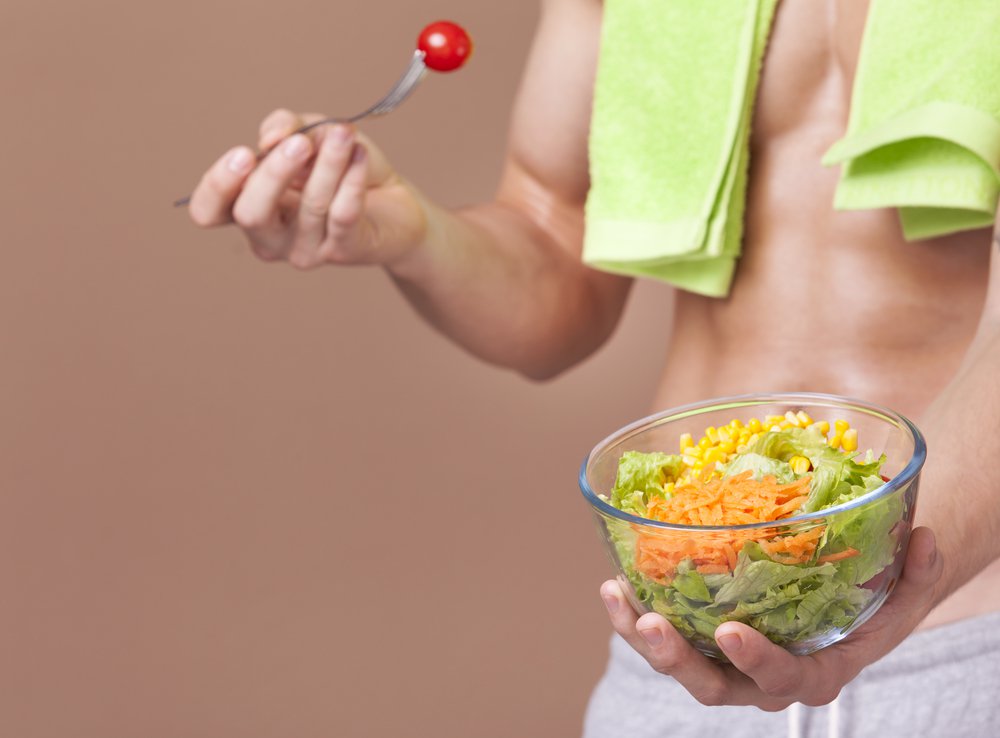 Did you see the recent Wimbledon tennis tournament? If you were watching Serena and Venus Williams advance deeper and deeper with their powerful serves and returns, and cheering when they captured the doubles title and Serena bested the women's field, you probably weren't wondering what they were eating.
The bodies of elite athletes like the Williams sisters are the result of hard training, desire, and focus. But it may surprise you that the sisters are both vegan, meaning they don't eat meat or animal products.
They and a growing number of top athletes such as Olympic sprinter Carl Lewis, bodybuilder Torre Washington, NFL running back Arian Foster and powerlifter Rachel Stein and  are showing it's possible to excel on a plant-based diet free of meat, fish, or dairy.
And, with some hard work and enough protein, regular people can build muscle on a vegan diet too.  
Muscles for Vegans
So, what does it take to build muscle?
On a simple level, it starts with a fitness plan, enough water and protein. Just like you can choose to build muscle by doing free weights, weight machines or isometric exercises, you can get protein from many different sources. Some athletes choose meat; vegans focus on plant-derived foods.
According to Dr. James Fuhrman MD, a board-certified family physician and New York Times bestselling author of The End of Heart Disease, smart top athletes are turning to plant-based diets. Not only can they build muscle as vegans or vegetarians, but many have found that a plant-based diet delivers more energy, better sleep and, they believe, helps extend their careers.  
"It used to be that athletes ate pancakes and eggs," says Fuhrman, who is based in New Jersey.  "Now we are seeing athletes that want to extend their careers and gain an edge."
"Kale, sunflower seeds, fruits, and vegetables are all parts of their diet," he says. "It's not uncommon now to see athletes carrying their blenders with them on the road."
Dietitian Carrie Gabriel, a coach for the Rise nutrition coaching app, said that when her clients come to her asking about building muscle on a vegan diet, she is quick to emphasize that she doesn't want her clients becoming overly reliant on protein powders and energy bars.
"While there are vegan bars, I know from experience that a bar is meant to be a supplement, not a meal," she says. "Also, with most packaged foods, there are additives and preservatives."
Plus, powders and supplements can produce unpleasant  side effects such as bloating and gas.  She promotes eating lentils, legumes, chickpeas, a lot of vegetables and certain whole grains like quinoa.
"If you were to have a piece of Ezekiel bread, plus two tablespoons of nut butter, that's 15 grams of protein from a natural food source," she says. "It's better to stay in the natural realm as much as possible."
Fuhrman recommends a diet he calls "nutritarian," which avoids high glycemic carbohydrates such as potatoes white rice, sugar, and processed foods that fill you up, but don't deliver protein. Instead, he recommends foods such as lentils, chickpeas, red kidney beans, soybeans, tempeh, Mediterranean pine nuts, hemp seeds and sunflower seeds.
How to Make Sure It Tastes Good
All that sounds wonderful, but how do you prepare vegan meals that really taste good?
First, you need to realize that making creative vegan cuisine takes a bit of time for shopping and cooking.
"If [a vegan diet] is important enough, you have to be willing to invest that extra time," says Gabriel. "If you are going to be vegan and active, you are going to get hungry more of the time, which makes it important that you invest in the proper food sources."
For recipes and ideas, there's a bumper crop of inspiration from chefs like Jamie Oliver or Bryant Terry and websites such as Forks Over Knives, No Meat Athlete and Thug Kitchen. "Veganism you can swear by" is the New York Times' description for the Thug Kitchen line of cookbooks that mix creative vegan recipes with aggressive lifestyle marketing and swagger.
For instance, their introduction for a  grilled veggie couscous salad recipe on their website reads like this:
"Tired of the same old mayo-mess of pasta salad spoiling in the summer sun? Ditch that cream colored B.S. and get with this fiber rich son of a b–h. Between all these ripe summer veggies, the fresh basil, and the grill marks, you've got a new prized picnic dish without all the fat in that pile of pale pasta. F–k mayo, EAT SOME SUNSHINE."
Sure sounds better than tofu and beans.
The One Medical blog is published by One Medical, a national, modern primary care practice pairing 24/7 virtual care services with inviting and convenient in-person care at over 100 locations across the U.S. One Medical is on a mission to transform health care for all through a human-centered, technology-powered approach to caring for people at every stage of life.
Any general advice posted on our blog, website, or app is for informational purposes only and is not intended to replace or substitute for any medical or other advice. 1Life Healthcare, Inc. and the One Medical entities make no representations or warranties and expressly disclaim any and all liability concerning any treatment, action by, or effect on any person following the general information offered or provided within or through the blog, website, or app. If you have specific concerns or a situation arises in which you require medical advice, you should consult with an appropriately trained and qualified medical services provider.