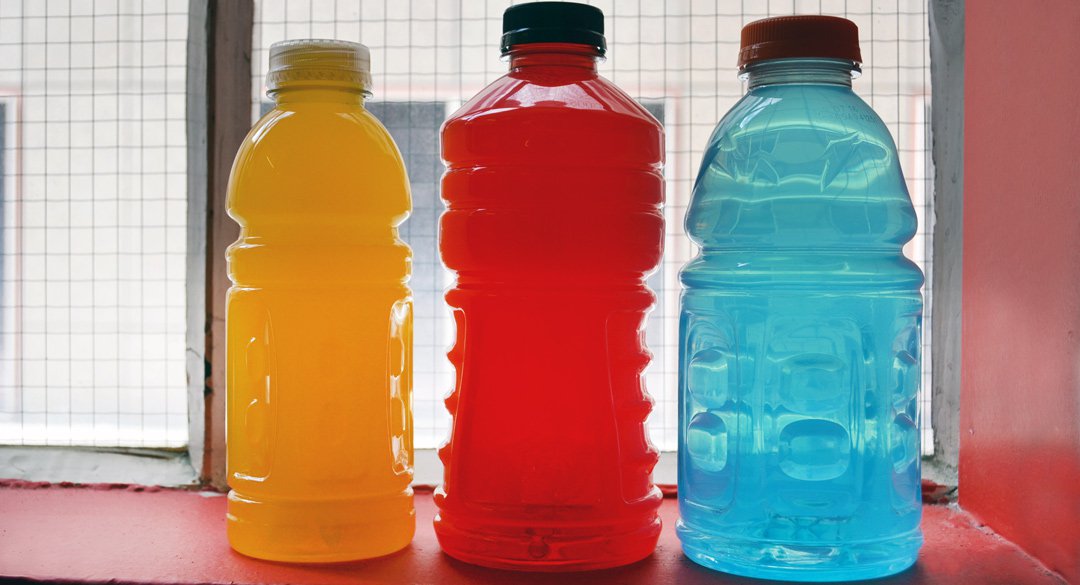 From grocery stores to gas stations, neon-tinged beverages stock the refrigerated shelves. Brands like Gatorade, VitaminWater, Powerade, and Propel are flooding the market with enhanced waters and energy drinks designed to give consumers a liquid boost of vitamins and minerals. But are all those extra nutrients actually healthy or safe?
Can too many vitamin drinks be harmful?
Despite being marketed as energy boosters or vitamin powerhouses, many so-called "functional drinks" get a bad reputation for their high sugar content. But sugar may not be the only problematic ingredient in these products. A new study analyzing 46 beverages with and without sugar found that many contained vitamins B6, B12, niacin, and vitamin C in quantities "well in excess" of the average daily requirements for young adults. Eighteen of the drinks contained more than triple the daily requirement for B6, 11 had more than triple the requirement for B12, and six had more than triple the requirement for niacin or riboflavin.
While it's hard to consume too many vitamins and antioxidants from whole foods, many popular brands of beverages on the market contain excessive amounts in just one bottle. VitaminWater's Formula 50 flavor, for example, contains 120 percent of niacin, vitamin C, B6, B12, and pantothenic acid in a 20-ounce serving.
How much is too much?
More than half of American adults already take a multivitamin or dietary supplement, and many of those people also consume foods and drinks enriched with extra nutrients. Everyday staples including milk, cereal, and bread are fortified with everything from vitamins A and D to folic acid and niacin. But a nationwide study found that Americans taking vitamins and supplements were already getting large quantities of nutrients from food. Not to mention, the supplement takers already had the lowest prevalence of vitamin deficiencies to begin with.
It's not just multivitamin devotees overdoing it on healthy substances: Another recent study found that many people are exceeding the safe limits of nutrient intakes established by the Institute of Medicine. Among these nutrients are antioxidants like vitamins A, C, and E. Although the body requires antioxidants to neutralize free radicals that can damage cells and their DNA, excessive antioxidant consumption can lead to serious health problems. Too much vitamin A has been linked to birth defects while excessive vitamin E may increase the risk of hemorrhaging.
Although multivitamins in all forms are often marketed as prophylactic remedies for a variety of illnesses, there may not be enough evidence to support the claims. A large study looking at data on more than 6,000 heart disease patients treated daily with either B vitamins or a placebo over a seven-year period found that those who were given folic acid and B12 had higher mortality and cancer rates. A review of 78 clinical trials involving 300,000 people found that antioxidant supplements like beta carotene, vitamin A, and vitamin E also increased mortality. In 2013, the United States Preventive Services Task Force concluded that there is "limited evidence" to support the notion that taking vitamins and minerals could prevent cancer and cardiovascular disease.
What should I do?
It's important to talk to your health care provider about any vitamins or supplements you're consuming regularly, including fortified beverages.
The One Medical blog is published by One Medical, a national, modern primary care practice pairing 24/7 virtual care services with inviting and convenient in-person care at over 100 locations across the U.S. One Medical is on a mission to transform health care for all through a human-centered, technology-powered approach to caring for people at every stage of life.
Any general advice posted on our blog, website, or app is for informational purposes only and is not intended to replace or substitute for any medical or other advice. 1Life Healthcare, Inc. and the One Medical entities make no representations or warranties and expressly disclaim any and all liability concerning any treatment, action by, or effect on any person following the general information offered or provided within or through the blog, website, or app. If you have specific concerns or a situation arises in which you require medical advice, you should consult with an appropriately trained and qualified medical services provider.