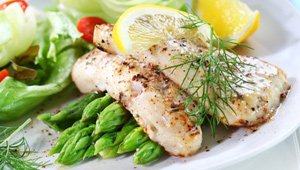 Seafood has long been an item on the "avoid" list for pregnant women — until now.
Recently, the US Food and Drug Administration (FDA) and the US Environmental Protection Agency (EPA) issued updated recommendations regarding fish consumption in pregnant women, breastfeeding women, women who might become pregnant, and young children. Contrary to older recommendations, which gave a weekly cap on seafood, the revised advisory suggests these groups consume a minimum of two servings (or at at least 8 ounces and up to 12 ounces) of low-mercury seafood a week.
"Back in 2004, the advisory recommended limiting fish consumption–the goal was to limit mercury consumption, which can be toxic to a fetus or young child," says One Medical Group's Malcolm Thaler, MD. "The latest advisory quite correctly encourages eating a minimum of two servings a week because of extensive data showing that children born to mothers who eat fish have a higher average intelligence and better cognitive development."
More than Just Omega-3s
While omega-3 fatty acids are essential for brain development, the updated draft doesn't advise replacing low-mercury seafood with omega-3 supplements like fish oil because you would be "missing out on many other important nutrients contained in fish that are required for overall health." The recommendations indicate that a variety of vitamins, minerals, and high-quality protein, in addition to omega-3s, make fish a uniquely nutritious choice before birth, in early infancy for breastfed infants, and in childhood.
The Lowdown on Low-Mercury
Examples of low-mercury seafood include salmon, tilapia, shrimp, pollock, canned light tuna, catfish, and cod.
"As long as the fish are low in mercury, there is probably no need to limit consumption to just twice a week," Thaler adds. "High mercury fish–notably shark, swordfish, king mackerel, and tilefish–should still be avoided."
Although canned light tuna makes the list of low-mercury options, Thaler cautions against other forms of the fish. "Tuna, America's favorite fish, is a little more complicated; canned light tuna contains the lowest levels of mercury and appears safe," he says. "Other types, notably albacore, should be limited to no more than six ounces each week."
To find out more about how to safely consume low-mercury seafood, read the agencies' full, updated advisory.
For more information on pregnancy and women's health, check out our Women's Health page.  
The One Medical blog is published by One Medical, a national, modern primary care practice pairing 24/7 virtual care services with inviting and convenient in-person care at over 100 locations across the U.S. One Medical is on a mission to transform health care for all through a human-centered, technology-powered approach to caring for people at every stage of life.
Any general advice posted on our blog, website, or app is for informational purposes only and is not intended to replace or substitute for any medical or other advice. 1Life Healthcare, Inc. and the One Medical entities make no representations or warranties and expressly disclaim any and all liability concerning any treatment, action by, or effect on any person following the general information offered or provided within or through the blog, website, or app. If you have specific concerns or a situation arises in which you require medical advice, you should consult with an appropriately trained and qualified medical services provider.