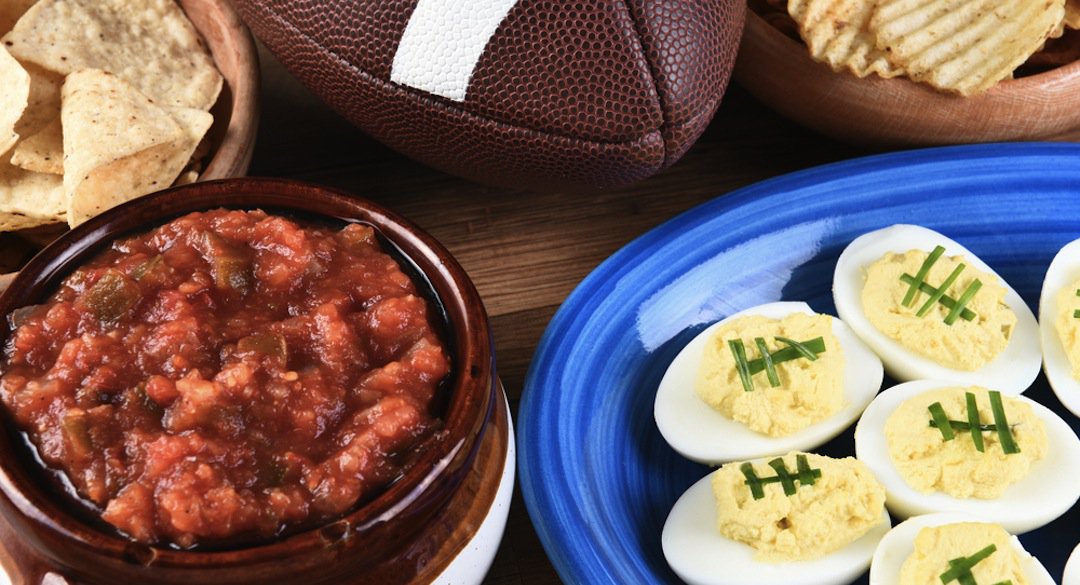 Whether you're headed to a potluck or just watching the game with some friends, you'll probably be surrounded by sweet and salty snacks sometime in the near future. But if you're trying to stick to to a healthy diet, tempting dishes and pesky cravings can derail your good intentions.
We asked a few of our favorite food and fitness writers to share their tips for curbing cravings or satisfying them the healthy way (kale chips, anyone?). Here's what they said!
Alexia Brue, Co-Founder of WellandGoodNYC

High-protein smoothies help me navigate the tricky terrain between 4:00 and 7:00 p.m. I blend whey or hemp protein with some almond milk and fruit for an afternoon pick-me-up. It keeps me from making a cookie run and helps me focus on work. If you don't have access to a blender at work, those plastic bottles with the mixing ball whisks are incredible–you can mix your favorite flavor of protein smoothie wherever you are.
Apples and almond butter are super satisfying, as are celery with yogurt cream cheese. I also love air-popped popcorn sprinkled with Bragg Liquid Aminos, and the new Chia Pods from The Chia Co, a great on-the-go snack that you can pick up at Whole Foods.
I think it comes down to honoring your cravings in a healthy way. If you want potato chips, for example, try some salted nuts instead, or make kale chips with salt and parmesan cheese.
Sara Forte, Cookbook Author and Blogger at Sprouted Kitchen

I have a sweet tooth, so that's usually what ruins my best-laid plans. Spring and summer fruit is some of the best, so I keep cleaned and cut fruit in the fridge and reach for that instead of the ice cream.
I also have a little pre-portioned cup that I fill with my favorite mixture of salted pistachios, dried cherries, and chocolate chips. Instead of going at the whole bag, I can satisfy the rich, salty, and sweet craving with a small portion. If you're craving something sweet or salty, satisfy the craving with a healthful choice like fruit, nuts, sliced avocado with a bit of hot sauce, or hummus and rice crackers. Set yourself up for success by having healthy options available!
Amber Shea Crawley, Chef and Cookbook Author at Chef Amber Shea

Homemade baked sweet potato chips, nutty roasted cauliflower, or kale chips all satisfy a craving for salt. When I need something sweet, I whip up a healthy no-bake raw dessert, or enjoy yogurt with fresh berries. Of course, another alternative is to have a small portion of exactly what I'm craving.
Rachel Chemerynski, Health Coach and Blogger at Healthy Chicks

As a holistic health coach, I look at the whole picture when working with my clients–especially when it comes to crazy cravings! Sure, food plays a part in cravings, but it's never just about the food; cravings might be tied to your relationships, stress, career, and other things going on in your life. Therefore, if you're experiencing persistent junk food cravings for a certain unhealthy food, instead of ignoring or punishing yourself for having those cravings, ask yourself why. Are you stressed out at work? Did you skip lunch again because you just didn't have time? Focus on solving the root of the problem and those cravings may just go away.
That being said, I'm a sucker for cheesy and salty foods, but instead of going for chips or processed dips, I opt for roasted seaweed snacks, raw nuts, creamy avocados, or a little bit of fresh local cheese–these do the trick every time. Do what works for you!
Erica Stenz, Certified Health and Fitness Instructor at Barry's Bootcamp

Being healthy and active is really more about a achieving a balanced lifestyle than reaching perfection. Try incorporating a few of Club One's tips to help satisfy your most persistent junk food cravings and eat healthy all summer long:
First, clean out your refrigerator! Throw out or give away the bad stuff and keep only healthy foods at home. Second, cut up fruits and veggies twice a week, so you have easy, healthy snacks on hand. Finally, drink cold water throughout the day–especially when those cravings hit!
Editor's Note: What are your favorite junk food replacements? Share your tips on our Facebook page or by tweeting @onemedical.
The One Medical blog is published by One Medical, a national, modern primary care practice pairing 24/7 virtual care services with inviting and convenient in-person care at over 100 locations across the U.S. One Medical is on a mission to transform health care for all through a human-centered, technology-powered approach to caring for people at every stage of life.
Any general advice posted on our blog, website, or app is for informational purposes only and is not intended to replace or substitute for any medical or other advice. 1Life Healthcare, Inc. and the One Medical entities make no representations or warranties and expressly disclaim any and all liability concerning any treatment, action by, or effect on any person following the general information offered or provided within or through the blog, website, or app. If you have specific concerns or a situation arises in which you require medical advice, you should consult with an appropriately trained and qualified medical services provider.