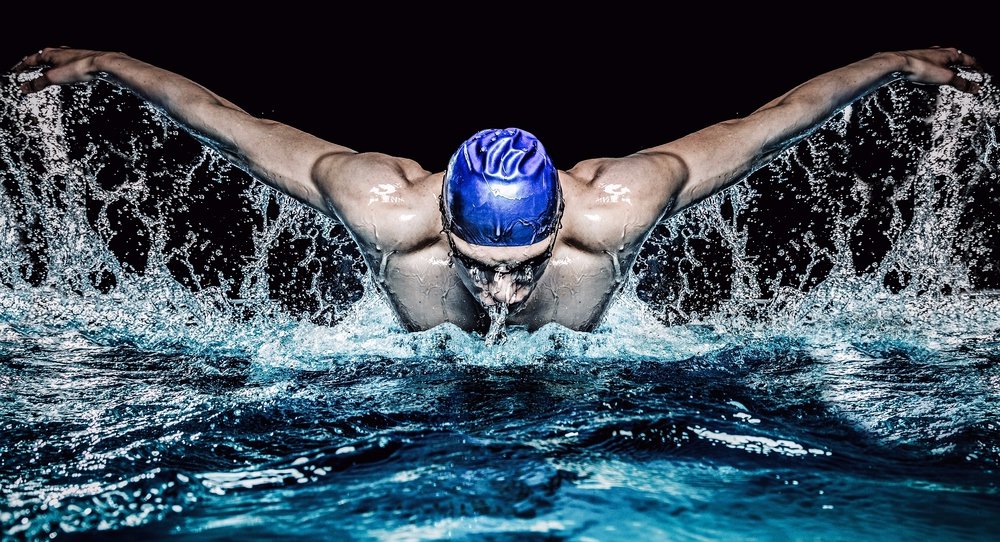 We've all heard the stories of overcoming the odds and triumphing over adversity to make it onto the Olympic podium. No matter what the athlete's story, though, every one of them has one thing in common: they worked really hard to get there. While most of us aren't going to be competing for Olympic gold anytime soon, there are a few lessons we can learn from the best of the best to make our lives just a little bit healthier.
1. Always start your day with a good breakfast.
Even if you aren't heading to the gym first thing in the morning, experts agree that, like the old adage says, breakfast is the most important meal of the day. Gymnastics gold medalist Aly Raisman's busy competition schedule takes her to every corner of the world, so it isn't always possible for her to stick to a set pre-competition meal routine. Instead, Raisman told InStyle that she usually starts her day with healthy carbohydrates like "a banana and maybe some kind of whole-wheat toast, or granola with Greek yogurt and fruit."
2. Embrace tech to stay accountable.
Even Olympic athletes sometimes need a little help making sure they're on the right track. Gymnast Jake Dalton uses apps to keep an eye on his nutrition and sleep habits. If you're working towards a health goal, whether for weight loss, better sleep, or something else, apps can be a great complement to working with your health care provider or dietician. Rise lets you work one-on-one with a nutritionist, and several others, including MyFitnessPal and ShopWell, can help you create and stick to healthy habits.
3. Make sure you're getting enough sleep.
Staying on top of things is crucial to our daily lives, whether you're headed to the office or, like Olympian Phil Dalhausser, heading to the beach volleyball court. Sleep is critical for performing our best not only physically, but mentally, as well. Dalhausser usually aims for nine hours of sleep and makes sure to carve out time for a nap if he doesn't hit that number.
4. Mix up your workout schedule…and don't forget to refuel afterwards!
Although swimmer Elizabeth Beisel naturally spends a good amount of her time in the pool, she told The Daily Burn she also keeps things well balanced — and staves off boredom — by mixing up her workouts. On non-pool days, she enjoys yoga and Orangetheory fitness classes. Even if you have a sport you love, One Medical doctor Kimberly Boyd says it's worth expanding your horizons to avoid overuse injuries, build new muscles, and break through weight-loss plateaus just to name a few! And no matter the workout, your post-exercise snack is also important. Beisel's teammate Jessica Hardy opts for chocolate milk when she's recovering from her latest cardio session.
5. Don't neglect your mental health.
When you spend your time honing your athletic prowess, it can be easy to forget that a healthy lifestyle extends past the gym or the kitchen. USA Soccer's Christen Press told Rodale's Organic Life that she meditates twice daily to keep her head in the right place. Meditation's benefits go beyond that, too, with research suggesting that it can help with everything from reducing blood pressure to insomnia and alleviating symptoms of irritable bowel syndrome, anxiety, and depression. If you're not sure how to start meditating, grab your phone and give one of these apps a try.
6. It's OK to indulge from time to time.
The One Medical blog is published by One Medical, a national, modern primary care practice pairing 24/7 virtual care services with inviting and convenient in-person care at over 100 locations across the U.S. One Medical is on a mission to transform health care for all through a human-centered, technology-powered approach to caring for people at every stage of life.
Any general advice posted on our blog, website, or app is for informational purposes only and is not intended to replace or substitute for any medical or other advice. 1Life Healthcare, Inc. and the One Medical entities make no representations or warranties and expressly disclaim any and all liability concerning any treatment, action by, or effect on any person following the general information offered or provided within or through the blog, website, or app. If you have specific concerns or a situation arises in which you require medical advice, you should consult with an appropriately trained and qualified medical services provider.