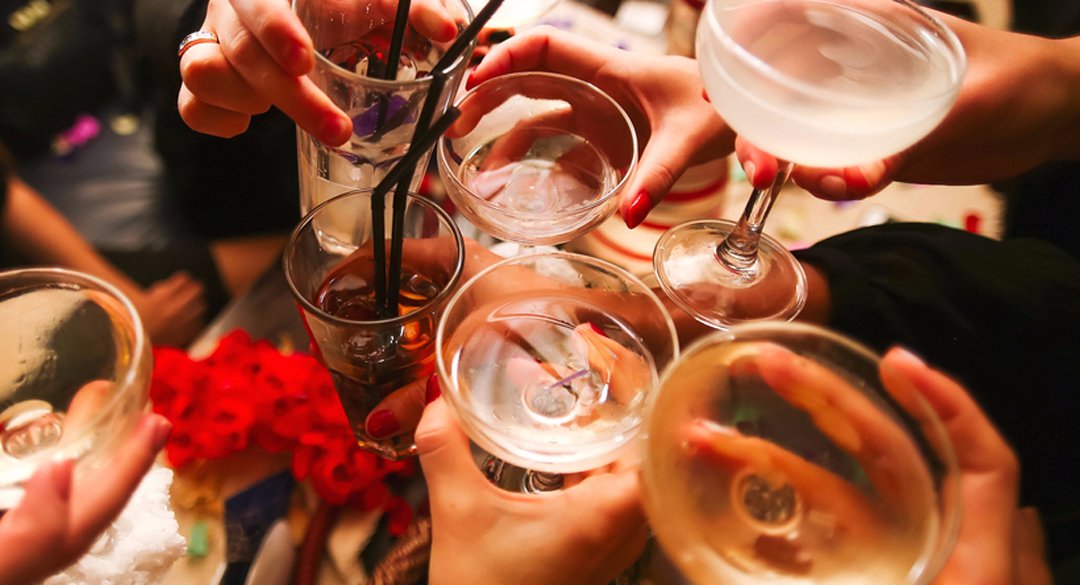 Post-work happy hours and first date cocktails are so common these days, it's easy to forget that alcohol is more than just a social lubricant — it's a drug. In fact, it's the most commonly used drug in the world. According to the Centers for Disease Control and Prevention (CDC), more than 51 percent of adults over 18 are regular drinkers, consuming at least 12 drinks in the past year.
While plenty of people have no problem tipping back a few, many may not know how to stay safe and healthy while imbibing. We asked One Medical providers to weigh in with their best advice for safe alcohol consumption.
Here are our top 10 tips for healthy drinking.
1. Eat first…
"By the time most people get to a happy hour, they're starving. Ordering a veggie platter with hummus and pita is always a great option because it has fiber and protein and won't lead you to consume tons of fried foods like French fries and onion rings," says Shilpi Agarwal, a Washington D.C. doctor.
2. …and eat enough.
"If you are still hungry after an appetizer, order a regular meal. You are likely to be more satisfied and end up eating fewer calories than if you were to just snack on tons of things around you," Agarwal adds.
3. Rest up, before and after.
"Don't drink after strenuous physical activity or after a night of poor sleep. And be sure to get a good amount of sleep after a night of drinking," says Helen Eleni Xenos, a doctor in Chicago. Alcohol can lower blood sugar levels, and hitting the bottle on an empty stomach or after a tough workout only depletes those levels further.
4. Pay attention to your location.
"Take into account your environment. Beer gardens and outdoor drinking mean an increased likelihood of dehydration due to sweating," says Desmond Watt, a physician assistant in Chicago. Hydrating is especially important in these situations, which brings us to…
5. Pace yourself with H2O.
"It's easy to pound two or three drinks quickly, especially after a long day. To limit your alcohol intake, start with a big glass of water and lemon and order a sparkling water in between drinks. This will force you to stay hydrated and limit going overboard on booze," Agarwal says.
6. Skip the sweet, fruity stuff.
"Stay away from mixed drinks. They're high in calories, but not satiating," says Xenos. A better bet? "Vodka soda is a good option."
7. Make the clear choice.
"If you're trying to avoid a hangover, stick to clear liquids like vodka over dark liquids like whiskey," Xenos says. The reason? A few experimental studies have found that beverages containing the highest amounts of congeners, naturally-occurring by-products of distilling and fermenting that are present in higher levels in dark alcohols, result in more severe hangovers.
8. Or go for vino.
"At around 120 calories per glass, red or white wine is a great option for a happy hour because it takes longer to drink than a mixed drink and has more antioxidants than the typical vodka-soda or other mixed drinks," Agarwal suggests.
9. Keep count.
"Drink in moderation, of course. More than four drinks in a sitting for women, or more than five in a sitting for men is considered binge drinking," Xenos says. The recommended daily alcohol intake is just one drink for women and two for men. And remember tip number 5 — sipping water between alcoholic beverages is a great way to slow down the count.
10. Day-drink wisely.
"Weekends can mean prolonged drinking over the course of the day," Watt says. The key is pacing yourself. "Choose drinks that are lower in overall alcohol content like beer, wine, and wine spritzers to avoid overconsumption and allow you to stay in the action for the whole day. Don't forget to get some high quality calories from your meals and consider a break for an hour or two without alcohol throughout the day."
The One Medical blog is published by One Medical, a national, modern primary care practice pairing 24/7 virtual care services with inviting and convenient in-person care at over 100 locations across the U.S. One Medical is on a mission to transform health care for all through a human-centered, technology-powered approach to caring for people at every stage of life.
Any general advice posted on our blog, website, or app is for informational purposes only and is not intended to replace or substitute for any medical or other advice. 1Life Healthcare, Inc. and the One Medical entities make no representations or warranties and expressly disclaim any and all liability concerning any treatment, action by, or effect on any person following the general information offered or provided within or through the blog, website, or app. If you have specific concerns or a situation arises in which you require medical advice, you should consult with an appropriately trained and qualified medical services provider.