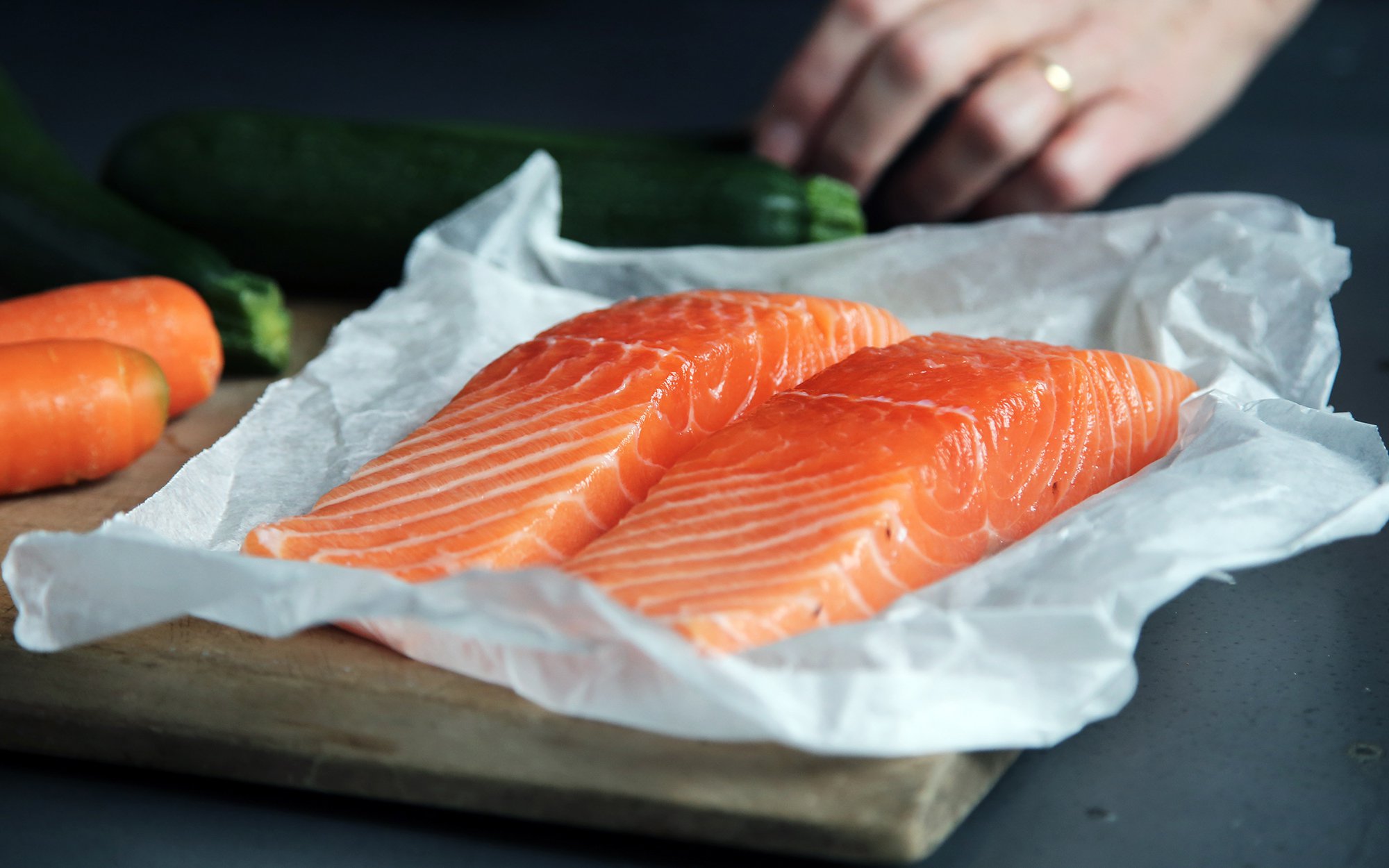 Updated January 11, 2019.
Sometimes healthy food choices are easy: You know leafy greens are nutritious, seasonal veggies are wholesome, and sugar is best left on the shelf.
But when it comes to fish, things can get complicated. Although salmon is often recommended as part of a healthy diet, there's an ongoing debate about whether farmed or wild is best to eat, and whether one type in particular may actually be dangerous.
Rich in heart-healthy omega-3s, salmon is a low-calorie protein source that's also low in saturated fat. The American Heart Association recommends eating at least two 3.5-ounce servings of fatty fish like salmon every week. Now the US Food and Drug Administration (FDA) and US Environmental Protection Agency (EPA) are even encouraging pregnant and breastfeeding women — two groups historically discouraged from consuming too much seafood — to eat a minimum of two servings a week as well.
Here's a look at the controversy surrounding the benefits and pitfalls of farmed versus wild fish.
What's the problem with farmed salmon?
The majority of salmon on the market is farm-raised, meaning it's farmed and harvested under controlled conditions in sea cages or net pens. The problem, according to some researchers, is that the crowded conditions of most farms can cause contamination. A 2003 report from the Environmental Working Group (EWG) found that seven out of ten farmed salmon purchased in grocery stores in San Francisco, Washington, DC, and Portland were contaminated with cancer-causing polychlorinated biphenyls (PCBs) at "levels that raise health concerns."
Additionally, farmed salmon has been found to contain toxic chemicals methylmercury and dioxins, and farms have been accused of polluting the oceans, fostering disease, and spreading sea lice. Salmon farms have also been criticized for other questionable practices, including the content of the feed, which is often supplemented with chemicals to give the fish their pink color (wild salmon develop it naturally).
Do the health risks of farmed salmon outweigh the benefits?
Some experts argue that farming practices are improving and becoming more sustainable, and farmed fish are being fed healthier diets in an effort to improve their nutritional profiles. Certain merchants, like Whole Foods, have implemented strict quality standards to ensure they're sourcing farmed seafood from strictly regulated farms.
Tim Fitzgerald, a scientist and sustainable seafood expert at the Environmental Defense Fund, told the New York Times that he believes it's reasonable to eat a mix of farmed and wild seafood, as completely avoiding the farmed variety "removes 50 percent of the US seafood supply from your choices."
How should I choose?
"First and foremost, don't panic!" says San Francisco-based nutritionist Karyn Duggan, CNC. Duggan recommends researching merchants and restaurants and supporting those with a solid reputation for selling sustainable, responsibly farmed fish, like Sausalito, California's TwoXSea and Fish.
When it comes to choosing between wild and farmed, Duggan says she generally advocates for wild when possible, but adds that it's important to make informed decisions. Two key considerations: whether the environment the wild salmon comes from is largely pollution-free, and whether the farmed salmon comes from a reputable farm.
Duggan adds that healthy eating is not an all-or-nothing equation, recommending that less-than-perfect choices be balanced with more wholesome fare. "Nutritional studies have highlighted that loading up on healthy choices can negate the potential negative effects of food choices that aren't as healthy," Duggan says. "This is yet another reason to load up on your local, organic, seasonal veggies, especially if you're unsure whether or not your salmon is sustainably farmed."
The One Medical blog is published by One Medical, a national, modern primary care practice pairing 24/7 virtual care services with inviting and convenient in-person care at over 100 locations across the U.S. One Medical is on a mission to transform health care for all through a human-centered, technology-powered approach to caring for people at every stage of life.
Any general advice posted on our blog, website, or app is for informational purposes only and is not intended to replace or substitute for any medical or other advice. 1Life Healthcare, Inc. and the One Medical entities make no representations or warranties and expressly disclaim any and all liability concerning any treatment, action by, or effect on any person following the general information offered or provided within or through the blog, website, or app. If you have specific concerns or a situation arises in which you require medical advice, you should consult with an appropriately trained and qualified medical services provider.