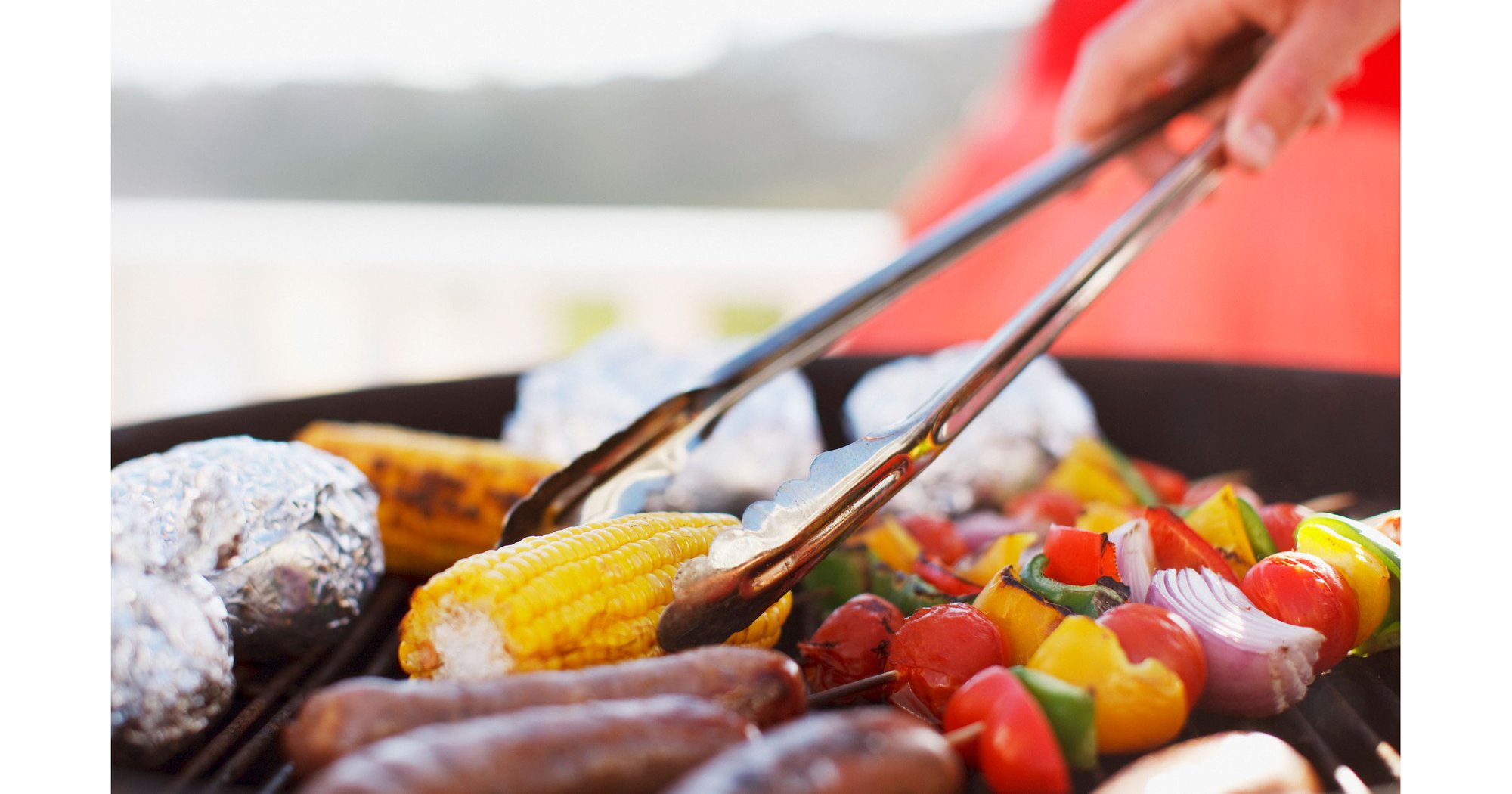 Clinical Editor: Megan Dodson, PA-C

Between barbecues, pool parties, picnics, beach days, and camping trips, there are tons of opportunities to go beyond our kitchen and dining spaces, and enjoy a meal in the great outdoors.
But taking your food out of its typical sanitized and temperature-controlled spaces can come with its own set of risks. These outdoor events — alongside hot and humid weather — can create a prime environment for bacteria.
It's a gross concept to think about, but a necessary reality to address. Fortunately, there are plenty of ways to keep your food fresh and you and your guests healthy this season. Here are a few ways to safely handle, prepare, transport, and store your food during the hot months:
1. Keep it clean
First things first: wash your hands thoroughly with soap and water for at least 20 seconds before and after handling any food items, especially raw meat, dairy, fruits, and vegetables. By doing something as simple and basic as washing your hands properly, you can prevent diarrheal illnesses and respiratory infections like the common cold or the flu.
2. Sanitize your stations
To be on the safe side, ensure your work stations and serving areas are thoroughly cleaned and sanitized. This includes kitchen surfaces, cutting boards, utensils, kitchen towels, sponges, and dishcloths. All of these can become breeding grounds for harmful bacteria. You don't necessarily need specialty cleaning products; Hot soapy water should do the trick. Be sure to re-sanitize between each food item. If you're preparing food outdoors for a barbeque, picnic, or camping trip, be sure to bring disposable wipes, hand sanitizer, paper towel, and other supplies to maintain a clean work space.
3. Prep your produce
It's always wise to wash your fruits and vegetables — a rinse under running water can remove dirt, bacteria, and pesticides. You can even soak some items in a white vinegar-water solution. Use a brush to scrub firm produce like melons or potatoes (even if you aren't eating the rind or skin) but avoid using soap or detergents. If you're planning on eating away from home, consider cutting and slicing up your fruits and veggies beforehand to avoid unnecessary utensils, cleaning supplies, and exposure to germs and bacteria.
4. Check the shelf life
Not all BBQ foods were created equally! While some foods can be stored in the refrigerator or freezer for weeks, others only have a few days. Check the tables on the government food safety website to be sure.
5. Practice proper meat handling
If you're hosting a gathering, it's likely you'd want your guests and loved ones to remember
your flawless frankfurters, and not foodborne illnesses that made everyone sick. To ensure safety and wellbeing of everyone at your next outdoor meal, learning proper meat handling is essential. The key components are storage, thawing, and cooking.
Storage: Store meat in sealed containers to prevent juices from dripping onto other foods.
Thawing: Thaw meat in the refrigerator, or use the defrost setting in the microwave; never let it sit outside or on the counter at room temperature.
Cooking: Cook meat thoroughly to the recommended internal temperature using a food thermometer. The USDA has excellent guidelines for different types of meat.
Lastly, always keep raw meats, poultry, and seafood separate from other food items to avoid cross-contamination. This means you should use separate cutting boards, utensils, and plates for raw foods. Be sure to wash your hands before and immediately after handling raw animal products.
6. Keep perishable foods cool
Another category of food that can get dicey outside? Dairy products. Milk, yogurt, and dairy-based sauces should be stored at or below 40°F to prevent spoilage. If you're keeping them outside, be sure to have a cooler or an outdoor refrigeration solution.
The same temperature rules apply to perishable foods or anything marked as a refrigerated item — like salad dressing and mayo. Even cut fruits and vegetables can start to spoil in the sun and heat. Airtight containers and a cooler can help you store your food safely outside while it's not being consumed.
Lastly, always check the expiration dates on dairy products and perishables, and discard them if they have expired.
7. Know your time and temperature "danger zone"
Don't leave your charcuterie board out all day! There's a time limit for perishable food to be out in the sun, uncovered. The FDA recommends this golden rule: if the outdoor temperature is under 90º, you have a max of two hours to have your food out. If it's over 90º, that window gets cut in half: keep food out for an hour tops.
Cold food should be kept as close as possible to 40º by sitting on ice or staying in a refrigerated container unless it's being served or consumed. Hot foods should be kept at or over 140º, with insulation to keep it warm and unexposed. The one-to-two hour rule (pending outdoor temperature) applies to both categories.
If food is kept outside of these temperatures for too long, bacteria will multiply to unsafe levels. Then you're dealing with summertime sickness, not fun.
8. Pack mindfully
If you're packing food to transfer it to the beach, a picnic location, or camping, there are a few things to keep in mind in terms of food safety.
Use frozen packs and a cooler. If you're sensing a theme here, you're spot on: temperature control is essential. Keep your cold food cold!
Separate cooler contents. If there's a particular food or beverage that will be reached for more often (ie, the cooler will be opened more often), separate food that is more sensitive into a container that isn't opened as often, as to limit high temperature exposure.
Wrap and secure food well. To avoid cross contamination, use proper storage containers and efficient wrapping that keeps everything in its proper place, and limits the chance of juices or fluids getting into another food. Additionally, keeping food covered and stored properly will help you avoid pest infestation.
Have more questions about outdoor food safety? Our primary care team is here to help. At One Medical, we aim to provide exceptional care designed around you and your unique health needs. Sign up today to book an appointment — in person or over video — through our app.
The One Medical blog is published by One Medical, a national, modern primary care practice pairing 24/7 virtual care services with inviting and convenient in-person care at over 100 locations across the U.S. One Medical is on a mission to transform health care for all through a human-centered, technology-powered approach to caring for people at every stage of life.
Any general advice posted on our blog, website, or app is for informational purposes only and is not intended to replace or substitute for any medical or other advice. 1Life Healthcare, Inc. and the One Medical entities make no representations or warranties and expressly disclaim any and all liability concerning any treatment, action by, or effect on any person following the general information offered or provided within or through the blog, website, or app. If you have specific concerns or a situation arises in which you require medical advice, you should consult with an appropriately trained and qualified medical services provider.