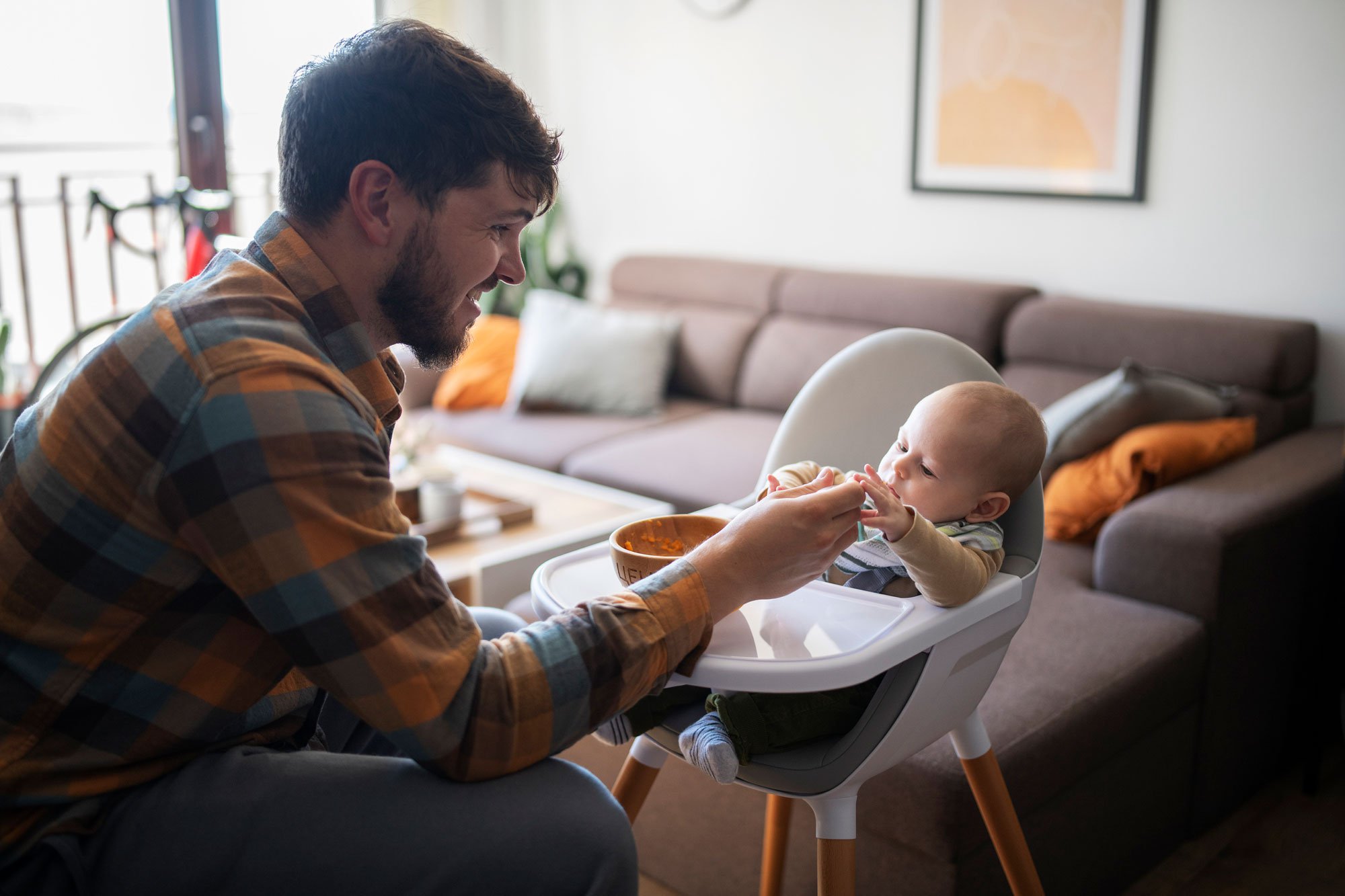 Clinical Editors: Megan Dodson, PA-C and Margaret Chapman, MD, MS, FA
Wouldn't it be nice if all new parents got an instruction manual to bring home with their newborn? There are seemingly endless things to learn about parenthood and nurturing a child from infancy to adulthood, especially in those earlier stages. This is particularly true when it comes to nutrition - one of the most important aspects of a child's health.
On that note, there are always so many questions on when a baby moves from breast milk and formula to real, solid foods. And many parents are left to their own devices, piecemealing information from books, blogs and forums riddled with conflicting opinions from parents and experts alike. So what's the deal?
When it comes to this milestone transition, it's important to get guidance from a medical professional. Let's bypass the misinformation around healthy eating (the internet is fraught with it!) and get some real, straightforward answers on how to transition your child to solid food.
Timeline: when should you make the switch?
How do you know when your child is ready to switch to solid foods? It varies from child to child, but according to One Medical pediatrician Maria Bhaijee, MD, it comes down to head control.
"The main requirement to introduce solids is good head control — which, for most kids, is around four to six months of age," she says.
If your little one is reaching for your food or seems to show interest, it could be time to try a new texture, but not necessarily a whole food. "Some kids will be showing interest… trying to take things out of your hands and put them into their mouths," she adds. "That can be a sign of readiness as well; they are not actually switching to food, but are just starting to introduce new textures and flavors along with the nutrition that they continue to get from breast milk or formula."
This isn't about converting the diet straight away from breast milk or formula to solids. "In the early stages of introducing solids, it is for exploration more so than the caloric content," says Bhaijee.
Rollout: which foods first?
So what's the rollout menu, and how should you introduce these foods? What foods are best to start with?
Bhaijee says it's "based on your personal preferences," and that this is a personal choice, specific to you and your baby.
You could take the soft-to-solid textural increase approach. "Some families will start with purées, then mashed foods, then finger foods, and progress slowly through introduction," she says. "Other families will opt for baby-led weaning, where finger foods are given to the child right away, and they are encouraged to self-feed through play."
As for which foods specifically? Whole is the way to go — and so is produce. "I prefer starting with nutrient-dense whole foods such as avocado, squash, sweet potato, egg, peanut butter, mango, berries, and other fruits and vegetables."
"Once the child has had a good variety, then parents can move on to grains, meats, and fish," adds Bhaijee.
What should you not feed your baby while introducing solid foods? "The most important foods to avoid would be choking hazards in their full forms," she says. Think: raw, whole vegetables. "Puréed or cooked is fine. Try to avoid overly processed, sugary foods and drinks."
Strategy: how to deal with resistance
If your child is resisting, don't sweat it, she says. "Don't stress and keep on trying; children don't automatically know what to do with new textures and flavors."
Kids can have all sorts of reactions to this new experience. "They may roll the food around in their mouths and spit it back out, make a funny face, or resist altogether," says Bhaijee. "It's important to not exert pressure, but also to keep on trying on other days. It can take up to 15 times of introducing any one particular food before a child will like it."
Bottom line: give it time!
Awareness: allergies and more
Let's talk allergens: What should you be aware of when it comes to your child's (potential) food allergies? How do you know what they might be allergic to, without inducing an allergic reaction?
"It's important to introduce the top allergens between five to nine months of age to avoid allergies," says Bhaijee. Do this individually, one at a time. "Food allergies have been increasing in incidence — but severe, life threatening food allergies are still pretty uncommon," she reassures.
Here's how to test these: "Introduce allergenic foods one at a time, in the middle of the day, when you can observe the baby," she says. "Keep them on the diet regularly once they have been introduced [to this specific food] to help avoid allergic reactions."
The top most allergenic foods include milk, eggs, peanuts, tree nuts, wheat, soy, fish, shellfish, and sesame.
And if your child does have a reaction? Call your primary care provider. "If your child has a food related reaction, stop the food and talk to your pediatrician on what the best next steps are." A general reaction could be different from an allergy, and your doctor can help you understand the difference. "Remember that not every food reaction is an allergic reaction," she says.
You're Not Alone!
Though there's still not a personalized instruction manual that comes with your child, there are plenty of resources available to help you through these fundamental transitions, including from bottle- and breastfeeding to solid foods. You can reach out to your One Medical pediatrician at any time to get advice, steps, and support along the way.
Have more questions about starting your child's nutrition? Our primary care team is here to help. At One Medical, we aim to provide exceptional care designed around you and your child's unique health needs. Sign up today to book a same or next day appointment — in person or over video — through our app.
The One Medical blog is published by One Medical, a national, modern primary care practice pairing 24/7 virtual care services with inviting and convenient in-person care at over 100 locations across the U.S. One Medical is on a mission to transform health care for all through a human-centered, technology-powered approach to caring for people at every stage of life.
Any general advice posted on our blog, website, or app is for informational purposes only and is not intended to replace or substitute for any medical or other advice. 1Life Healthcare, Inc. and the One Medical entities make no representations or warranties and expressly disclaim any and all liability concerning any treatment, action by, or effect on any person following the general information offered or provided within or through the blog, website, or app. If you have specific concerns or a situation arises in which you require medical advice, you should consult with an appropriately trained and qualified medical services provider.