The same care with new benefits
Matthew J. Dunn, ARNP, DC joined One Medical on November 13. He will continue care for his patients at his new office at Bellevue-Lincoln Square — less than two miles from his old office.
For a limited time, patients of Matthew J. Dunn, ARNP, DC can join One Medical for just $50 for the first year of membership — normally a $199 annual membership fee - with code MDUNN50. Your membership gives you access to our app, where you can access 24/7 virtual care at no extra cost, easily request prescription refills and renewals, book appointments, and more.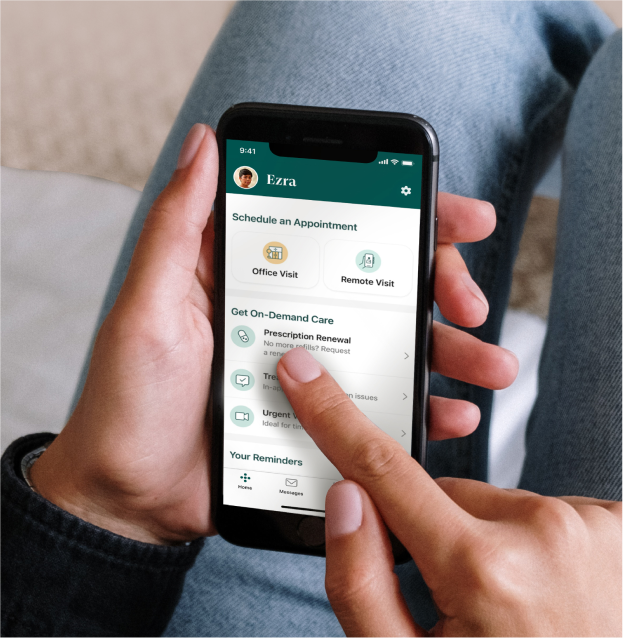 Get access to our app where you can:
Get 24/7 on-demand care nationwide via Video Chat or Treat Me Now at no extra cost
Easily access your health records and care plans
Book an in-person or remote visit in a state where we have offices
Send and receive secure messages with a provider
Request prescription refills and renewals
See how our app makes it easy to get care 24/7
We take your insurance
We're in-network with most health insurance plans, including most of the plans Lake Bellevue Clinic accepts. Here are just some of the insurance providers we work with:
We accept a comprehensive panel of insurances. You can find a list of Seattle Insurances accepted here. We recommend you contact your particular plan to verify you are in network before seeking care. When speaking with your insurance carrier, provide them with our "Group NPI" to help them verify if One Medical is in network with your plan. That number is 1225644065.
Don't wait, join One Medical today!
Become a One Medical member and upgrade your experience with 24/7 virtual care, in-app prescription renewals, and so much more. Use code MDUNN50 to save on your first year of membership.
"One Medical's patient care philosophy is raising the bar for Primary Care. I'm thrilled to partner with them as it will allow me to deliver the high quality care that my patients deserve, in a way that is convenient, elegant and efficient."
— Matthew J. Dunn, ARNP, DC
See what makes One Medical different
*Offer valid from August 1, 2023 - March 30, 2024 for former Lake Bellevue Clinic patients who are new members to One Medical. Offer valid for the first year of membership only. Memberships will automatically renew for $199 a year (or the then current price) after the first year unless you cancel before the renewal date, which you can do anytime online on the membership settings page. Discounts cannot be combined. If you think you were charged in error, please contact ma@onemedical.com.
Get the care you know — plus all the great benefits of One Medical