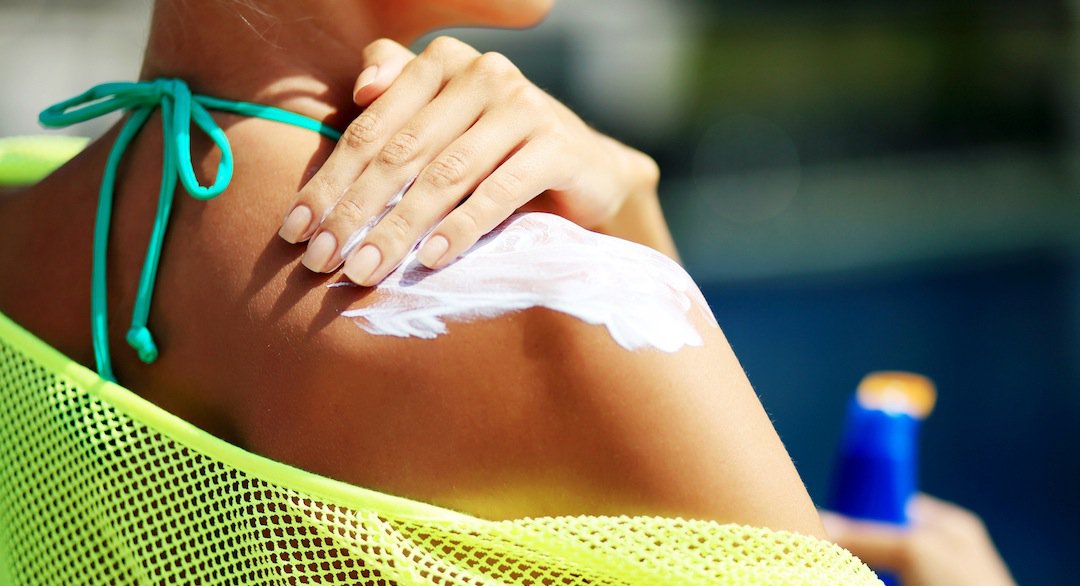 May is Skin Cancer Awareness Month — do you know how to keep yourself healthy in the sun?
You probably know you should be using an SPF product to protect your skin, but what do those three letters even stand for? And does a higher SPF mean better coverage? Sunscreen labels can be confusing, and finding the right product is only part of the sun protection equation.
Here's what you need to know to stay safe in the sun all year long.
Understanding SPF
SPF stands for Sun Protection Factor and refers to the theoretical amount of time you can stay in the sun without getting sunburned. For example, an SPF of 15 would allow you to stay in the sun 15 times longer than you could without protection. So, if your skin starts to redden in 20 minutes without sun block, applying a product with SPF 15 increases that time by a factor of 15, meaning you could stay in the sun for 300 minutes. In addition, a higher SPF blocks out more rays — a product with an SPF of 15 will filter out approximately 93 percent of UVB rays; SPF 30 filters out about 97 percent.
But despite this rule of thumb, a higher SPF is not necessarily better once you hit the upper limit. "The American Academy of Dermatology recommends choosing a sunscreen with an SPF of at least 30, but you start to get diminishing returns with an SPF above 50," says Sean Dunn, a One Medical physician assistant on the virtual care team. "Higher number SPFs offer slightly more protection, but also contain more chemicals — and no sunscreen can block 100 percent of the sun's rays." Dunn says that currently, there's no scientific evidence that using a sunscreen with a 50+ SPF is better than sunscreen with an SPF of 50.
Even your genetic make-up comes into play. If you have fair skin or a family history of skin cancer, you may be at higher risk for skin cancer. Finally, certain medications — such as antibiotics or products with retinol — can make your skin more sensitive to the effects of sunlight.But sunscreen is only part of the picture. A multitude of factors affect how well you are protected from the sun. Sunscreen can be easily washed off by water or sweat, which can leave parts of your skin vulnerable to UV rays. Applying your sun protection unevenly or not reapplying sunscreen often enough can also reduce its effectiveness.
It's also important to know that SPF only applies to UVB rays. There's no SPF equivalent for UVA. You can look for additional ingredients in your sunscreen to protect you from UVA — such as zinc oxide and titanium dioxide — but there's no standard measurement for how long these ingredients will keep you protected.
For all of these reasons, it's not a good idea to solely rely on SPF to gauge how much time you can spend in the sun. For most people, SPF 30 will suffice, if you keep in mind the following tips:
Select the Right Sunscreen
Choose a sunscreen that protects against both UVA and UVB. Look for products containing zinc oxide or titanium dioxide because they protect against the full spectrum of UVA rays.
Lotion Up Liberally — And Often
Reapply sunscreen at least every two hours– sooner if you swim or exercise because water, sweat, and clothing can remove it from the skin. Don't skimp! Use at least an ounce with every application, so in a full day at the beach you'd go through half of an 8-ounce bottle.
Try Sun-Protective Clothing
Choose your clothes wisely before you go out in the sun. Dark clothing can block nearly all UV radiation and tightly woven fabrics are more protective than looser weaves. If you're wondering how well your clothing will protect you, just hold it up to the sun. If you can see light passing through it, UV rays can get through, too.
You might also consider purchasing special sun-protective clothing. A relatively new rating for sun protective textiles isUPF, or Ultraviolet Protection Factor. UPF blocks both UVA and UVB rays. (You can find UPF-rated clothes online at coolibar.com.)
Special laundry detergents such as SunGuard can increase the UPF of most clothing for about 20 washings. Keep in mind that no matter what you're wearing, all fabrics block less UV light when they're stretched or wet.
Check Yourself
Keep an eye on your skin: Look for new moles or changes in old moles. If you have concerns, report them to your primary care provider — he or she can check them out and, if needed, refer you to a specialist (you can also find recommendations on Amino). We recommend annual skin exams for anyone over 40, or for people with fair skin or a history of multiple sunburns.
For more information on how to stay safe in the sun, check out The Skin Cancer Foundation and the American Cancer Society.
The One Medical blog is published by One Medical, a national, modern primary care practice pairing 24/7 virtual care services with inviting and convenient in-person care at over 100 locations across the U.S. One Medical is on a mission to transform health care for all through a human-centered, technology-powered approach to caring for people at every stage of life.
Any general advice posted on our blog, website, or app is for informational purposes only and is not intended to replace or substitute for any medical or other advice. 1Life Healthcare, Inc. and the One Medical entities make no representations or warranties and expressly disclaim any and all liability concerning any treatment, action by, or effect on any person following the general information offered or provided within or through the blog, website, or app. If you have specific concerns or a situation arises in which you require medical advice, you should consult with an appropriately trained and qualified medical services provider.