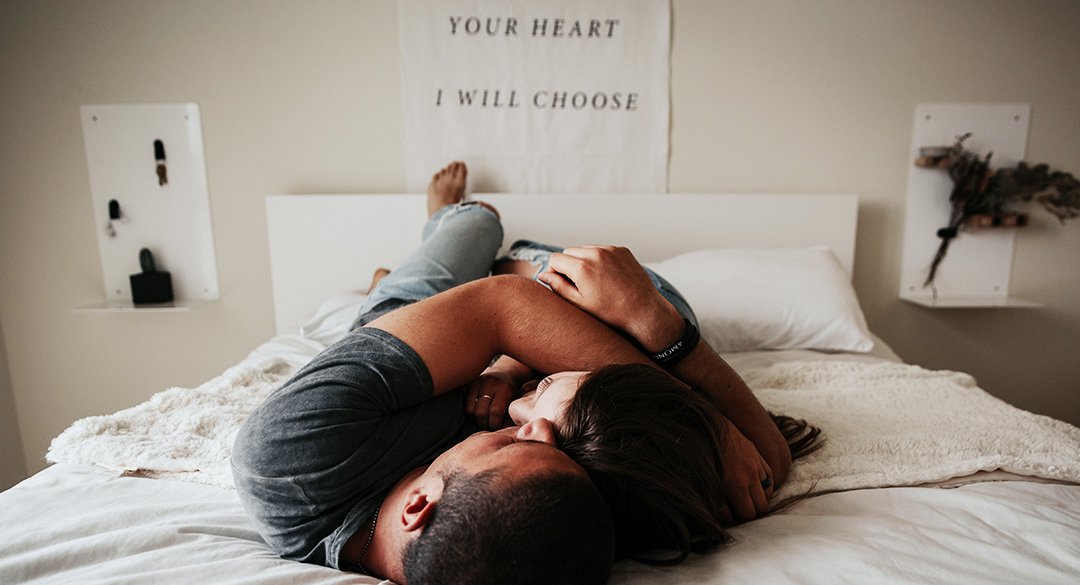 Last updated November 13, 2018.
Sex toys have gone mainstream thanks to pop culture (Fifty Shades of Grey, anyone?), but do you know how to stay healthy while having fun in the bedroom?
Sex expert Emily Morse and Good Vibrations staff sexologist Carol Queen, PhD share their top tips on how to play it safe when purchasing, cleaning, and yes, using, sex toys.
What health considerations are important when purchasing sex toys?
CQ: First consider whether the item is designed to be a sex toy, or whether it's a "pervertible" (an item used for sexual stimulation but not designed for that purpose).
A well-made sex toy should be smooth and unbreakable, and can be cleaned sufficiently. Some hard plastic toys–which are typically safe products–have a seam in the middle or a hole where a battery or cord protrudes. Avoid toys like this that have hard-to-clean parts.
Also make sure your sex toys are designed for the purpose for which you plan to use them. For example, a perfectly safe small vibrator without a base becomes dangerous when used as an anal insertion device.
Are there other health considerations for a pervertible?
CQ: If an item wasn't  designed to be a sex toy, ask yourself whether it's safe to use it as one. Plenty of people have used a plastic shampoo bottle or hairbrush handle without a problem, but some items could be dangerous to use as insertion toys. Even items that you might use solely to rub outside the genitals might be too scratchy, or not easily cleanable, like a stuffed animal.
If you use a pervertible for insertion (anal or vaginal), make sure it's retrievable if it slips inside. One of the most common sex toy-related injuries is a lost-in-the-rectum object. This is a frequent problem that requires removal by a medical professional, usually in the ER. There's so little mainstream sex education around anal insertion; lots of people think they'll be able to hold on to the item, but between slippery hands and the contractions of orgasm, it's easy for an item to get pulled inside.
What potentially hazardous materials should consumers avoid in sex toys?
EM: Sex toys are not approved, tested, or regulated by the FDA-they're sold as novelty items.  And the vast majority of manufacturers don't tell you what they put in their sex toys. This "mystery material" could be a health risk, but there's no way of knowing for sure.
However, we do know that many soft rubber toys are made using phthalates, some of which the  Environmental Protection Agency (EPA) has designated as "possible human carcinogens" in a variety of other consumer products. Jelly rubber and polyvinyl chloride (PVC) are also much more porous than silicone, and bacteria can hide in the material like a sponge. You can avoid this by opting for hypoallergenic, higher-quality toys made from silicone or elastomers.
What's the proper way to clean sex toys?
EM: Use a safe cleaner made specifically for sex toys, like Classic Erotica Toy Cleaner, or mild soap and warm (not hot) water. Never submerge a battery-operated sex toy or an electric non-waterproof vibrator. You can boil silicone and Pyrex toys or run them through the dishwasher as long as they don't have electrical components.
CQ: Many products can clean a toy, but leftover residue may be irritating later. If you have a vibrator that can't be rinsed, wipe off the cleaning agent residue with a clean wet cloth. Liquid hand soap or dish soap is strong enough in most cases, and hydrogen peroxide is a fairly mild germicide. Silicone stands up to harsher chemicals like bleach better than other soft toys will, but the harsher the chemical, the more vital it is to ensure residue is rinsed off completely.
And avoid antibacterials like triclosan–I do not recommend this ingredient. It can be drying and irritating, and some experts are worried that it may be carcinogenic. If I'm concerned about washing my hands with it, I'm not going to irritate genital mucosa with it!
Is it safe to share sex toys? Can you get STDs from doing so?
EM: If two healthy people are already sharing fluids through oral sex and intercourse, then there is likely no additional risk to sharing a sex toy if they are monogamous. However, STDS can be transmitted via sex toys, so it's not a good idea to share sex toys with friends or roommates.
CQ: It's safe if the toy has been adequately cleaned. Silicone, Lucite, glass, and metal are the easiest materials to clean. If it hasn't been or can't be adequately cleaned, then it's possible to transmit an STI to a partner, especially if one person uses the item right after the other. But if one partner uses a toy on Halloween and the other uses it on New Year's Eve, certain pathogens likely won't survive the time span.
Are there any sex toy health issues specific to women versus men?
EM: When using toys, don't go back and forth between anal and vaginal/anal play without cleaning the toy thoroughly. And always clean the toy off after each partner when using it for anal play.
Are there sex toy health issues specific to sexual orientation?
CQ: Not really. Any material or toy could conceivably be used by any person, regardless of gender or orientation. Everyone has an anus, and no one type of person is overwhelmingly likely to eroticize his–or hers–or not. Pathogens that might hang out on a poorly cleaned sex toy aren't there because of the user's sexual orientation.
What's more pertinent than actual practices is whether certain groups are at greater risk of being ignored by information, or if their practices are misunderstood by a health care professional because of gender or orientation. People with access to good information about sex and toys will have an easier time than those who don't engaging in all kinds of sexual practices safely, healthfully, and successfully.
Editor's Note: Read up on STDs and more in our Sexual Health center. 
The One Medical blog is published by One Medical, a national, modern primary care practice pairing 24/7 virtual care services with inviting and convenient in-person care at over 100 locations across the U.S. One Medical is on a mission to transform health care for all through a human-centered, technology-powered approach to caring for people at every stage of life.
Any general advice posted on our blog, website, or app is for informational purposes only and is not intended to replace or substitute for any medical or other advice. 1Life Healthcare, Inc. and the One Medical entities make no representations or warranties and expressly disclaim any and all liability concerning any treatment, action by, or effect on any person following the general information offered or provided within or through the blog, website, or app. If you have specific concerns or a situation arises in which you require medical advice, you should consult with an appropriately trained and qualified medical services provider.