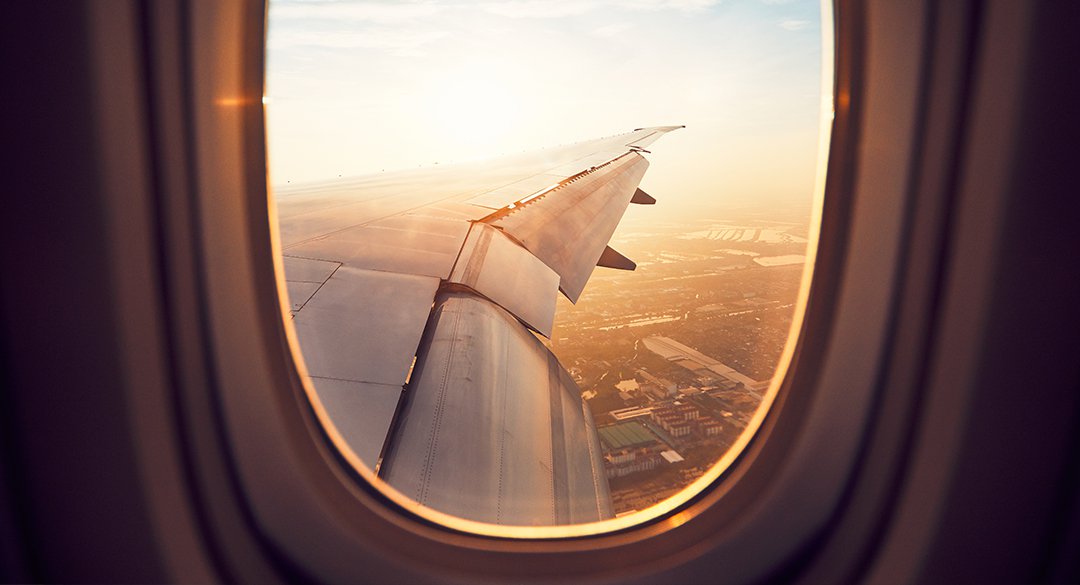 Updated November 16, 2018.
Whether you're traveling for fun or for work, jet lag can be a real drag. Jet lag is a temporary condition that occurs when your body's internal clock is disrupted by travel across multiple time zones.
What are the symptoms of jet lag?
Jet lag symptoms range from daytime fatigue and trouble concentrating to muscle soreness, gastrointestinal upset, and headaches. Most people experience a generalized sense of feeling unwell–certainly not an ideal way to feel before an important meeting or while exploring a new city on a great vacation.
Why does jet lag occur?
Our circadian rhythm is directed by the suprachiasmatic nucleus, an area of the brain that responds to light signals from the retina and tells us when to be awake and when to sleep. Travel disrupts this internal clock. The mismatch between your internal sleep-wake cycle and the time at your destination can interfere with sleep, hunger, digestion, and other basic body functions–and contribute to jet lag symptoms.
To help you acclimate more quickly and feel your best when you travel, follow these tips to reduce jet lag:
1. Plan Ahead
The more time zones you cross, the more likely you are to experience jet lag. It can often take several days for your body to adapt to a new time (expect to adjust to one to two time zones per day). Traveling east often has a more pronounced and lasting jet lag effect.
Take care of yourself ahead of time. Get adequate sleep, exercise regularly, and eat a healthy diet before you travel. Being in optimal health will help; if you start out worn-down and sleep-deprived, you may experience more jet lag symptoms.
Get there early. If possible, arrive well before an important event to give your body a chance to become accustomed to the new time. If you'll be traveling across multiple time zones, plan to arrive a few days in advance.
Tweak your schedule before you travel. Adjust your schedule the week prior to departure to help your body acclimate to your new time zone. For example, if you're traveling east, go to bed and wake up an hour earlier each day. If you're headed west, go to bed and wake up later than you typically would.
2. Take Steps en Route to Reduce the Negative Effects of Travel
Even if you aren't crossing time zones, research shows that air travel alone can contribute to jet lag symptoms. The change in cabin pressure, the dry, dehydrating air, and the prolonged time sitting can all take a toll on your body.
Stay hydrated. Drink plenty of water before, during, and after travel. Dehydration can make jet lag symptoms worse. Bring an empty water bottle that you can fill once you pass security or purchase water before getting on the plane so you have access to enough fluids to keep you well-hydrated.
Avoid alcohol and caffeine. Both can interfere with sleep and contribute to dehydration.
Get up and move. Walk in the aisle or stretch every one to two hours to reduce the risk of developing blood clots and help alleviate any soreness and stiffness that may occur from prolonged sitting.
Adapt to your new time zone during travel. If it's nighttime at your destination during the flight, sleep on the plane: Use earplugs, headphones, and an eye mask to help block out noise and light. If it's daytime, resist the urge to sleep.
3. Adjust to Your New Environment
Unless your trip is shorter than two days, adapt to your destination time as quickly as possible. Use light exposure, sleep schedules, meals, and exercise to help your body get in sync with the local time.
See the light! Light exposure is one of the key determinants of your body's circadian rhythm. If you're traveling east, get bright sun exposure in the morning; if you're traveling west, light later in the day will facilitate your adjustment. If you're stuck inside, use a light box or another source of bright artificial light.
Maximize sleep during the first few nights. Resist napping and make your new environment conducive to good sleep. Use a fan to create white noise to drown out annoying sounds, and keep the thermostat set at 65° F.
Eat meals at appropriate local times. Even if you aren't hungry, scheduling meals by the local clock will help you adjust. Avoid the urge to eat at off times. To eat optimally for jet lag, eat meals with high-protein foods to stay awake and include more carbohydrates when you're preparing for sleep.
Exercise. Don't let feeling tired and sore from travel keep you from physical activity. Exercise will help you feel more alert and, at the end of the day, will improve sleep quality. If you're able to exercise with a friend, even better–social interaction stimulates wakefulness.
4. Consider Appropriate Use of Melatonin or Medication
Medications aren't essential for jet lag, but judicious use of melatonin or a sleeping pill may help. Melatonin is a hormone that helps regulate our circadian rhythm by working as a darkness signal. It's naturally secreted by the brain's pineal gland and has been widely studied. Supplemental melatonin is commonly used for jet lag treatment; it's been shown to help with both sleep and reducing jet lag symptoms.
Give it enough time to work. Take melatonin 20 to 30 minutes before sleep (for eastward travel, melatonin can also be taken en route, 30 minutes prior to the target bedtime at your destination. It doesn't need to be taken en route for westward travel).
Take only the dose you need. A typical dose for melatonin ranges from 0.5mg to 5mg. Small doses–as little as 0.5mg–seem to be just as effective for reducing jet lag symptoms; however, higher doses may be better at promoting sleep.
Don't combine melatonin with other sedatives. Avoid alcohol, sedating medications, and other sedating supplements when taking melatonin.
Sleeping pills, such as Ambien , Lunesta, and Sonata in the sedative hypnotic family and Halcion in the benzodiazepine family may help you sleep during your flight and for the first few nights after arrival. Avoid prolonged use of these medications, as they can become habit-forming. Sleeping pills don't appear to help with the daytime symptoms of jet lag, but they can improve sleep. Potential side effects include headache, sleepwalking, confusion, nausea, and morning sleepiness.
Make sure you have enough time. Only take a sleeping pill if you have at least six hours to rest.
Don't combine sleeping pills with other sedatives. Don't use sleeping pills in combination with alcohol or with other sedating medications or sedating supplements (such as melatonin).
Homeopathic remedies, aromatherapies, and other herbal supplements such as "No Jet Lag" homeopathic formulation may be helpful, but there are limited data on their efficacy and potential side effects. If you have questions, talk to your health care provider to learn more.
One Medical provides top-notch primary care for the whole family in cities around the country. Head to our Membership Page to learn more about joining.
The One Medical blog is published by One Medical, a national, modern primary care practice pairing 24/7 virtual care services with inviting and convenient in-person care at over 100 locations across the U.S. One Medical is on a mission to transform health care for all through a human-centered, technology-powered approach to caring for people at every stage of life.
Any general advice posted on our blog, website, or app is for informational purposes only and is not intended to replace or substitute for any medical or other advice. 1Life Healthcare, Inc. and the One Medical entities make no representations or warranties and expressly disclaim any and all liability concerning any treatment, action by, or effect on any person following the general information offered or provided within or through the blog, website, or app. If you have specific concerns or a situation arises in which you require medical advice, you should consult with an appropriately trained and qualified medical services provider.