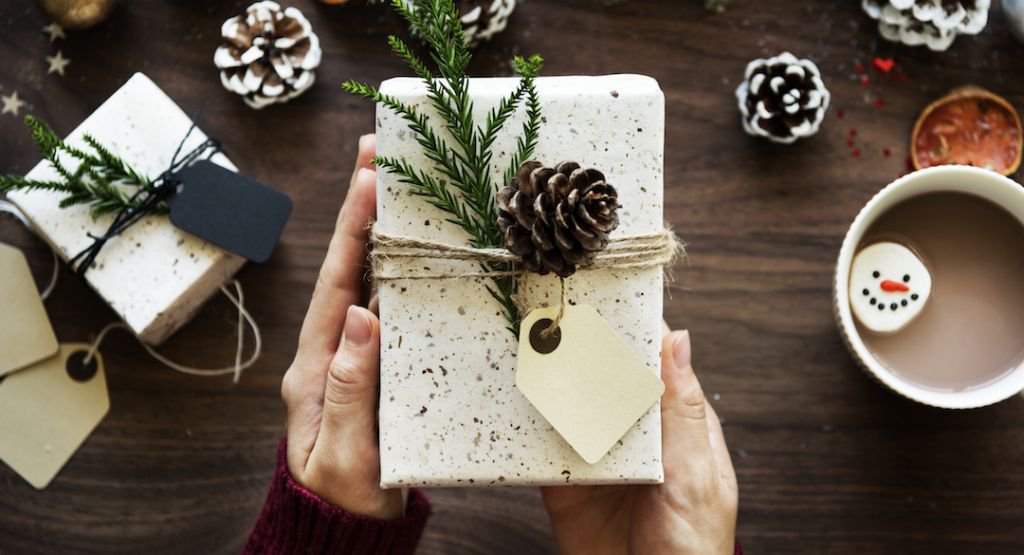 Ahh the holidays…'tis the season for joy, family togetherness, and gift giving. However, over-scheduling, commercial pressure to consume, busy holiday travel, and overindulgence can make "the most wonderful time of the year" quickly feel like the most stressful one. In addition to creating those negative feelings, stress can also cause our immune systems to weaken. It's no wonder why we see so much sickness at this time of the year! The good news? We can fight back and decrease our holiday stress levels by practicing mindfulness.
Mindfulness is the process of being aware and present in our daily lives. Becoming more attuned to the present moment means slowing down and placing awareness on sensations while we allow thoughts and emotions to arise without judgement — which is definitely more easily said than done!
The most basic concept of mindfulness is to identify an anchor that can ground you in the present moment. Anchors can be simple — some common anchors include following your breath, paying attention to body sensations, or listening to sounds. A number of things can be used as an anchor to help ground us as we practice mindfulness techniques. It's helpful to identify your own personal anchors.
As the holidays gear up, take some time to incorporate mindfulness into your festivities. Here are a few suggestions:
1. Incorporate a mindfulness-based meditation into your day.
Break the go-mode of holiday preparation by setting aside some quiet time. Practice scheduling time on the calendar to sit quietly and notice what sensations arise. What is your body feeling? What are your senses detecting? What thoughts are popping up? Use this opportunity to become an observer and simply "be." It's totally normal for thoughts to wander. If that happens, one easy way to reset your thoughts is to focus on your breath, using it as an anchor.
One of the hardest things about meditation can be simply setting aside the time to do it. Here are a few ways to make it easier:
Start small — you don't have to sit for extended amount of time. If you don't have 30 minutes, sit for five. Even a few minutes a day can help. Remember, it's a practice.

The key is consistency. Make a commitment to dedicating a few minutes to quiet time every day.

Unplug. Turn off your phone or computer to minimize distractions.
2. Try a moving meditation.
If a sitting meditation does not work for you, consider a walking meditation. The more formal practice involves picking a dedicated path, walking it back and forth slowly and with intention, and focusing on the movement of your body to ground you to the present moment. Your body's sensations are the anchor that you use to stay focused when your mind begins to wander.
You can also practice it more informally on any walk. Focus on your body sensations. What are you feeling in your legs as you walk? Can you feel the ground under your feet? Bring your attention to any tension within your body and breathe into it.
So next time you're feeling a little stressed, think about taking a few minutes to reset yourself by going for a walk. Adjust the ergonomics of your work station. Stretch on a plane or in the airport. Simply add more movement to your day to give yourself an opportunity to practice being aware of the present moment.
3. Engage in mindful eating.
Holiday get togethers mean a lot of wonderful festivities, foods, and deserts, making it easy for many of us to overindulge. However, they also give us the chance to practice mindful eating. The simplest way to do this is to simply slow down, remove distractions, and pay attention to the action of eating.
Chew your food slowly and consciously. Use your senses as your anchor. How does your food smell, taste, and feel inside your mouth? Slowing down and appreciating food can help prevent overeating and promote healthier choices and smaller portions.
4. Practice mindful connecting.
The holidays are a time for family, friends, and coworkers to get together to celebrate. While this is often a positive experience, it may also mean more stress for some. Use connecting with others as an opportunity to be an active listener. The sound of someone's voice can be your anchor while engaging in conversation.
Compassionate listening is one of the most valuable gifts you can give to anyone. Slow down and sit with folks. Unplug from the phone or computer and really engage. Embrace humor.
5. Be grateful.
By actively practicing gratitude, we can move from a state of expectation to a state of appreciation. Make it a daily ritual to think of three things you are grateful for, whether it's by writing them down in a gratitude journal, sharing them with others, or just thinking them to yourself. It can be as simple as identifying something in that moment — the sun on your face, the coolness of wind, the sound of rain. Use sensations that you experience to anchor you in gratitude. Holidays can bring people together — take the opportunity to let those you care about know how much you appreciate them.
This holiday season, remember to press pause and take a moment for yourself. Let the holidays be a time of awareness and connection. Weaving mindfulness into your life is easy with practice.
The One Medical blog is published by One Medical, a national, modern primary care practice pairing 24/7 virtual care services with inviting and convenient in-person care at over 100 locations across the U.S. One Medical is on a mission to transform health care for all through a human-centered, technology-powered approach to caring for people at every stage of life.
Any general advice posted on our blog, website, or app is for informational purposes only and is not intended to replace or substitute for any medical or other advice. 1Life Healthcare, Inc. and the One Medical entities make no representations or warranties and expressly disclaim any and all liability concerning any treatment, action by, or effect on any person following the general information offered or provided within or through the blog, website, or app. If you have specific concerns or a situation arises in which you require medical advice, you should consult with an appropriately trained and qualified medical services provider.