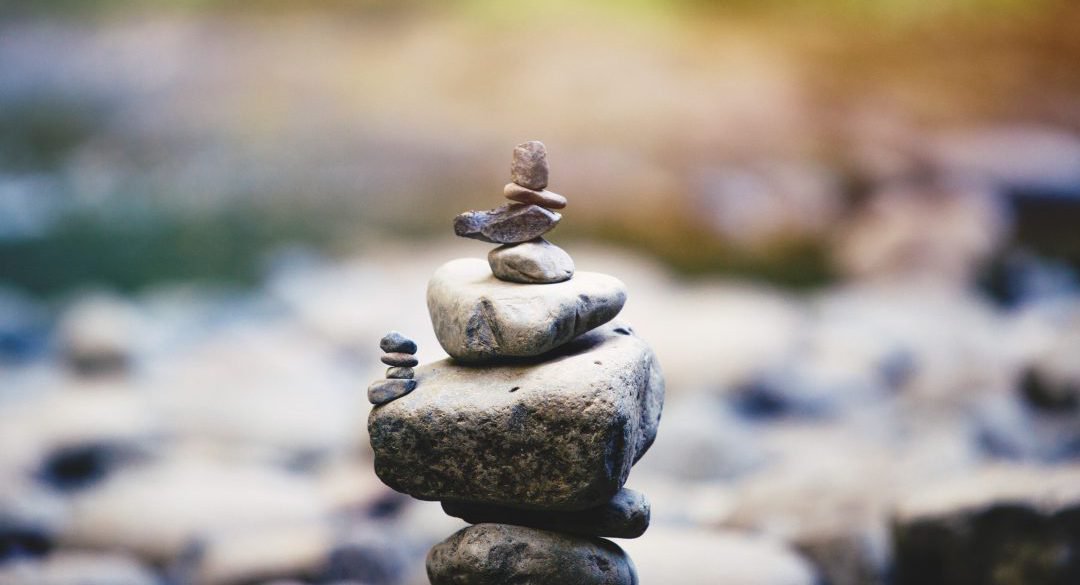 Plugging in for the purpose of "unplugging" may seem like an oxymoron. After all, meditation is free, accessible, and portable, whether or not you have your phone in the palm of your hand. But if you're new to the practice, apps can be helpful in several ways.
Using an app to begin your meditation practice can make the experience feel a little less awkward (especially if the idea of being alone with your thoughts is intimidating) and help you establish a regular practice. Many meditation apps are designed to help users structure a daily meditation plan. Some even have social components that can help you build a community and maintain accountability—two great ways to hone new habits.
Here are some of my favorite guided and unguided meditation apps.
1. HeadSpace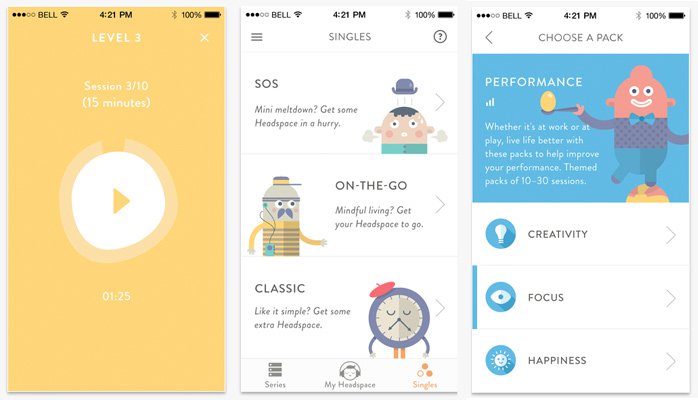 With animations and personalized progress reports, Headspace makes meditation easy and accessible. There's even a buddy system to help you make friends and get some motivation along the way.
Available on: iPhone and Android
Price: Free
2. Calm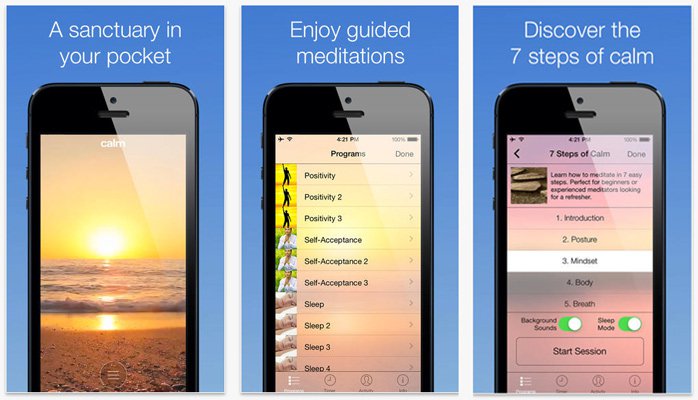 Billed as a "sanctuary in your pocket," Calm offers several free guided meditations and tailored recordings for sleep, self-acceptance, positivity, and more with purchase of the Pro Access version.
Available on: iPhone and Android
Price: Free for the basic version, $9.99 per year for Pro Access
3. Buddhify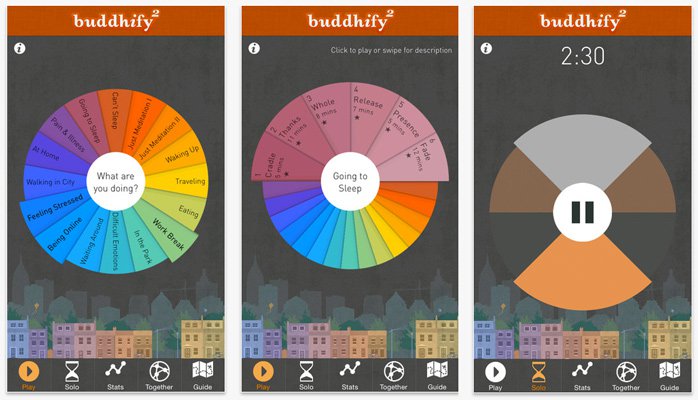 The Buddhify app contains over 80 guided meditations for various activities and settings, whether you're at home, on the road, or in bed. You can also track your progress and choose from a variety of voices to guide you.
Available on: iPhone, iPad, iPod Touch, and Android.
Price: $2.99
4. Sleep Easily Meditation by Shazzie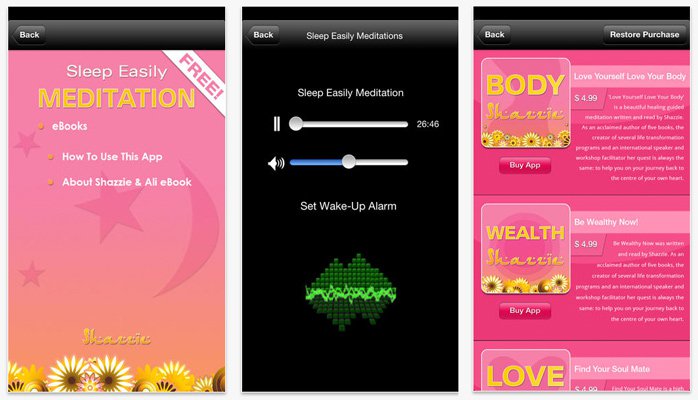 This 26-minute recording offers step-by-step relaxation instructions to gently ease you into sleep. The voice guidance is accompanied by soothing music and sounds designed to lull you into a more restful, meditative sleep. You can also set the in-app alarm clock to wake you in the morning.
Available on: iPhone, iPad, and iPod Touch
Price: Free
5. Smiling Mind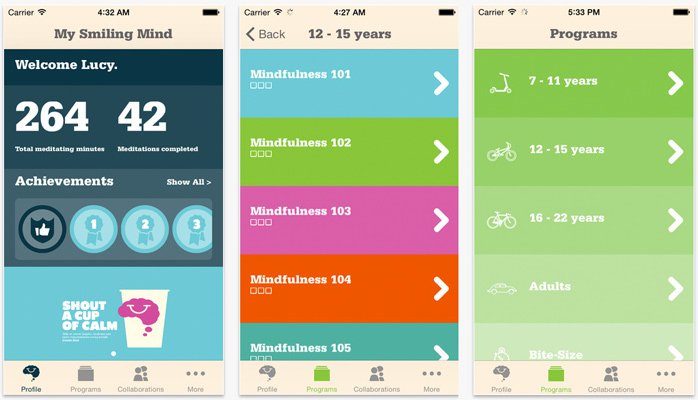 Smiling Mind is an Australian nonprofit initiative that offers six free mindfulness meditation programs for a variety of age groups, including children and adolescents.
Available on: iPhone, iPad, Android
Price: Free
6. Simply Being Guided Meditation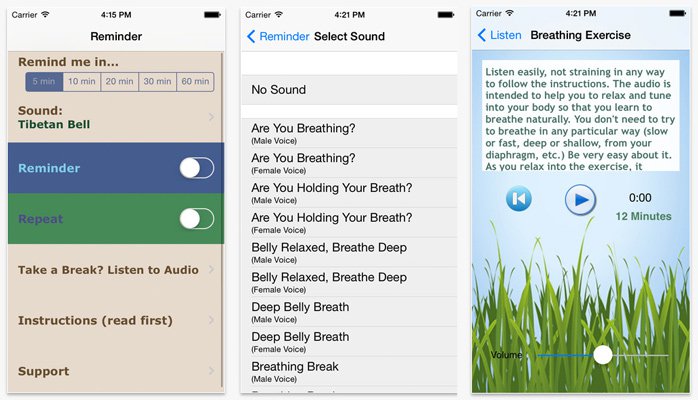 Richard and Mary Maddux, the creators of the Meditation Oasis podcast, developed Simply Being to make meditation easy and accessible for experts and newbies alike. Meditations range from five to 30 minutes, and you can choose to add music or nature sounds to each session.
Available on: iPhone, Android, Blackberry, and Windows Phone
Price: $1.99
7. Meditation Helper
If you'd rather go it alone without the guidance of a vocal recording, sound effects, or music, Meditation Helper gives you space to do your own thing. The app has a built-in timer that chimes to signal the beginning and the end of your session. It also allows you to track the consecutive days you've hit your target.
Available on: Android
Price: Free
8. Equanimity Meditation Timer and Tracker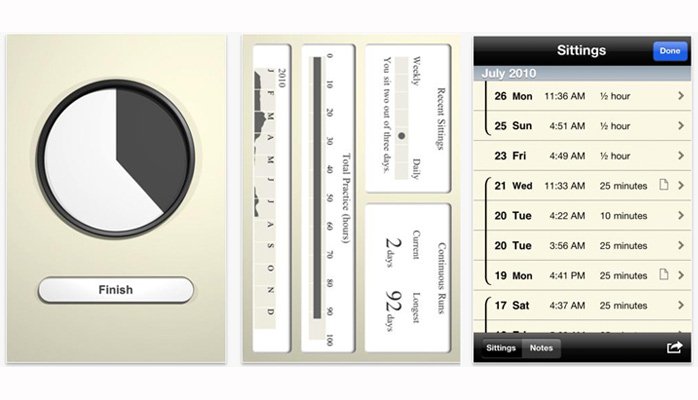 If you like to document your progress, you'll love Equanimity. In addition to a timer, it offers a journal for sitting notes, and graphical tracking to give you clear feedback on your practice.
Available on: iPhone, iPad, and iPod Touch
Price: $4.99
If you have your own go-to meditation app, let us know in the comments.
The One Medical blog is published by One Medical, a national, modern primary care practice pairing 24/7 virtual care services with inviting and convenient in-person care at over 100 locations across the U.S. One Medical is on a mission to transform health care for all through a human-centered, technology-powered approach to caring for people at every stage of life.
Any general advice posted on our blog, website, or app is for informational purposes only and is not intended to replace or substitute for any medical or other advice. 1Life Healthcare, Inc. and the One Medical entities make no representations or warranties and expressly disclaim any and all liability concerning any treatment, action by, or effect on any person following the general information offered or provided within or through the blog, website, or app. If you have specific concerns or a situation arises in which you require medical advice, you should consult with an appropriately trained and qualified medical services provider.