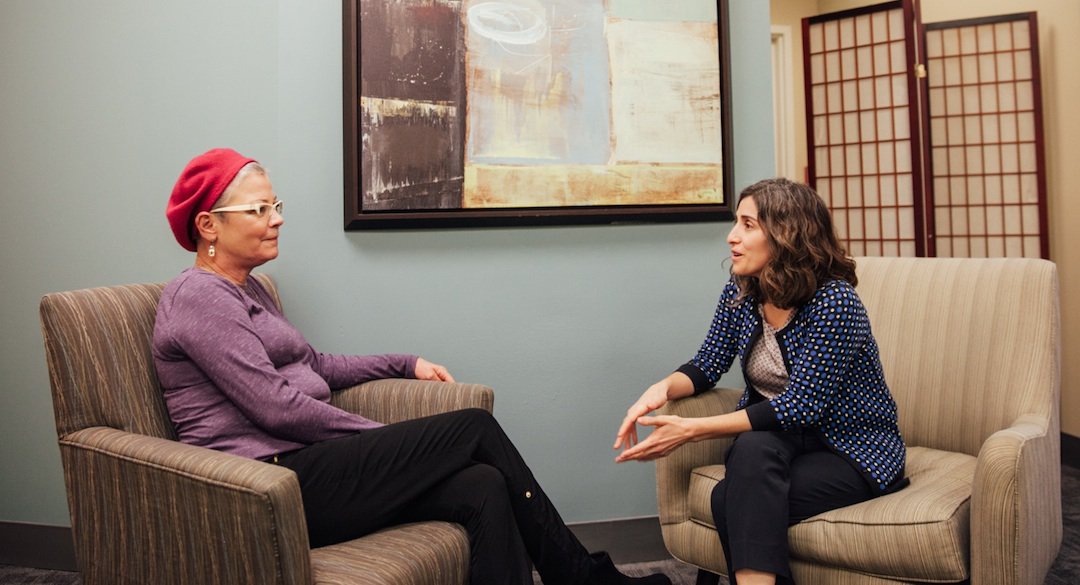 Making the decision to go through genetic testing for breast cancer is anything but easy. But if you've gone through the steps of collecting your family history, considering all the factors that influence your risk, and having a thoughtful conversation with your provider, maybe you've come to the conclusion that genetic testing really is right for you.
You likely feel some relief now that you've landed on a choice, but are you ready for what comes next? Receiving and processing your test results can be confusing and emotional, no matter the outcome. That's why One Medical providers recommend working with a genetics counselor to break down the results for you and ensure you understand the nuances of the report.
"Whenever possible, all patients who are candidates for genetic testing should be referred to a credentialed genetics provider, such as a board-certified genetic counselor," says Bob Medhekar, an MD in San Francisco. "Given the complexity of genetic testing options and their interpretation, pre-and post-test genetic counseling is critical."
While you should plan to pick apart the details with a counselor, here's a quick overview of what your results may reveal:
Positive Result
A positive result indicates that you have inherited a known BRCA1 or BRCA2 mutation and therefore have an increased risk of developing certain cancers. This doesn't mean you will necessarily develop cancer; some women who inherit these mutations never develop breast or ovarian cancer. You'll work with your genetics counselor and treatment team to create a plan that is tailored to your needs.
The result can also have implications for the health of your family members. Children have a 50 percent chance of inheriting a parent's mutation, and siblings of people with these mutations have a 50 percent chance of having inherited the mutation as well. That means it may be important to reach out to family members and keep them informed of your results.
Negative Result
According to the National Cancer Institute, a negative result actually can be more confusing than a positive one because the meaning is heavily influenced by your family history and whether a family member has a BRCA1 or BRCA2 mutation.
If a first or second degree relative definitely carries a mutation and you test negative, that means you don't carry the mutation that is responsible for your family member's cancer. This is called a "true negative." Your risk of cancer is believed to be about the same as someone in the general population.
If you have a family history that suggests the possibility of a BRCA mutation and your result is negative, the conclusion is a little less clear. While it's unlikely that a genetic test would miss a known BRCA1 or BRCA2 mutation, it's possible. Also, experts are continually discovering new mutations that haven't yet been identified. That means that even though you have a negative result, there's a chance you may have a mutation that is not yet known.
It's also possible to have a mutation in a gene other than BRCA1 or BRCA2 that could increase your cancer risk but was not detected on the test you received.
Your genetic counselor will explain these various scenarios to you and collaborate with you on next steps.  
Ambiguous or Confusing Results: Low-Penetrance Genes
Not all genes carry an equal possibility of being expressed. While this result sometimes causes anxiety, the reality is the condition might have low likelihood of being expressed.
VUS: Variants of Uncertain Significance
A VUS is a DNA alteration that is detected by genetic screening. However, there's not enough evidence to determine if it has a significant link to cancer. There are reported VUS within the BRCA gene and within other genes in the multiplex panels.
If you have VUS, experts encourage registering with the PROMPT database and checking annually to see if these variants become "reclassified" as "deleterious" (potentially causing harm) or conversely, if they've been downgraded.
No matter what your test reveals, it's important to work with a provider you trust. He or she will point you to the most helpful resources and make sure you understand how your results may impact your health decisions.
The One Medical blog is published by One Medical, a national, modern primary care practice pairing 24/7 virtual care services with inviting and convenient in-person care at over 100 locations across the U.S. One Medical is on a mission to transform health care for all through a human-centered, technology-powered approach to caring for people at every stage of life.
Any general advice posted on our blog, website, or app is for informational purposes only and is not intended to replace or substitute for any medical or other advice. 1Life Healthcare, Inc. and the One Medical entities make no representations or warranties and expressly disclaim any and all liability concerning any treatment, action by, or effect on any person following the general information offered or provided within or through the blog, website, or app. If you have specific concerns or a situation arises in which you require medical advice, you should consult with an appropriately trained and qualified medical services provider.