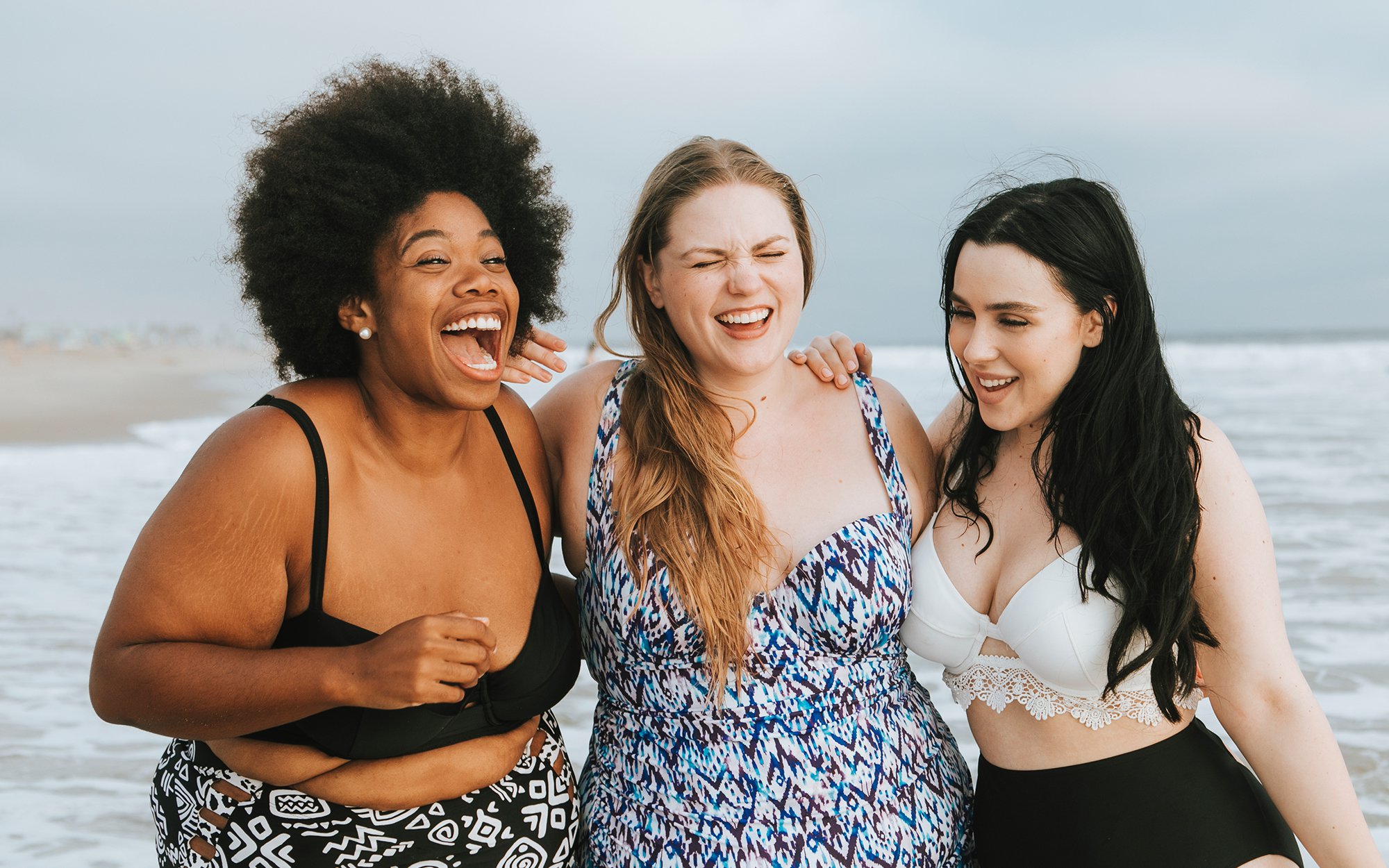 Last summer, the Centers for Disease Control and Prevention (CDC) confirmed a major, albeit unsurprising statistic: almost half of all American adults are trying to lose weight. Given the amount of detox diets, slimming teas, and dozens of other gimmicks and scams flooding social media, it's probably not a shock to learn 49.1 percent of men and women are seeking ways to shed pounds.
But despite the widespread desire to drop lbs, the fact remains that severe caloric restriction (often casually referred to as "dieting") usually doesn't lead to sustainable results. And besides the high potential for ineffective outcomes, chronic dieting can lead to lasting negative changes to hormones, metabolism, cognition, and more.
So why do so many resolutions ultimately fail? "Because they are punitive," says Los Angeles-based psychotherapist, Alyssa Mass. "They're rooted in self-criticism and self-punishment which just sets you up for a self-perpetuating shame spiral likely to end in failure and disappointment."
San Francisco-based psychologist Juli Fraga agrees, adding that in addition to the false hope/inevitable letdown cycle, "focusing on losing weight conveys that one is not enough or inadequate in some way, causing us to view ourselves in a negative light."
Need a specific example to drive the point home? Mass recreates a common trap she often sees clients fall into. "'I'm doing great I stopped eating sugar! I'll just have a little bit. Oh no, I've slipped — may as well have more. Ugh there I go again, I just can't stick to anything. I'm weak and inferior and everybody else can do this except me.'" Yikes — sound familiar?
"Weight loss resolutions are like the Ponzi schemes of the wellness world," Mass says. "Filled with false hope and promise which will crash and burn and often leave you worse off than you started." There is evidence that you can be healthy at any weight, which means your wellness is more about how active and fit you are than a number on the scale.
So rather than blindly buy into the overwhelming amount of "lose-weight-change-your-life" messaging out there, why not resolve to improve your overall relationship with your body so you can officially opt out of the never-ending shame cycle? If you're not sure how to start, Mass and Fraga offer some pro insight:
1. Get inquisitive about your intentions.
If you find yourself setting a body-focused resolution, Mass says it's important to question your motives before moving forward. "Ask yourself what it is you want out of a resolution," she says. "If it's weight loss, why? What are you hoping that weight loss will bring you? Perhaps it's more confidence, a better relationship with your body, or just being outside more? There are plenty of ways to support yourself in achieving those goals and the deeper awareness you can have around why you're wanting a certain type of change the more powerful and conscious your choices."
2. Consider curtailing your social media use.
For some people, Facebook and Instagram can serve as great inspiration tools. For others, consuming other people's (often filtered, FaceTuned, and heavily edited) highlight reels is counterproductive and even harmful. In fact, many studies have shown a correlation between social media usage and symptoms of depression and/or low-self-esteem. Recent research has even indicated that people who limited their social media use to 30 minutes per day reporting significantly reduced depression and loneliness over a three-week period. Another recent study found that young women felt worse about themselves after they were asked to engage with a post from someone they felt was more attractive than them.
"Instagram ban or unfollow celebrities, influencers, or sites that trigger 'body comparison,'" Fraga says. "Seeing others 'curated' photos can cause feelings of insecurity to arise, but you can lessen the negative influences of social media by taking control and limiting use."
Try setting a timer or keeping an eye on the clock any time you log onto social media, and see if spending less time scrolling frees up more space for self-love and compassion.
3. Begin a mindfulness practice.
If you're wondering how tuning into your thoughts can benefit your body, it's time to learn more about mindfulness. While it can certainly include dedicated meditation sessions, mindfulness doesn't have to be fancy or complicated — it's simple the act of being present and noticing what's happening in the current moment. Practicing how to tune into your internal state or the sensations you're experiencing in the here and now can have a profound impact on how you perceive and treat your physical body.
"Mindfulness meditation can bring awareness to one's breath and body, helping us anchor into the present moment and notice the positive ways our bodies help us each day," Fraga says.
4. Redefine your goals.
Rather than setting your sights on a specific number on the scale, Fraga says actionable, attainable goals that benefit your body and mind can have a much more positive impact. "It's healthier to set an intention on a more specific goal like exercising three times a week, eating more fruits and vegetables, or better yet, breaking free of the mindset that weight loss equals lasting happiness."
Looking for guidance and support when it comes to defining personal health goals? Talk to a provider today and set your sights on a healthier you!
The One Medical blog is published by One Medical, a national, modern primary care practice pairing 24/7 virtual care services with inviting and convenient in-person care at over 100 locations across the U.S. One Medical is on a mission to transform health care for all through a human-centered, technology-powered approach to caring for people at every stage of life.
Any general advice posted on our blog, website, or app is for informational purposes only and is not intended to replace or substitute for any medical or other advice. 1Life Healthcare, Inc. and the One Medical entities make no representations or warranties and expressly disclaim any and all liability concerning any treatment, action by, or effect on any person following the general information offered or provided within or through the blog, website, or app. If you have specific concerns or a situation arises in which you require medical advice, you should consult with an appropriately trained and qualified medical services provider.