Home
Blog
News
One Medical & Iora Health: Our shared vision to further transform healthcare across every stage of life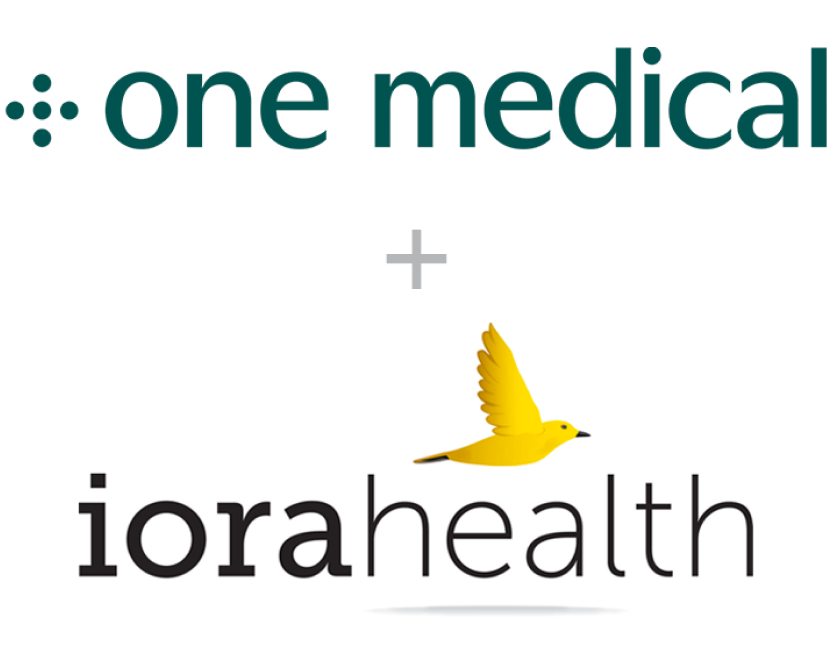 To our valued community:
Today at One Medical we announce our intention to acquire Iora Health, a leading value-based primary care group serving roughly 38,000 Medicare patients through digital health and 47 in-person medical offices in ten markets across the United States. Aligned with One Medical's model, Iora Health follows a human-centered and technology-powered approach to delivering exceptional primary care and it is widely considered a pioneer in transforming the healthcare experience for seniors.
One Medical and Iora both believe that in order to truly transform health care, we must simultaneously serve the needs of multiple key stakeholders in the healthcare ecosystem, which includes consumers, employers and payers, care providers, and health networks. Our human-centered and technology-powered models position us to simultaneously address the needs and frustrations of these key stakeholders.
As we have gotten to know Iora better, we see great resonance with Iora's human-centric commitment to its members with its outstanding in-person and digital experiences, proactive approach to population health and improved patient outcomes, and value-based model to effectively manage care within at-risk financial models.
At present, One Medical and Iora Health serve largely different populations, with One Medical primarily serving the commercially-insured population and Iora Health primarily serving seniors in at-risk contracting relationships such as Medicare Advantage and Medicare Direct Contracting. While each organization has been focused on different patient populations, both have similarly focused on developing mission-driven cultures, with supportive teams, to deliver transformative patient experiences, and value-based care, leveraging built-for-purpose technologies, digital health services, and inviting in-person care.
While great strides have been made by each company, we believe that together, our impacts can be even greater--and now for every stage of life. Together we would also further extend our reach, with nationwide digital health coverage and our combined in-office footprint placing us in 28 markets covering 120 million people or nearly 40% of the entire U.S. population. Together we would be better positioned to serve more people nationwide and across every stage of life--from pediatrics through the golden years--with a modernized approach to in-person and digital healthcare, and with advanced capabilities for population health and care management within at-risk reimbursement models.
Here are some of the ways in which, together, One Medical and Iora can set out to transform health care across every stage of life.
For members, we can create premier experiences and better outcomes from pediatrics to the golden years. We can deliver longitudinal primary care, proactive population health management, coordinated care across health network partners, and further own the complexity of navigating healthcare on behalf of our members. We can provide 24/7 national digital health along with in-person care across our combined 28 markets and beyond. For One Medical members aging into Medicare eligibility and for non-senior One Medical members with Medicare-eligible parents and grandparents, we would look for opportunities to extend enrollment into our senior-focused services. Similarly, we could potentially invite family members of Iora patients to explore membership with One Medical.
For health benefit sponsors and payers such as employers, health plans, and governmental programs, we can further partner to deliver value-based care and proactive population health management, with greater reach and across every stage of life. We can draw on One Medical's track record of delivering a highly engaging model while improving health outcomes and lowering costs, and Iora's experience with population health within at-risk reimbursement models. Additionally, the combination of our technology platforms, population health capabilities, and salaried-provider models would uniquely position us to deliver these results for members covered under commercial insurance as well as Medicare risk-based arrangements such as Medicare Advantage and Medicare's Direct Contracting model.
For care providers, we plan to continue to attract, retain, and engage them in what we believe would be the best place to practice modernized primary care. We can continue to address issues driving provider burnout and continue to support impactful provider relationships with members through our salaried model and multi-modal team based care, innovative technology to help reduce unnecessary administrative tasks seen across other healthcare settings, and clinical and digital integrations with health networks for better care coordination.
With health networks, we plan to further coordinate care across benefit plans and a continuum of settings, further owning the complexity of navigating healthcare on behalf of our members while reducing duplicative testing and excess administrative burdens. We would continue to integrate within the existing healthcare ecosystem through alignment with premier partners and participating in major insurance networks, including in at-risk capitated reimbursement models. Together, we would look to extend our efforts of developing clinical and digital integrations to better coordinate care on behalf of patients and members.
Today marks an exciting milestone along our path to becoming a premier national, member-based, technology-powered primary care platform that delivers better health, better care, and lower costs seamlessly across every stage of life. We believe the opportunity to delight members and reduce the cost of care is truly transformational, which is why we are excited to extend our model to more meaningfully serve seniors.
In closing, we want to extend a warm One Medical welcome to the Iora Health team and their patients. We look forward to all that is ahead together!
Amir Dan Rubin
Chair & CEO, One Medical
This material has been made available to you with the consent of 1Life Healthcare, Inc. ("One Medical") and Iora Health, Inc. ("Iora").
Additional Information and Where to Find It
One Medical plans to file with the SEC, and the parties plan to furnish to the security holders of Iora and One Medical, a Registration Statement on Form S-4, which will constitute a prospectus and proxy statement of One Medical and will include an information statement of Iora, in connection with the proposed Merger, referred to as a proxy statement/prospectus, whereupon the separate corporate existence of Merger Sub shall cease and Iora shall continue as the surviving corporation of the Merger as a direct wholly owned subsidiary of One Medical. The proxy statement/prospectus described above will contain important information about One Medical, Iora, the proposed Merger and related matters. A proxy statement/prospectus will be sent to all One Medical stockholders. One Medical also will file other documents regarding the proposed transaction with the SEC. Before making any voting decision, investors and security holders of One Medical are urged to read the registration statement, proxy statement/prospectus and all other relevant documents filed or that will be filed with the SEC in connection with the proposed Merger as they become available because they will contain important information about the proposed Merger.
Investors and security holders will be able to obtain free copies of these documents, and other documents filed with the SEC, by One Medical through the website maintained by the SEC at HYPERLINK "http://www.sec.gov" www.sec.gov. In addition, investors and security holders will be able to obtain free copies of these documents from One Medical by contacting One Medical's Investor Relations by email at HYPERLINK "mailto:investor@onemedical.com" investor@onemedical.com, or by going to the One Medical web page at HYPERLINK "https://investor.onemedical.com" https://investor.onemedical.com and clicking on the links titled "Financial Information" and "Investor Services."
Participants in the Solicitation
The respective directors and executive officers of One Medical and Iora may be deemed to be participants in the solicitation of proxies from One Medical's stockholders and written consents from the security holders of Iora in connection with the proposed Merger. Information regarding the interests of these directors and executive officers in the transaction described herein will be included in the proxy statement/prospectus described above
Forward Looking Statements
This communication contains express and implied forward-looking statements within the meaning of the Private Securities Litigation Reform Act of 1995, which include, but are not limited to, statements regarding expected timing, completion and effects of the proposed Merger. All statements contained in this communication other than statements of historical facts, including business strategy and plans and objectives for future operations, are forward-looking statements. The words "anticipate," believe," "continue," "estimate," "expect," "intend," "may," "assume," "project," "will", "plan" and similar expressions are intended to identify forward-looking statements. These forward-looking statements are subject to a number of risks and uncertainties, and you should not rely upon the forward-looking statements as predictions of future events. The future events and trends discussed in this communication may not occur and actual results could differ materially and adversely from those anticipated or implied in the forward-looking statements as a result of uncertainties, risks, and changes in circumstances, including but not limited to risks and uncertainties related to: the ability of the parties to consummate the proposed Merger, satisfaction of closing conditions precedent to the consummation of the proposed Merger, potential delays in consummating the Merger, the ability of One Medical to timely and successfully achieve the anticipated benefits and potential synergies of the Merger and the impact of health epidemics, including the COVID-19 pandemic, on the parties' respective businesses and the actions the parties may take in response thereto. Although One Medical and Iora believe that the expectations reflected in the forward-looking statements are reasonable, it cannot be guaranteed that future results, levels of activity, performance, achievements or events and circumstances reflected in the forward-looking statements will occur. Except to the extent required by law, One Medical does not undertake to update any of these forward-looking statements after the date of this communication to conform these statements to actual results or revised expectations. A discussion of factors that may affect future results, including under the heading titled "Risk Factors", is contained in One Medical's SEC filings, including the most recent Annual Report on Form 10-K and Quarterly Report on Form 10-Q, which may be accessed at www.sec.gov.
The One Medical blog is published by One Medical, a national, modern primary care practice pairing 24/7 virtual care services with inviting and convenient in-person care at over 100 locations across the U.S. One Medical is on a mission to transform health care for all through a human-centered, technology-powered approach to caring for people at every stage of life.
Any general advice posted on our blog, website, or app is for informational purposes only and is not intended to replace or substitute for any medical or other advice. 1Life Healthcare, Inc. and the One Medical entities make no representations or warranties and expressly disclaim any and all liability concerning any treatment, action by, or effect on any person following the general information offered or provided within or through the blog, website, or app. If you have specific concerns or a situation arises in which you require medical advice, you should consult with an appropriately trained and qualified medical services provider.