Home
Blog
News
Modernizing Health Care: One Medical Goes Public to Advance its Mission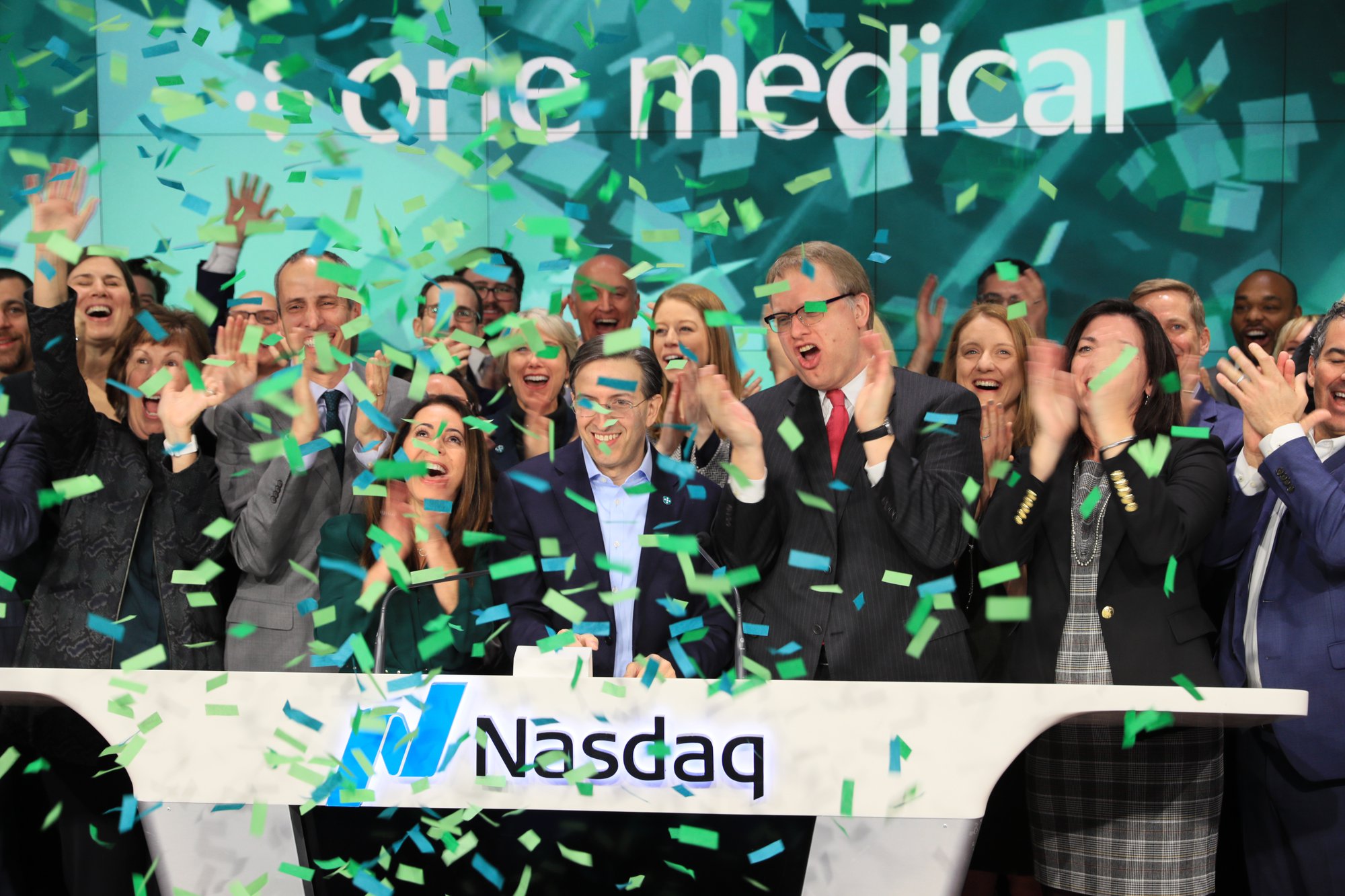 Today we mark a milestone on One Medical's journey to transform health care with our public listing on Nasdaq. Going public further affirms our human-centered, technology-powered model and our mission to transform health care at scale. Publicly raising funds will allow us to widen our reach and impact. It also creates an opportunity for a broader group of investors to participate in our vision to delight millions of members with better health and better care, while lowering costs.
We believe that transforming health care requires simultaneously addressing the needs and frustrations of multiple key stakeholders — consumers, employers, providers, and health networks. We delight consumers with seamless digital health and inviting in-office care, in convenient locations. We serve over 6,000 employers with a benefit that promotes health and wellbeing, while supporting productivity and lower costs. We create care delivery environments where providers focus on our members and not on administrative and technology burdens. We partner with leading health networks across the nation to deliver more coordinated and accessible value-based care.
Underpinning our modernized primary care model is a purpose-built technology platform, designed from the ground up by One Medical's talented team of technologists. Our technology allows consumers to seamlessly access 24/7 digital health care, promotes population health for employers and payers, supports our providers by leveraging machine learning and task automation to free up more time to focus on patient care, and advances information interoperability across clinical care locations with our health network partners.
One Medical is aiming to deliver a truly exceptional healthcare experience. I think there is no better way to illustrate what makes the One Medical experience so unique than through the voice of our members. Here are some real quotes from our patients. Their enthusiasm for the One Medical team and our services ranges from:
"Every person I've seen, talked to or even just been around at One Medical is so great! Bar none best care I've ever gotten!"
to
"My doctor is my biggest advocate. She gives me unwavering strength, support and guidance, I am so lucky I have her."
And, our members also see the power in our seamless digital health. This member sums it up nicely:
"Woke up sick. Opened One Medical app. Had a video call. Got diagnosed and prescribed within 5 minutes. Feels like I stepped into the future!"
Well, yes. We like to think the future is now!
We have reached this point in our company through the perseverance and commitment of our incredible team — a group of the most amazing providers, technologists, and staff — all dedicated to delivering exceptional care. We appreciate and admire the talents and resolve of our leading health network partners, with whom we are working to coordinate care across primary care and specialty settings. We thank the many employers we serve, for allowing us to work with them as they look to advance the health and wellbeing of their employees. We thank our investors — those who have been with us and those who join us today — for supporting us to generate impact and returns. Finally, we are deeply grateful to our members, who entrust us with their health every day. It is such a privilege to be invited into their lives, as we commit to delivering the best in care and compassion.
So with our public listing, we will bring better health and better care to even more people. And now, we can also make the public markets a little healthier too!
Sincerely,
Amir Dan Rubin
Chair & CEO & President
*A registration statement relating to the sale of the common stock of 1Life Healthcare, Inc. has been filed with, and declared effective by, the U.S. Securities and Exchange Commission. This post shall not constitute an offer to sell or the solicitation of an offer to buy these securities, nor shall there be any sale of these securities in any state or jurisdiction in which such offer, solicitation, or sale would be unlawful prior to registration or qualification under the securities laws of any such state or jurisdiction.
The offering is being made only by means of a prospectus. Copies of the final prospectus, when available, may be obtained from J.P. Morgan Securities LLC, c/o Broadridge Financial Solutions, 1155 Long Island Avenue, Edgewood, NY 11717, or by telephone at (866) 803-9204, or by email at prospectus-eq_fi@jpmchase.com; or Morgan Stanley & Co. LLC, Attention: Prospectus Department, 180 Varick Street, 2nd Floor, New York, NY 10014.
The One Medical blog is published by One Medical, a national, modern primary care practice pairing 24/7 virtual care services with inviting and convenient in-person care at over 100 locations across the U.S. One Medical is on a mission to transform health care for all through a human-centered, technology-powered approach to caring for people at every stage of life.
Any general advice posted on our blog, website, or app is for informational purposes only and is not intended to replace or substitute for any medical or other advice. 1Life Healthcare, Inc. and the One Medical entities make no representations or warranties and expressly disclaim any and all liability concerning any treatment, action by, or effect on any person following the general information offered or provided within or through the blog, website, or app. If you have specific concerns or a situation arises in which you require medical advice, you should consult with an appropriately trained and qualified medical services provider.