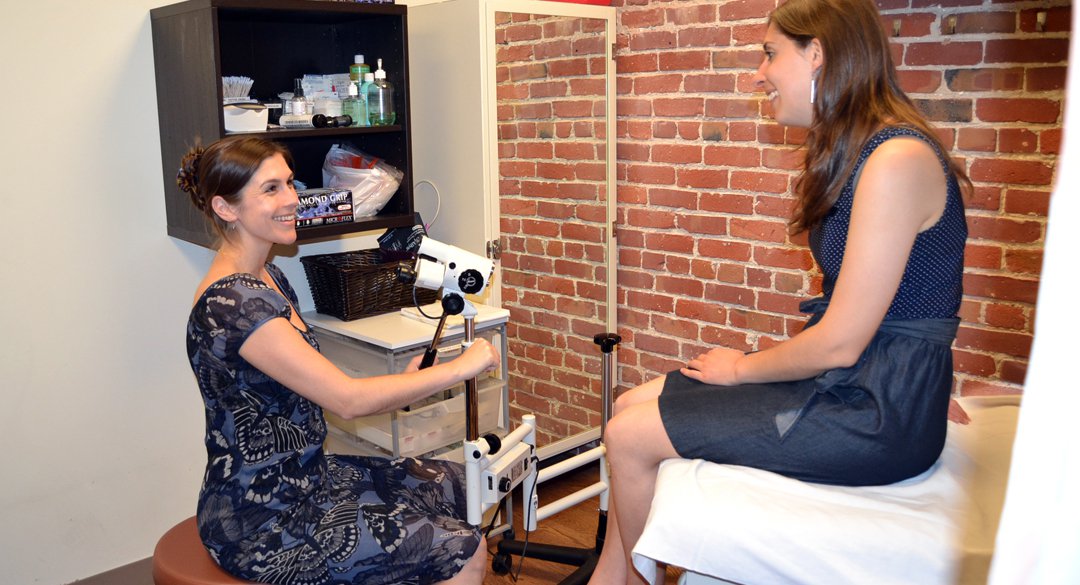 Receiving an abnormal Pap test result can be stressful. Being told you also need a follow-up test called a colposcopy can really stir up even more anxiety.
The word colposcopy may sound scary — but there's no reason the actual procedure has to be. We've  taken special care to ensure our providers in San Francisco and New York City where we perform colposcopies are specially trained to put our patients completely at ease — believe it or not, it's possible!
Making sure women have feel comfortable with this procedure is particularly important to me. During college I had a really unpleasant colposcopy and was frightened out of my mind —  I thought I was being diagnosed with cervical cancer and no one reassured me otherwise.
The whole experience was terrifying, so when I started working in women's health, I decided I absolutely needed to be trained as a colposcopist. I was so passionate about pursuing this role that I actually enrolled in the training course during my maternity leave and spent every class breastfeeding my baby daughter in my arms! Once I became an adult nurse practitioner, I saw the level of anxiety colposcopies created in women.  It really motivated me to create space in the appointment  so women could be educated and feel more relaxed.  
What is a colposcopy?
Following an abnormal Pap test result (which is very common–about 10 percent of Paps show abnormal cells), your provider may perform a colposcopy to examine your cervix more closely. During the procedure, vinegar is applied to the cervix. Using a special microscope, your provider looks for any areas that turn white from the vinegar; these would be considered "areas of concern," which may be biopsied and examined for abnormal cells.
Many women who receive a colposcopy do not require any further procedures; their immune systems effectively clear the abnormal cells without intervention, and they're able to monitor the issue with follow-up Pap tests. If you need a colposcopy, rest assured that it doesn't  necessarily point to a serious condition. Only a small percentage of women who require colposcopies ever develop cervical cancer, and most of the 12,000 cases of the disease documented by the Centers for Disease Control and Prevention (CDC) in 2012 occurred in women who did not have access to regular screening tests.
5 Reasons to Feel Comfortable About Your Colposcopy
I truly want women to let go of the dread and fear they have around colposcopies and embrace the many benefits it provides. In fact, a patient once told me her colposcopy was like "a cervical spa treatment!"  Here are my top five reasons you to feel comfortable about your colpo:
1)    Getting a colposcopy can be crucial to your overall health: If your provider recommends a colposcopy, it's because he or she wants to rule out cervical cancer. Luckily, cervical cancer is rare in the US, and colposcopies are part of the reason these numbers are relatively low: they're considered an incredibly effective diagnostic tool.
2) It's convenient: Several of One Medical's primary care providers in San Francisco and New York are trained to perform colposcopies, and can do so during an office visit–no specialists or extra trips required. If colposcopies are not offered in your market, you can still receive a pap and well-woman visit at One Medical, as well as a referral for a trusted colposcopist in a convenient location.
3) The pace is relaxed: While there's ample time set aside for the counseling, a pregnancy test and questions during a colpo appointment, the actual procedure only takes 10-15 minutes.  One Medical providers set aside more time than the community standard for colpo appointments. The longer appointment allows us time to educate patients and help them understand why they need the procedure, go over their medical history, and help them feel truly comfortable.
4) We make the experience as pleasant as possible: We go to great lengths to make the colposcopy experience a tranquil, relaxed time-out from the world. The room is heated to a comfortable temperature and we infuse the air with relaxing lavender aromatherapy oil.  There's a Gustav Klimt painting for women to focus on and if my patients like, we can also play favorite music to put them at ease.  I tell patients that they have total control over the situation, so if they want or need me to stop, I will.
5) It gives you the opportunity to learn about your body: Getting a colposcopy gives you detailed information on an important part of your overall vaginal health. The cervix isn't something people talk about in our society, and the colposcopy can give you a chance to get to know this part of your body on an intricate level, helping you better understand your overall health. Ultimately, we want each woman to leave her colposcopy procedure at One Medical not only healthier with a lower risk of cervical cancer, but also with a better understanding of how her body works and a greater sense of agency over her life.
One Medical members in San Francisco and New York can schedule a colposcopy with their providers; if you don't live in either city, your One Medical provider can refer you to a trusted specialist. Not a member? Head to onemedical.com to sign up now.
The One Medical blog is published by One Medical, an innovative primary care practice with offices in Boston, Chicago, Los Angeles, New York, Phoenix, Portland, the San Francisco Bay Area, Seattle, and Washington, DC.
Any general advice posted on our blog, website, or app is for informational purposes only and is not intended to replace or substitute for any medical or other advice. The One Medical Group entities and 1Life Healthcare, Inc. make no representations or warranties and expressly disclaim any and all liability concerning any treatment, action by, or effect on any person following the general information offered or provided within or through the blog, website, or app. If you have specific concerns or a situation arises in which you require medical advice, you should consult with an appropriately trained and qualified medical services provider.